Sharp launched SHARP WORLD – An Original Animated Series
Have you ever wanted to buy a product for yourself or for your home and you are faced with product technical specifications and key selling points can be dry and overwhelming? Fret not, you are not the only one who faces it! Brand jargons and technical numbers more often than not are lost on consumers. Sharp wants to change all that! Sharp launched SHARP WORLD – An original animated series to tell its story in true Japanese spirit.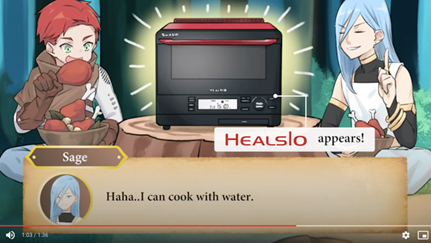 Sharp wants to change the way it connects with its consumers, coming up with an original manga that tells the story and innovation of its products in a fun and engaging manner.
Titled SHARP WORLD, the series made up of episodes that are one and a half minutes in length each sees three fictional characters travelling across a fabled world of magic and warriors. In each episode, our three protagonists are aided by a different magic to overcome challenges that come their way.
Two episodes have been released till date, each underlined by engaging dialogues, relatable characters and eye-catching visuals to retain viewer's attention. The first episode tells the story about the Sharp AQUOS 8K Television, while the second shares the tale of the Sharp Healsio Water Steam Oven.
More episodes will be released on schedule, each highlighting a different product and its innovations, told in a lighthearted yet educational manner that even the kids will love.
"As a Japanese company, we believe that manga best explain our technology in a light-hearted and memorable way. We hope that our customers will better understand Sharp innovations through unique Japanese artistic manga story telling in a world of magic coupled with modern innovations" says Mr. Arai, Managing Director of Sharp Electronics Singapore. "
If you are a fan of Japanese manga/anime, SHARP WORLD – An original animated series would be of interest to you. Through this animated series, you would be able to learn more about Sharp and its wide range of products for your home and even the kids will love and learn from!
* Information and pictures courtesy of Sharp Singapore and Brand Cellar *