Shopee's 2.2 CNY Sale – First "Ox-picious" content collaboration with Mediacorp
The Chinese New Year festive season is coming soon in February 2021. Shopee's hotly anticipated 2.2 CNY sale is now on with Shopee's 2.2 CNY Sale – First "Ox-picious" content collaboration with Mediacorp. This is the inaugural content-commerce partnership between Shopee and Mediacorp, that will see the leading e-commerce platform in Southeast Asia and Taiwan working with Singapore's largest content creator and national media network on a performance-driven marketing campaign from 22nd January to 2nd February 2021.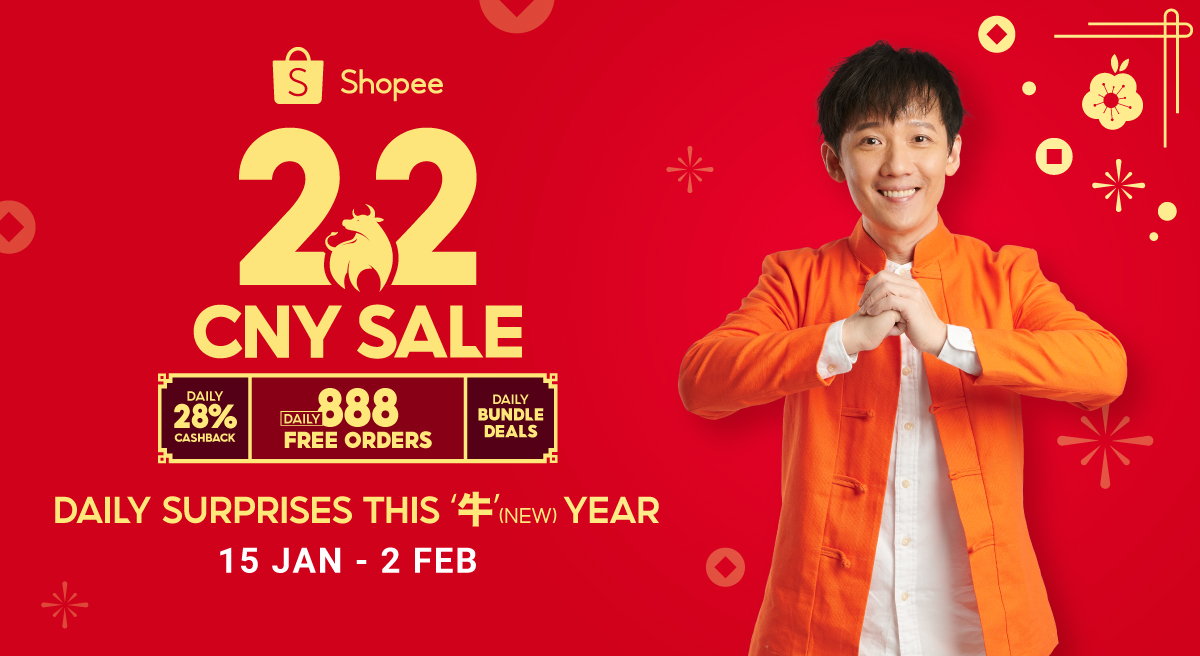 This alliance between Shopee and Mediacorp aligned both companies' commitment to driving innovation in the e-commerce sector through creating content that caters to the evolving purchasing preferences of online consumers. This is also an initiative that will go towards supporting local digital businesses and merchants.
Under this partnership, Mediacorp will tap on its star power, content creation know-how and transmedia touch points to amplify public awareness and direct shoppers to Shopee's platform. There would include interactive live streaming sessions helmed by popular Mediacorp personalities from 1st and 2nd February 2021. There would also be special sale previews and giveaways on Mediacorp platforms starring Ah Moo, its adorable mascot for the Year of the Ox.
Zhou Junjie, Chief Commercial Officer, Shopee said: "Consumers today seek elevated shopping experiences that go beyond simple transactions online – they demand personalisation, engagement, and social interaction. Shopee takes pride in our ability to connect with our users through a highly localised and engaging approach, being a proudly homegrown company ourselves. As such, we are excited to collaborate with partners like Mediacorp, whose values and priorities align with ours. With this partnership, we hope to tap on one another's expertise to further deepen engagement with Singaporean audiences across the Lunar New Year period. Shopee remains committed to delivering all our users unique and memorable shopping experiences, and we look forward to working with Mediacorp on an exciting 2.2 CNY Sale!"
Parminder Singh, Chief Commercial and Digital Officer, Mediacorp said: "We are ushering in the new year on a bullish note with yet another e-commerce milestone for Mediacorp. In our collaboration with Shopee, we look to leverage our content solutions and storytelling strength to drive retail success for its e-merchants. This also underscores Mediacorp's dedication to work with like-minded companies to grow the wider e-commerce ecosystem, which continues to see healthy growth, driven increasingly by livestreaming and interactive e-commerce. We look forward to many more of such exciting and innovative partnerships."
What are some of the key highlights and sale promotions at Shopee's 2.2 CNY Sale?
There are many festive freebies and tempting shopping deals up for grabs. The biggest highlight would be the opportunity for Shopee shoppers to win a gleaming new Mercedes Benz A-Class Hatchback (1)! Shoppers will enjoy 28% daily cashback offers plus daily 8pm Huat Hour Flash Sales themed around categories like health, beauty and home appliances.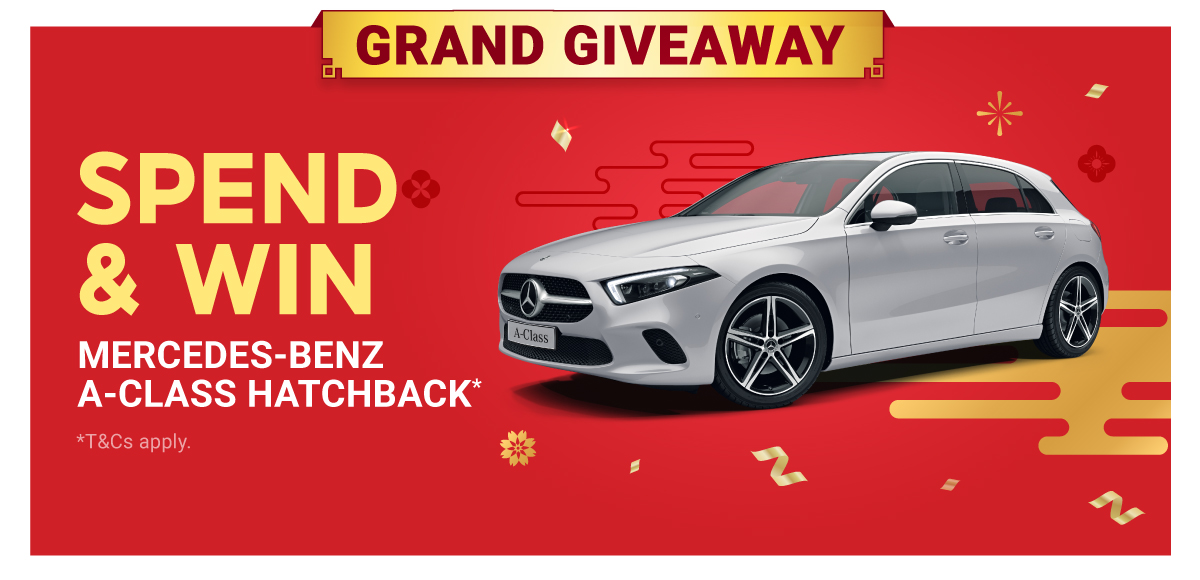 In addition, 888 lucky winners will get to shop for free during the campaign period on a daily basis (Terms and Conditions apply).
Here are some key sale promotions during Shopee's 2.2 CNY Sale
Exciting giveaways and a line-up of the popular themed days
Users can shop and stand a chance to win a Mercedes-Benz A-Class Hatchback and 1-year AIG car insurance.
Fill up a simple form to participate
Each checkout on Shopee from 15 Jan to 1 Feb earns users one chance to win the car (Users can double their chances by checking out on 2 Feb during the 2.2 CNY Sale)
One lucky winner will walk away with a Mercedes-Benz A-Class Hatchback
Users can also look forward to close to three weeks of daily themed days in the lead up to 2.2 CNY Sale on 2 February.
Enjoy daily surprises including: Daily 888 Free Orders: Shop from 15 Jan to 2 Feb and stand to win your order for free
Daily 8pm Golden Giveaway: Shop from 22 Jan to 2 Feb at 8pm to 9pm daily to stand a chance to win a gold bar (worth $169) Eight winners will be chosen daily from 22 Jan to 31 Jan and three winners will be chosen every 10 minutes on 1 to 2 Feb
Daily 28% Cashback
Up to 70% off Daily Bundle Deals
2.2 CNY Mega Sale: On 2 Feb, look out for one-day crazy markdowns on all your CNY needs, as well as:
Flash Vouchers including 18% cashback and more will be released at 12 time slots: 12am, 1am, 8am, 10am, 12pm, 2pm, 6pm, 7pm, 8pm, 9pm, 10pm, and 11pm
Super Huat Flash Deals released at 25 time slots throughout the day
12-1am: Midnight Rush Hour
8-10am: 8am Huat Hour – Gold Deals
10am-12pm: CNY Snacks Rush Hour
12-1pm: Lunchtime Rush Hour
6-7pm, refreshed every 10 minutes: $0.10 Flash Deals Relay
8-9pm: 8pm Huat Hour – Bundle Deals
9-10pm: Reunion Feast Rush Hour
10pm-12am: Last Chance Rush Hour
2.2 Lowest Prices featuring Top CNY Bestsellers, Top Brand Deals, $88 & Under Deals and more
Other campaigns including:
S-Mart Grocery Fair
CNY Food Hall
Prosperous Value Bundles
CNY Home Bazaar
Crazy Tech Markdowns
Ox-picious Health & Wellness Sale
Reunion & Getaway Deals
Time to Pay-It-Forward and Pass-It-On! Share Shopee's 2.2 CNY Sale with your family, loved ones, relatives and friends! Sharing is Caring! Visit Shopee Singapore and start your Chinese New Year 2021 shopping! Huat ah!
Notes:
(1) Includes 3-year warranty by Cycle & Carriage and 1-year AIG car insurance. Protected up to specified limits by SDIC. Specifications may differ from the image shown.
* Information and pictures courtesy of Shopee and AKA Asia *