Chinese New Year 2021 is just round the corner, coming soon in February 2021. Singtel recently launched its annual short film for Chinese New Year, celebrating the festive season's spirit of strengthening bonds with family and community. This is Singtel CNY Comedy Sequel, the short film is titled "My Grandmother's House", a sequel to last year's Singtel CNY Comedy – My Grandfather's Road. Last year's festive film featured two rival families who come to a stand-off on a narrow road as both refuse to give way.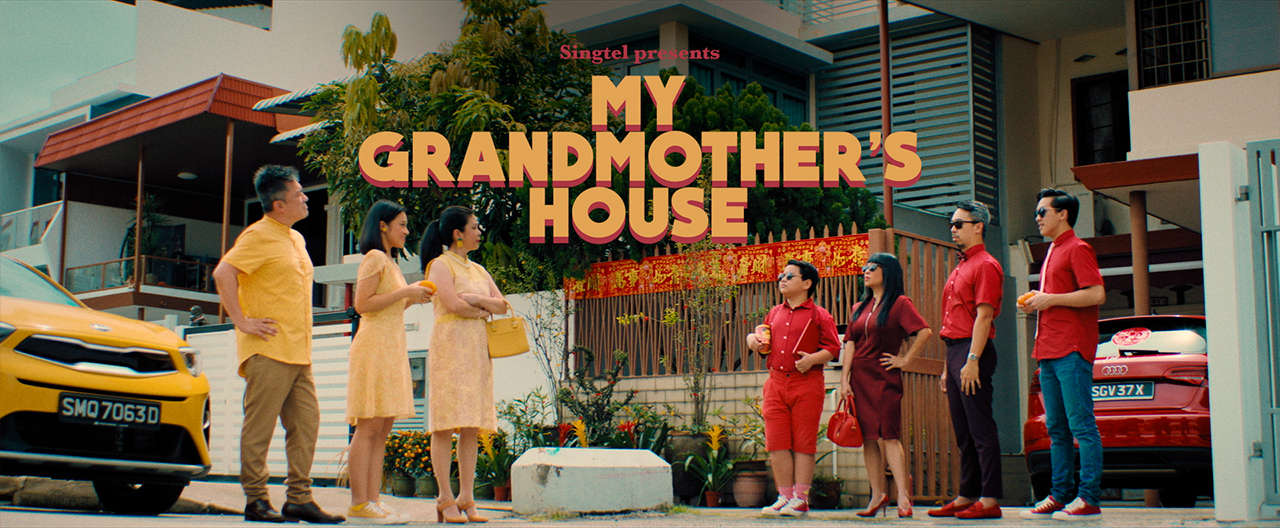 The film opens with the same frenzied scramble as both families hit the road in search of Grandma's house. When they encounter each other en-route, the journey turns into a competitive race the moment they realise they are both headed to the same place (remember the two missus – Adeline and Wendy – are related). Given that the latest COVID-19 regulations only allow households to receive up to eight visitors, they strive to reach Grandma's before the other party does as they're unsure if she already has other visitors. Upon arriving, hilarity ensues as the adults fall back to their old ways of one-upmanship, with the women vying for Grandma's attention, and the men jostling to outrank each other on a mobile game. Embedded in the plot, and revealed only at the end, is the fact that one family wields 5G connectivity and inadvertently uses it to trump the other family.
A twist in the story emerges when Grandma starts recounting her emotional experience of losing a friendship. This intrigues Wendy's younger son who rallies his brother and his love interest (the other family's daughter), to ease Grandma's distress. Eventually, everyone stops what they're doing to watch how things unfold with bated breath. Check out the film to find out how 5G technology was deployed to 'save Chinese New Year', and how the families re-discovered the importance of putting aside petty quarrels to stay connected with each other.
Lian Pek, Singtel's Vice President for Group Strategic Communications and Brand said, "Chinese New Year has always been a great time for us to underscore Singtel's brand message that connections in the deeper sense of the word should be esteemed, hence the film's tagline, "Stay connected to what matters". This is all the more pertinent as Singapore eases into Phase 3 with renewed hopes of post-COVID recovery. Ultimately, we're all in this together and we should continue to help each other out of the woods. We also wanted to bring some fun and cheer through a film that everyone can relate to, as people look forward to better things ahead."
Commenting on the 5G references in the film, Lian said, "As a company that's been leading in the next-generation connectivity stakes, we made a subtle nod to the benefits of 5G – from faster GPS downloads which gets the family to their destination earlier to faster gaming speeds and high-definition video calls. As we roll out our 5G network and coverage, this is a tongue-in-cheek way of illustrating how this next-generation technology can deliver positive new experiences and possibilities."
"My Grandmother's House" is part of Singtel's on-going branded story-telling strategy, centred around short films that allow the Group to articulate its brand values of family, community, diversity and inclusivity. Last year's festive film campaign paid tribute to the Singapore spirit of tenacity and perseverance, which took on new importance against the backdrop of the health crisis.
Let's watch "My Grandmother's House" below!
Do Pay-It-Forward and Pass-It-On, spreading the Chinese New Year festive season spirit with your family, loved ones, relatives and friends.
* Information and picture courtesy of Singtel *