Singapore's best value 5G phone plans by Singtel
Looking for Singapore's best value 5G phone plans? Check out Singtel's 5G plans, they have launched Singapore's first plans with generous discounts, loyalty vouchers, large data bundles, worldwide roaming and enhanced security. Singtel's network offers the world's best 5G coverage experience, with consumers' data consumption growing on Singtel's network. The new plans provide large data bundles starting at 30GB a month, and include McAfee mobile security to help protect customers from increasingly sophisticated online threats such as malware and scams.
The new plans will offer customers even greater value, with savings of S$120 to more than S$700 depending on the plan. Phone subsidies and loyalty vouchers will enable customers to upgrade their phones with ease so they can enjoy the latest mobile technologies. With the return of international travel for leisure and work, frequent travellers can select from plans offering free data roaming to enjoy seamless connectivity across 81 destinations including Australia, Indonesia, Japan, South Korea, Malaysia, Thailand, United Kingdom and the United States.
Ms Anna Yip, Deputy CEO of Singtel Singapore, said, "We are focused on continuously improving our customers' experience and providing them with great value. Based on the insights they have provided, we made enhancements to give them even better value mobile plans that they can enjoy on Singapore's best 5G network together with a compelling roaming pack covering the most popular global travel destinations to reduce complexity when they travel. We are certain consumers will be able to find a plan that fits their needs – the latest phone at an affordable price and regular loyalty vouchers to help them stay on top of mobile technology, generous data bundles that start from 30GB, and essential value-added services."
Singtel 5G
Singtel has been keeping Singapore connected to family and friends on 5G – the game-changing technology driving new immersive consumer experiences and accelerating business transformation. It launched the world's first nationwide standalone 5G network in July 2022 and has continued to strengthen its 5G coverage to cover more than 1,600 outdoor locations and 800 buildings, including underground train lines, as at end-August 2023. Singtel's 5G network superiority has been acknowledged by industry experts such as Ookla and Opensignal and it was voted Singapore's Best Telco for the 14th year in a row in the Hardwarezone Tech Awards.
Singtel's new best value 5G phone plans
Available for sign-up immediately, Singtel's XS, S, M and L plans are priced from S$62 to S$128 per month, to meet consumers' diverse preferences, lifestyle needs and budgets. Consumers who require even more data and shareable offerings have additional options in Singtel's PRO (S$178 per month) and FAMILY (S$288 per month) plans.
Singtel's new plans can be customised further with additional benefits and rewards when bundling more devices, services and apps. For more information on Singtel's new and best value 5G phone plans, please visit www.singtel.com/phoneplans.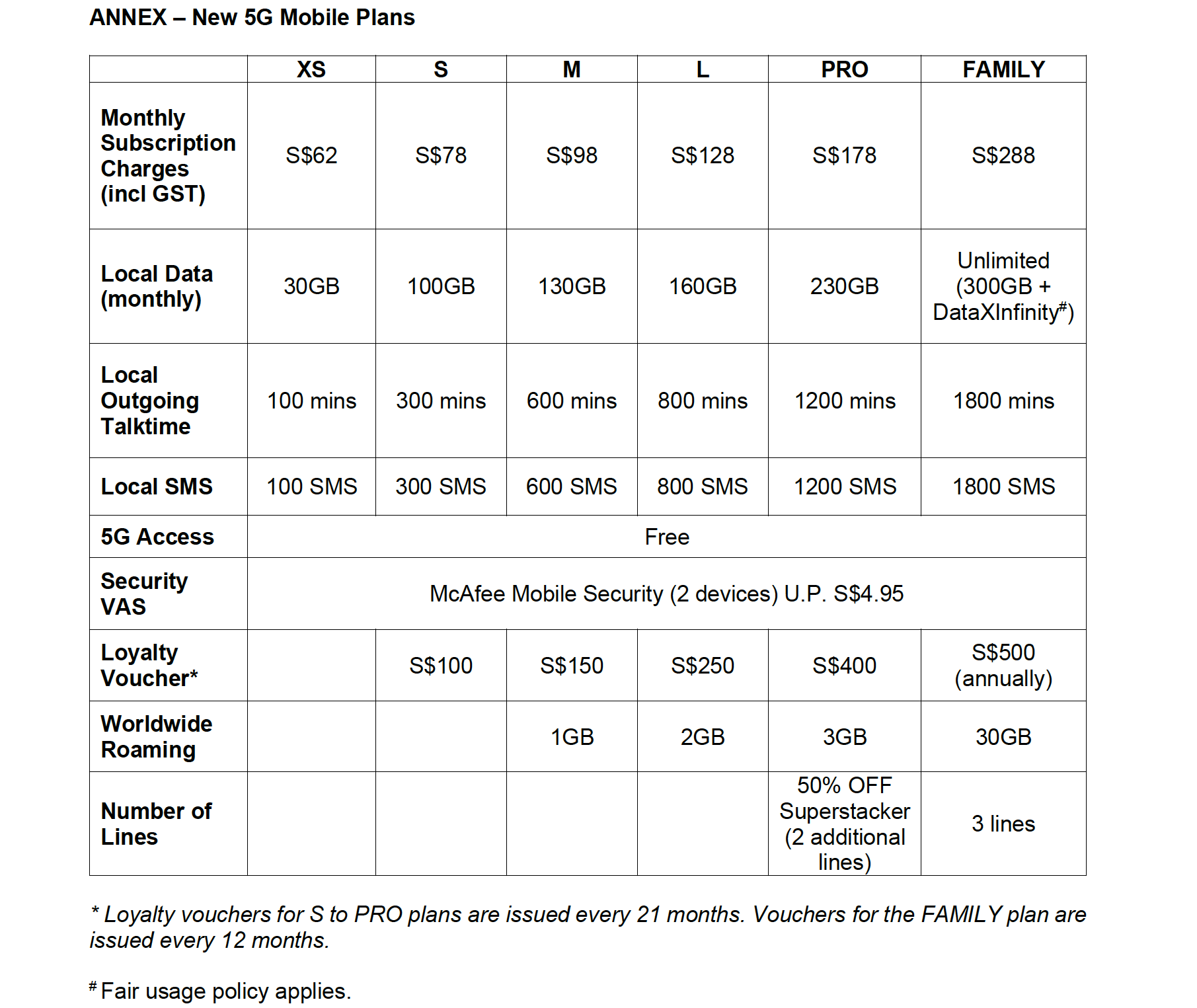 * Information and picture courtesy of Singtel *