Singtel announced a new climate action initiative that will empower its customers to reduce their energy usage and contribute towards a greener future. The world's climate is facing huge challenges, there is a need for urgent climate action and Singtel recognises the need in this area. Singtel has been supporting the World Wildlife Fund Singapore (WWFS) Earth Hour since 2010.
In support of Earth Hour 2023, Singtel is donating S$25,000 to the WWFS Conservation Fund, they are also participating in WWFS Earth Hour Switch Off by switching off and dimming non-essential lights at its corporate offices and all seven Singtel retail shops for one 1 hour from 830pm to 930pm on Saturday 25th March 2023.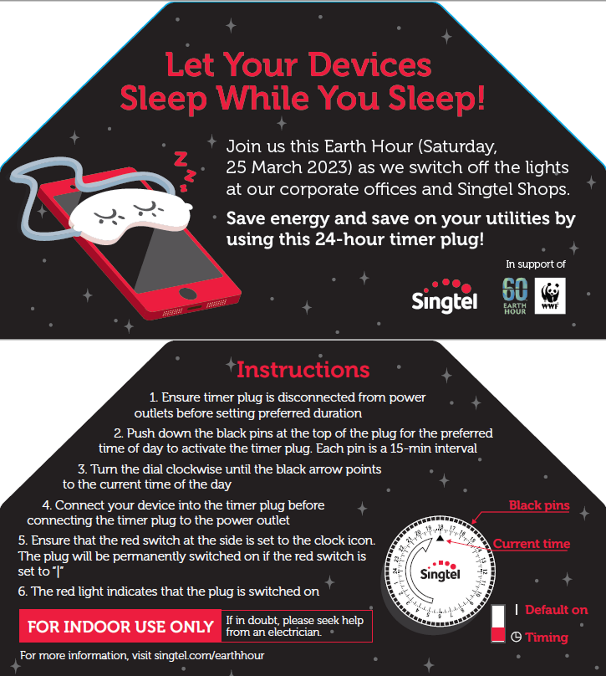 In addition to Singtel's efforts for Earth Hour 2023, they hope to encourage collective efforts and to educate customers on the need for energy conservation by giving complimentary timer plugs (1) to customers who pledge their commitment to WWFS Kosong Plan. Singtel customers can reduce their standby power usage (2) with such plugs, benefitting the environment and lowering their electricity bills.
"We firmly believe that every organisation, every individual can play a part to help bring about a greener future. We have been taking action to minimise our impact on the environment, and supporting broader efforts by partners such as the WWFS and its Earth Hour movement since 2010. As the effects of climate change continue to accelerate, we are expanding our efforts this Earth Day to empower our customers to take climate action, and we hope that this will help inspire more people to do more for our shared planet," said Ms Anna Yip, Chief Executive Officer, Consumer, Singtel.
Singtel is committed to managing and minimising its environmental impact across its value chain, including business operations, suppliers and customers, aligned with its net zero targets. It was the first telco in Asia Pacific to establish a sustainability-linked bond framework in April 2021 and is one of a handful of progressive Singapore companies to publish a standalone Task Force on Climate-related Financial Disclosures in June 2022.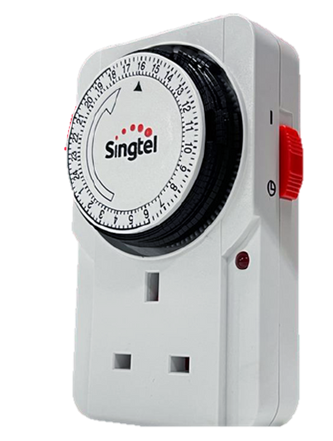 Find out more about how Singtel is helping to combat climate change and its timer plug giveaway at singtel.com/earthhour.
Notes:
(1) While stocks last.
( 2)Appliances and home devices left on standby power can account for up to 10% of home electricity use. Using a timer plug will automatically switch off devices on standby, reducing standby power usage and helping to lower a household's electricity bill. For more information on standby power, please visit NEA's Go Green Tips site.
* Information and picture courtesy of Singtel *