Visit CEE 2019 to get your gaming and gadgets fix
CEE 2019 is currently taking place in Singapore, they have started on Thursday 23rd to Sunday 26th May 2019, at Suntec Singapore Convention Centre level 3 (11am – 9pm) and level 4 (12pm – 9pm), CEE 2019 is organised by Exhibits Inc, a wholly owned subsidiary of Sphere Exhibits, the events and exhibitions arm of Singapore Press Holdings. 
If you are planning to get your gaming and technology gadgets/toys fix, this is an opportunity to visit CEE 2019 and check them out! There are some hot deals and promotions that I would like to share with you folks below, as well as, some star attractions to check out!
Star Attractions
 GAMEX is back! 
Singapore Robo Fight 2019 (Level 4, Gamex Booth 8601) 
Control mini battle robots with your smartphone as you navigate them through obstacles to search and destroy your enemies. Unleash death upon enemy robots with an array of firepower. Every battle robot has a camera that combines augmented reality smarts so that the gamer's smartphone can detect, track and attack enemy robots with various virtual weaponry. If the assault connects, the app recognises the hit. The top two winners at the local qualifiers at CEE will represent Singapore at the upcoming World Cyber Games in Xi'an, China later this year for a shot to be the game's top gun. Winners at the local qualifiers at CEE stand to win over S$3,000 in cash prizes. Register now if you think you have the chops to be a robo warrior. 
Player Unknown's Battlegrounds (PUBG) Mobile (Level 4, Gamex Booth 8601) 
The popular GAMEX returns with PUBG Mobile as its main competition title. Participants will rally themselves in squads of four to fight for glory and a chance to win over $1,000 worth of cash prizes. Register here if you are up for some heavy action. 
Check out promotions and discounts on gaming equipment such as PCs, laptops and peripherals by gaming equipment provider GamePro Shop too. 
Microsoft — Discover Microsoft (Level 3, Booth 318) 
Discover how Microsoft can empower the way you work and play with modern personal computing experiences at the Discover Microsoft area. At the "Create" zone, discover how Microsoft Surface and Microsoft Office 365 are designed to unlock your creativity. At the "Play" zone, find out why games play best on Xbox One. Fight the dangers of an ever-changing world in Anthem, and shoot, sneak, and survive your way through the apocalypse in the Metro Saga. Work hard, play hard! 
Courts launches Singapore's first air-con subscription service (Level 4, Booth 8113) 
With temperatures soaring, it's best to stay cool at home. With electronics and furniture superstore Courts' new subscription service, you can now stay cool without burning a hole in your pocket. Courts is partnering electrical appliance brand Midea to launch Singapore's first air-con subscription service at CEE where users can pay a monthly subscription (between $29 to $99 per month) for six years to cover the cost of the air-con units, unlimited repairs plus regular cleaning and maintenance. Say goodbye to hefty upfront purchases and hello peace of mind. 
Gadgets trade-in extended to corporate customers (Entrance at the front of Hall 403) 
Consumers trading in their old gadgets for cash vouchers has become a regular feature at tech shows. For the first time, companies can now enjoy the same benefits at CEE 2019. Don't throw away your old laptops, tablets, desktops, phones and monitors when you can save the company some money by trading it at the show. Corporate users need to fill in the online form and arrange for a viewing appointment. Once the parties agree on the value of the trade-in, the company will be issued cash vouchers when it brings the gadgets to CEE 2019 for redemption. These cash vouchers can be used for purchases at select retailers at CEE 2019. 
Hot deals 
GOMO by Singtel – $60 worth of value for $20? (Level 3 Summit, Booth 3S05) 
Switch your number to GOMO by Singtel at CEE 2019, and get a $20 Best Denki voucher at the CEE 2019 show on top of a FREE GOMO Travel SIM worth $20! This offer is exclusive only to CEE. 
GOMO by Singtel, the latest no-contract SIM Only Plan with 20GB for $20, has been making waves with the millennial generation. Designed for the digital natives, GOMO is a fuss-free plan that offers a whopping 20GB of data per month, 200 mins of talktime, 200 SMS and free incoming calls. There are no extra or hidden charges – free caller ID plus no registration charges nor SIM card fees. Web chat support is available 24×7 and free SIM card delivery can be arranged on day of purchase. You also don't have to worry about bill shocks because there are no excess charges. If you have used up your bundled data for the month and need more, just top up any time for an extra $10 for another 10GB of data, 100 SMS and 100 minutes of talk time. 
Awesome deals for students, gamers and SMEs 
There's something for everyone this year with these handpicked deals for students, gamers, and SMEs. Students have a choice of the featherlight multitasker Lenovo IdeaPad S340 and the aluminum-clad processing powerhouse Lenovo IdeaPad S540; gamers will be treated to CEE-exclusive deals on the critically-acclaimed Super SXFI holographic audio technology with the Creative SXFI AIR C; and Dell is offering great deals on its Dell Latitude 5590 business laptops – high-security, beautifully-designed computing workhorses that let busy SME business owners or workers bring their office with them anywhere they go. 
(Information above courtesy of Gloo PR)
Promotions 
Looking for laptops ? Check out Dell's promotions at CEE 2019 
CEE 2019 Star Buys
Highlights
Inspiron 14 5000 (5480)

Show price from $1,299

 

Comes with 8th Gen Intel® Core i5-8265Uprocessor, 8GB DDR4 memory, 256GB SSD and NVIDIA® GeForce® MX150 graphics
14" FHD display with narrow borders that emphasize the screen, maximizing focus and minimizing distractions
Fingerprint reader that secures your log-ins

Inspiron 13 7000 (7380)

Show price from $1,299

Comes with 8th Gen Intel® Core i5-8265Uprocessor, 8GB DDR4 memory and 512GBNVMe SSD
13.3" FHD display with narrow borders to make the most of on-screen visuals
Hassle-free USB-C port that ensures convenience and efficiency

G7 17 Gaming Laptop (7790)

Show price from $2,899

 

 

Comes with 8th Gen Intel® Core i7-8750Hprocessor, 16GB DDR4 memory, 256GBNVMe SSD (boot) and 1TB HDD (storage)
In-game graphics powered by the latest NVIDIA® GeForce RTX™ 2070 with Max-Q Design
Features slim, sleek design and a dual-fan cooling system
Booths: Level 4 – 8108, 8115, 8130, 8235, 8238, 8245, 8309 and Level 3 – 307
(Information courtesy of Dell and burson cohn & wolfe)
Looking for printers? Check out Canon's promotions at CEE 2019
Canon Mini Photo Printer – PV-123 (CEE Show Price: $189)
PIXMA G6070 (2 years carry-in warranty) NEW!! – (CEE Show Price: $429)
imageCLASS MF269dw (HWM Editor's Choice) – (CEE Show Price: $339)
Booth Number: Challenger Booth 8143, COURTS Booth 8111
(Information courtesy of Canon Singapore and Ogilvy)
Looking for Lowest-Priced Home Fibre Broadband Plans? Check out WhizComms promotions at CEE 2019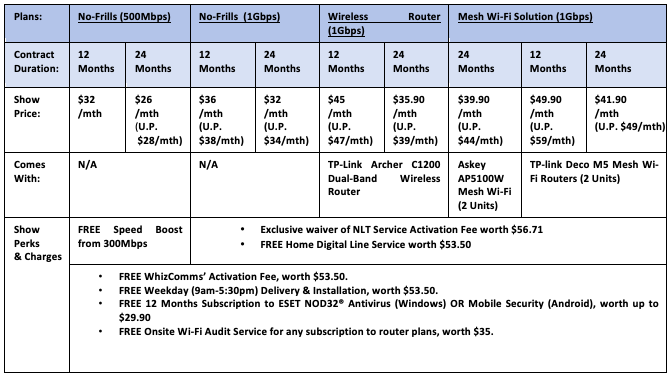 Check out WhizComms promotions and you can visit them at Hall 405 & 406, Booth No 8201.
(Information courtesy of WhizComms and Brand Cellar)
Have fun at CEE 2019! Happy shopping for your gaming and gadgets fix! Share all these news and promotions with your family, relatives and friends! Pass It On and Pay It Forward!