Hwee Seng Warehouse Sale 2019
Hwee Seng Warehouse Sale is back! For all those techies, audiophiles and home appliances lovers, it's time to check out the upcoming Hwee Seng Warehouse Sale 2019 taking place from 12th July to 14th July, with up to 90% OFF all authentic goods including all kinds of audio speakers, earphones, headphones, air purifiers, kitchen appliances and more at up to 90% OFF retail prices.
For coffee lovers, do check out their BODUM ePebo Electric Vacuum Coffee Maker that is on sale! I did a review on this product, check out my article!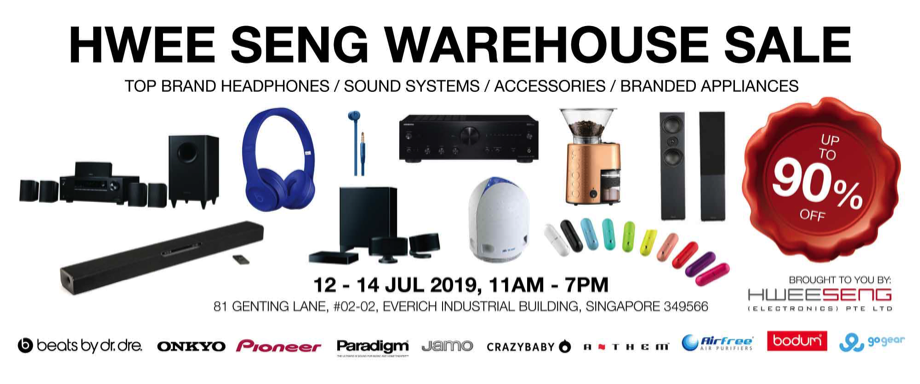 Participating brands include Airfree, Anthem, Beats by Dre, BODUM, Crazybaby, GoGear, Jamo, Onkyo, Paradigm, Pioneer, and many other exciting brands. As the authorised distributor of these brands, you can expect to get only authentic goods of the best quality guaranteed by these brands.
This massive discount is happening as Hwee Seng seeks to clear their warehouse to bring in new batches of stocks. Shoppers can expect to find display sets, new sets, old models and the latest models, all being offered at the sale. On top of that, you will get to receive $10 cash voucher when you pre-register your interest here – https://forms.gle/5Ev3dAnzJNZpnVGT7 .
Some of the hot buys at the sale include Beats Solo3 Wireless Headphone (Mickey's 90th Anniversary Edition), BeatsX Wireless Earphones, BODUM ePebo Electric Vacuum Coffee Maker, Air by Crazybaby (NANO) True Wireless earphones, Jamo J10 Subwoofer, Jamo C10 Surround Speaker, Jamo SB 40 Sound Bar, Onkyo LS7200 3D Soundbar System, Pioneer E8 Truly Wireless Sports Headphones and many more. All these stocks will be sold at up to 90% OFF!
All items are sold on a first-come first-served basis. Do come early to grab all the good deals!
Period of sale: 12 July to 14 July 2019 (Friday to Sunday)  
Venue: Hwee Seng Office
(81 Genting Lane #02-02, Everich Industrial Building, S349566)
Opening hours: 11am – 7pm
Simply visit Hwee Seng's Facebook event page to find out more about the promotion:
https://www.facebook.com/events/319779302235863/?active_tab=discussion
* Information and picture courtesy of Hwee Seng Electronics and Brand Cellar *