Casio G-SHOCK unveils new Ignite Red Series
G-SHOCK, a world renowned brand, a watch that has constantly been testing new limits in timekeeping toughness since 1982, unveils new Ignite Red Series, a new collection that combine its first colourways of basic black with bright red accents.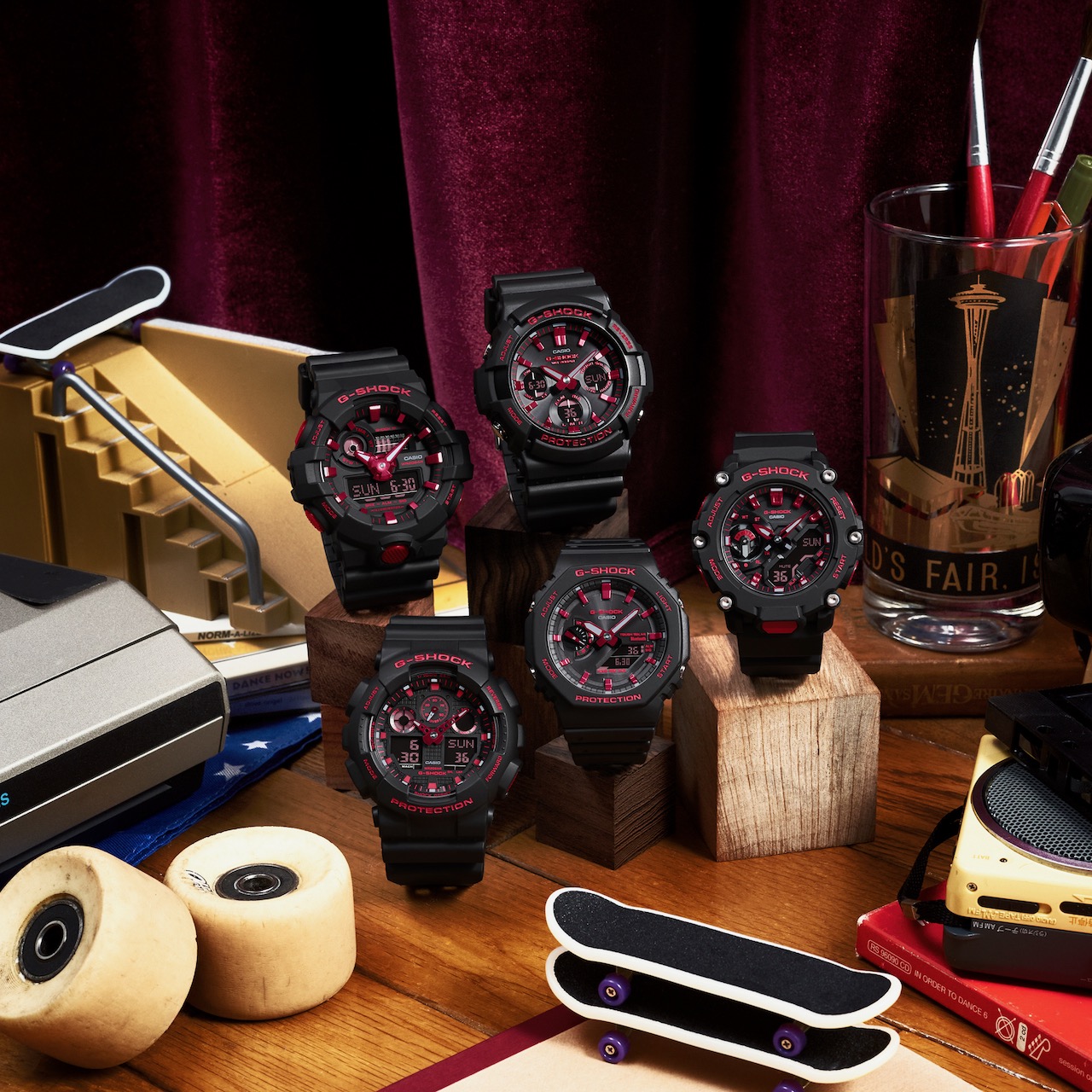 There are 5 base models that make up this new Ignite Red series collection, they are the octagon case, Bluetooth solar GA-B2100, big case solar GAS-100 and big case GA-100, GA-2200, and GA-700. This range of cool, practical designs now come with bold colouring that lets the burning red accents stand out for a statement.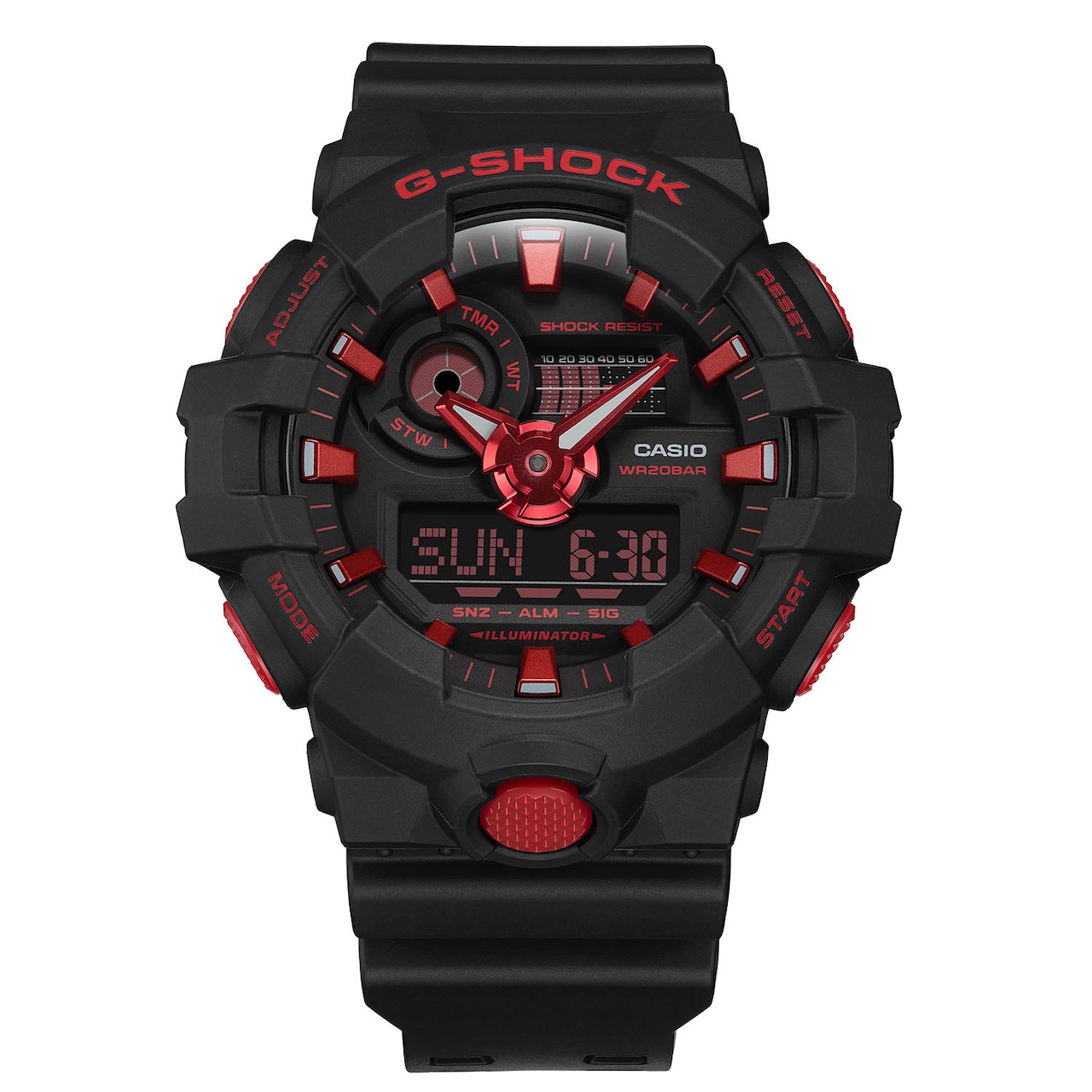 The Colour of Unshakeable Spirit
The Ignite Red series collection showcases the colour of unshakeable spirit throughout the series, with a colour-blocked accents of red stand out strong and stark against an otherwise all-black design, all at once contrasting the black's strong presence with lines of confident composure. Additional red touches appear within the dial of the watch, highlighted through metallic paint and alumite treatments, further providing a touch of luxury through the Ignite Red series collection.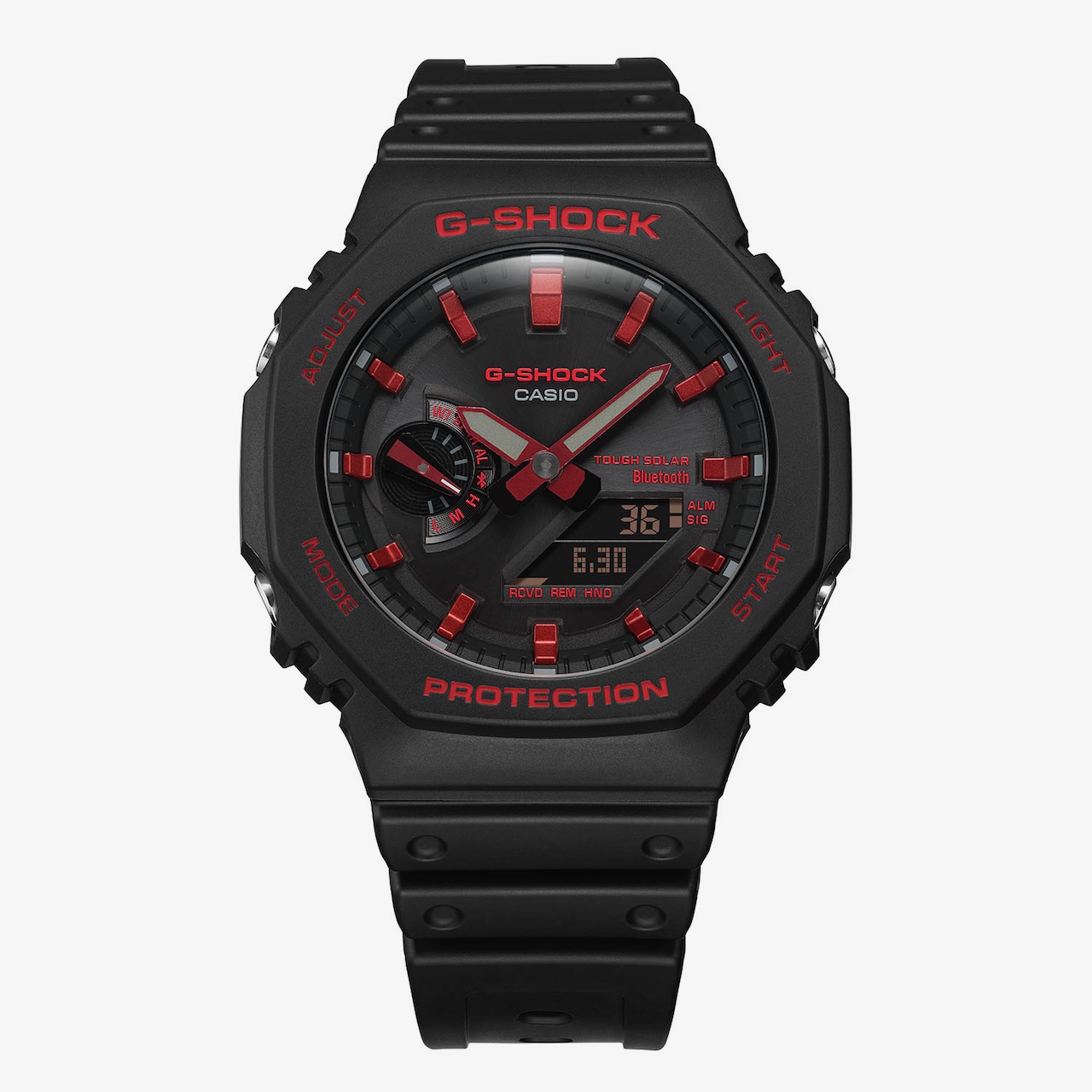 The GA-2100 is the featured watch of this new Ignite Red series collection. This watch comes with Smartphone Link that wireless links with a host of Bluetooth enabled devices. With the simple download of an app on your smartphone, you can access auto time adjustment, simple watch-setting, approximately 300 World Time cities and even activate a Phone Finder feature. They also boasts a Tough Solar Power feature that recharges itself on solar energy for longer battery life.
All the new Ignite Red Series models come with the complete technical specifications of the G-SHOCK seal of shock resistance, 200m water resistance, hourly time signals, countdown timer and hand shift feature.
Pricing and Availability
The G-SHOCK Ignite Red Series will be available at all G-SHOCK stores and https://gshock.casio.com/sg/ from 3rd November 2022.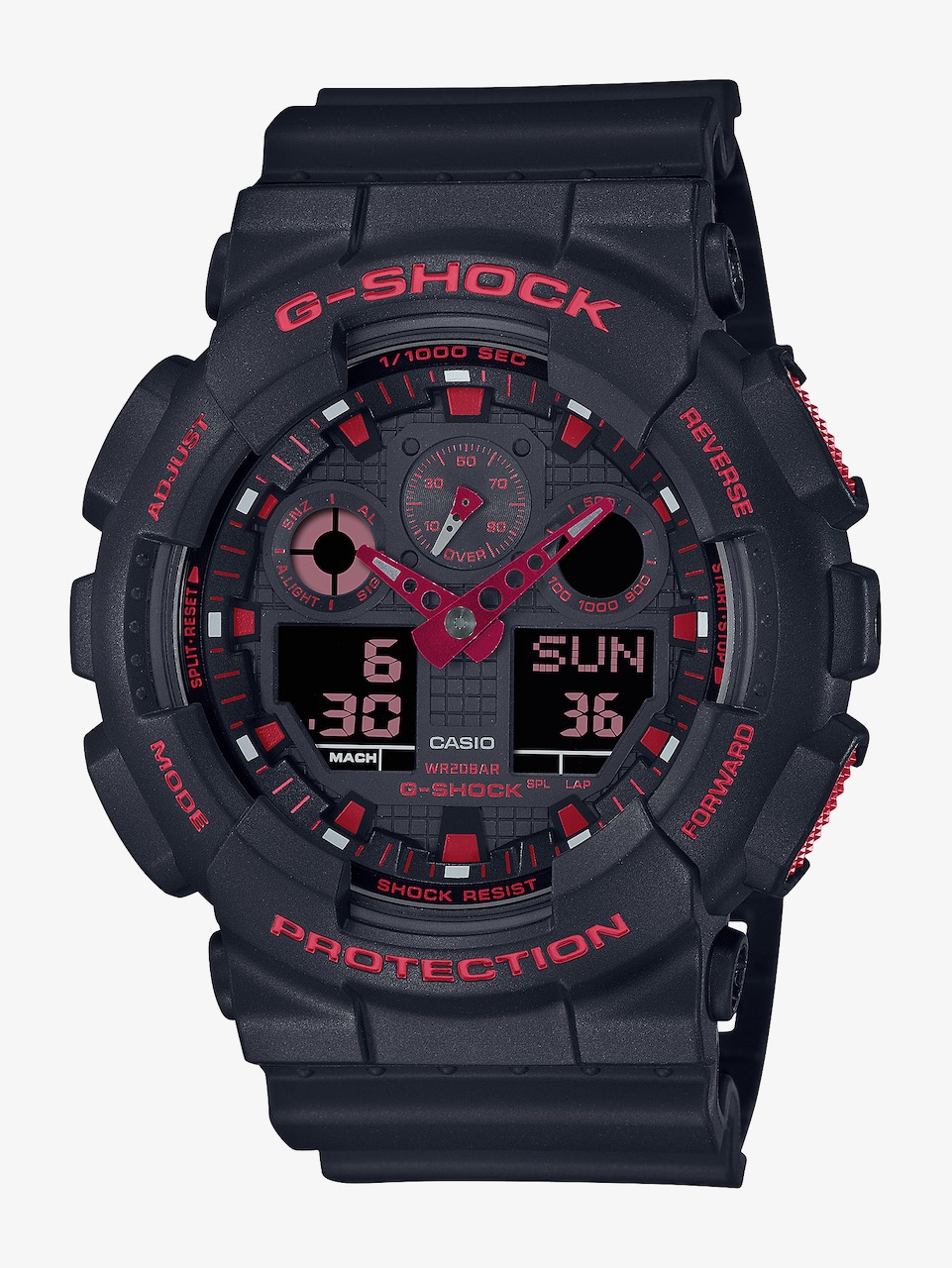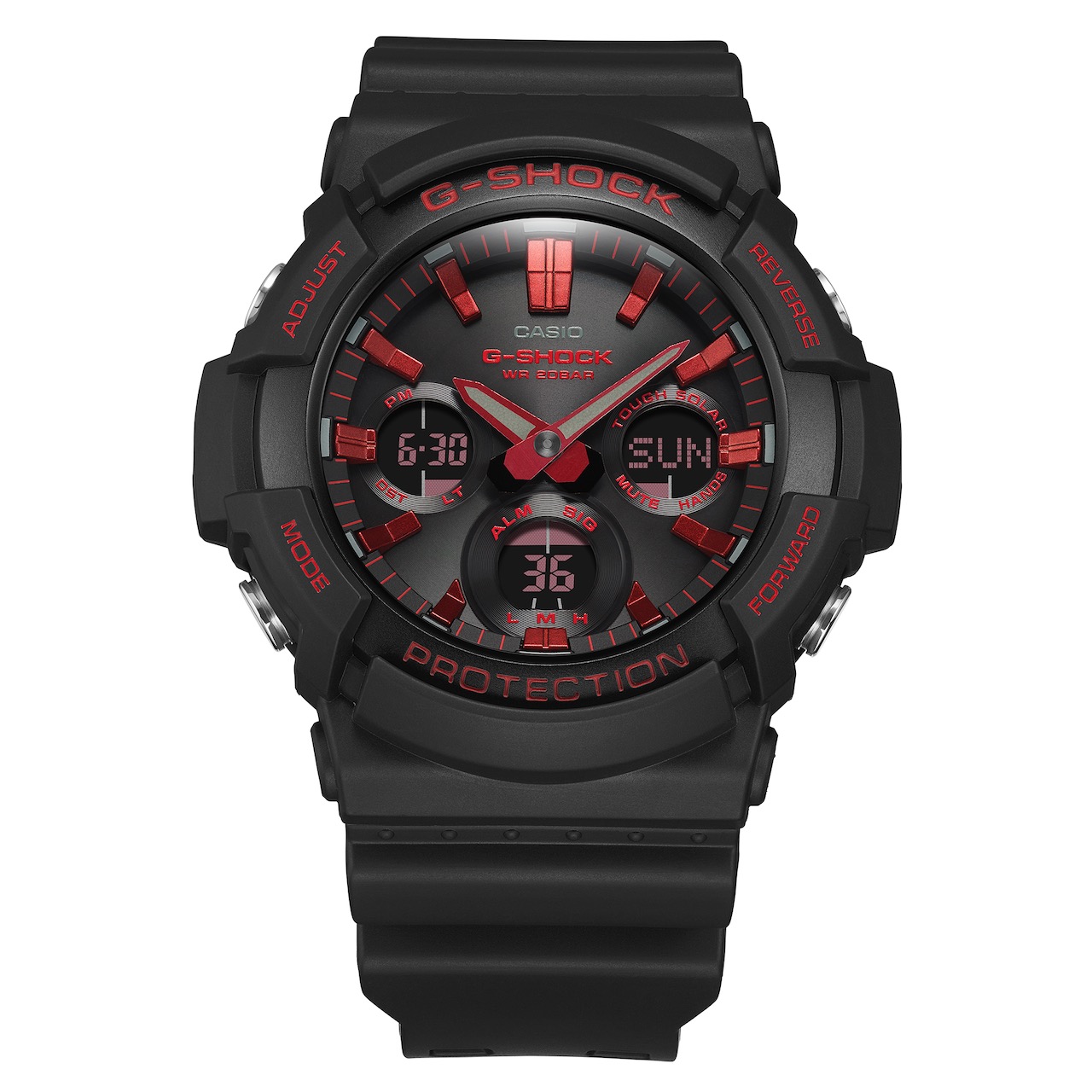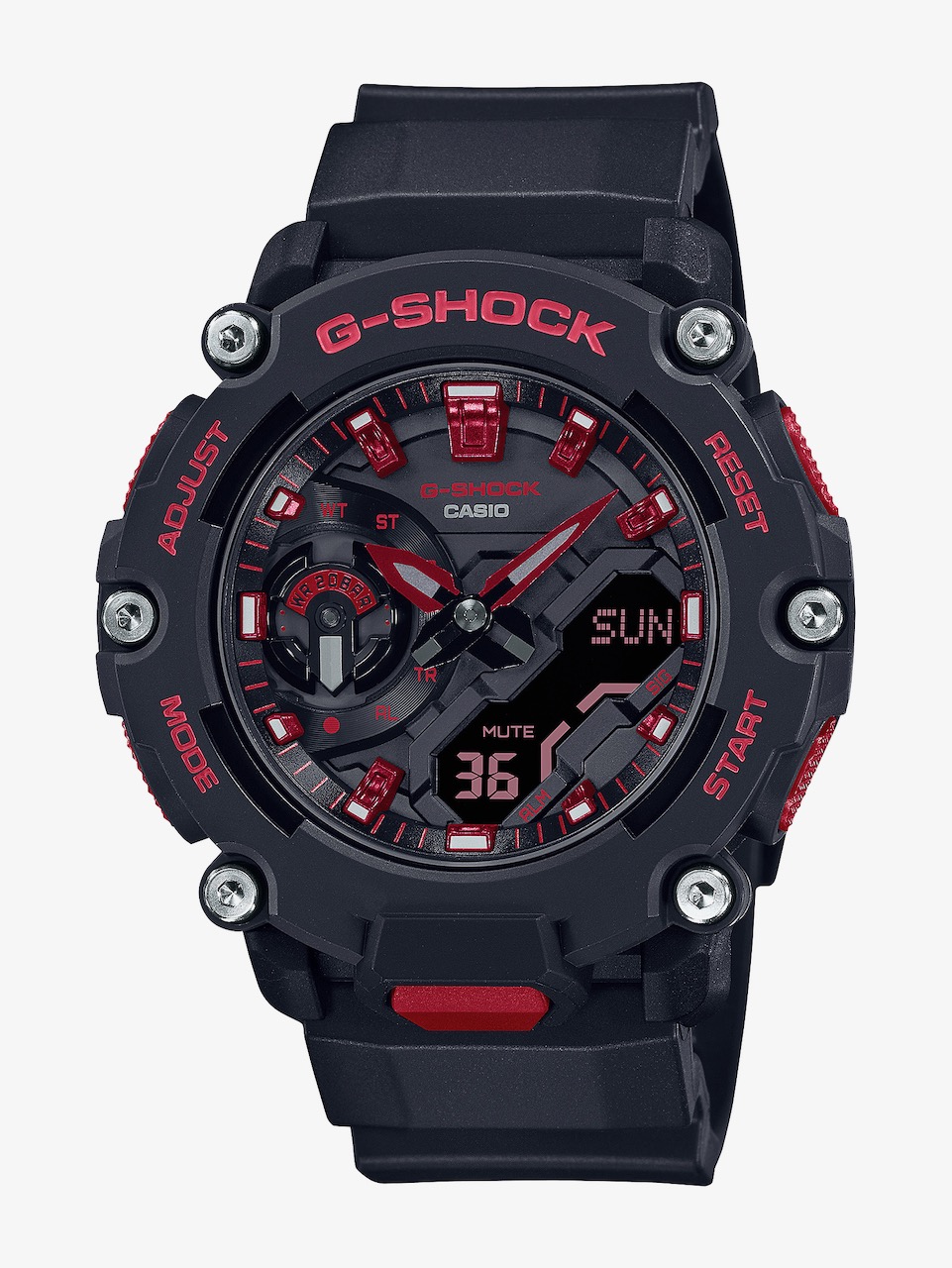 Technical Specifications
GA-B2100BNR-1ADR
Construction

Solar Powered, Shock-resistant

Communication Specifications

Bluetooth

®

low energy

World Time

World times selected from 38 cities (38 time zones,* daylight saving on/off) and Coordinated Universal Time, city name display, home time/world time city swapping, auto summer time (DST) switching

* May be updated when connected to a smartphone.

Stopwatch

1/100 second (00'00"00~59'59"99) / 1 second (1:00'00"~23:59'59"); measuring capacity: 23:59'59.99″; measuring modes: elapsed time, lap/split time

Countdown Timer

Measuring unit: 1 second (range: 60 mins)

Alarm

5 daily alarms

Mobile Link Features


(Wireless linking with Bluetooth® devices)

Auto time adjustment
Simple watch setting
Approximately 300 world time cities + user-added point
Time & place
Reminder
Phone finder

Other Functions

Hand shift feature; hourly time signal; battery level indicator; power saving; full auto-calendar (to year 2099); 12/24-hour format; Button operation tone on/off; date/month display swapping; regular timekeeping; day display

Power Source

Tough Solar power system (solar-charging system)

Continuous Operation

About 7 months after full charge, using all functions but without solar charging

About 18 months with the power-saving function ON after full charge

Size of Case

48.5 × 45.4 × 11.9 mm

Total Weight

Approx. 52g
GAS-100BNR-1ADR
Construction

Solar Powered, Shock-resistant

World Time

World times selected from 48 cities (31 time zones,* daylight saving on/off) and Coordinated Universal Time, city name display, home time/world time city swapping.

* May be updated when connected to a smartphone.

Stopwatch

1/100 second (00'00"00~59'59"99) / 1 second; measuring capacity: 59'59.99″; measuring modes: elapsed time, lap/split time, 1

st

-2

nd

place times

Countdown Timer

Measuring unit: 1 second (range: 100 mins)

Alarm

5 daily alarms

Mobile Link Features


(Wireless linking with Bluetooth® devices)

Auto time adjustment
Simple watch setting
Approximately 300 world time cities + user-added point
Time & place
Reminder
Phone finder

Other Functions

Hand shift feature; hourly time signal; battery level indicator; power saving; full auto-calendar (to year 2099); 12/24-hour format; Button operation tone on/off; date/month display swapping; regular timekeeping; day display

Power Source

Tough Solar power system (solar-charging system)

Continuous Operation

About 8 months after full charge, using all functions but without solar charging

About 19 months with the power-saving function ON after full charge

Size of Case

55.1 × 52.5 × 16.7 mm

Total Weight

Approx. 72g
GA-2200BNR-1ADR
Construction

Solar Powered, Shock-resistant

World Time

World times selected from 48 cities (31 time zones,* daylight saving on/off) and Coordinated Universal Time, city name display, home time/world time city swapping.

* May be updated when connected to a smartphone.

Stopwatch

1/100 second (00'00"00~59'59"99) / 1 second; measuring capacity: 59'59.99″; measuring modes: elapsed time, lap/split time, 1

st

-2

nd

place times

Countdown Timer

Measuring unit: 1 second (range: 24 hours)

Alarm

5 daily alarms

Mobile Link Features


(Wireless linking with Bluetooth® devices)

Auto time adjustment
Simple watch setting
Approximately 300 world time cities + user-added point
Time & place
Reminder
Phone finder

Other Functions

Hourly time signal; full auto-calendar (to year 2099); 12/24-hour format; Button operation tone on/off; date/month display swapping; regular timekeeping

Power Source

Tough Solar power system (solar-charging system)

Continuous Operation

Approx. 3 years

Size of Case

50.8 × 47.1 × 13.1 mm

Total Weight

Approx. 57g
GA-700BNR-1ADR 
Construction

Solar Powered, Shock-resistant

World Time

World times selected from 48 cities (31 time zones,* daylight saving on/off) and Coordinated Universal Time, city name display, home time/world time city swapping.

* May be updated when connected to a smartphone.

Stopwatch

1/100 second (00'00"00~59'59"99) / 1 second; measuring capacity: 23:59'59.99″; measuring modes: elapsed time, lap/split time, 1

st

-2

nd

place times

Countdown Timer

Measuring unit: 1 second (range: 60mins)

Alarm

5 daily alarms, with 1 snooze alarm

Mobile Link Features


(Wireless linking with Bluetooth® devices)

Auto time adjustment
Simple watch setting
Approximately 300 world time cities + user-added point
Time & place
Reminder
Phone finder

Other Functions

Hand shift feature; LED Light; hourly time signal; full auto-calendar (to year 2099); 12/24-hour format; Button operation tone on/off; regular timekeeping

Power Source

Tough Solar power system (solar-charging system)

Continuous Operation

Approx. 5 years

Size of Case

57.5 × 53.4 × 18.5 mm

Total Weight

Approx. 69g
GA-100BNR-1ADR
Construction

Solar Powered, Magnetic-resistant

World Time

World times selected from 48 cities (29 time zones,* daylight saving on/off) and Coordinated Universal Time, city name display, home time/world time city swapping.

* May be updated when connected to a smartphone.

Stopwatch

1/1000 second (00'00"00~59'59"99) / 1 second; measuring capacity: 99:59'59.99″; measuring modes: elapsed time, lap/split time

Countdown Timer

Measuring unit: 1 second (range: 24hours)

Alarm

5 daily alarms, with 1 snooze alarm

Mobile Link Features


(Wireless linking with Bluetooth® devices)

Auto time adjustment
Simple watch setting
Approximately 300 world time cities + user-added point
Time & place
Reminder
Phone finder

Other Functions

Hand shift feature; LED Light; hourly time signal; full auto-calendar (to year 2099); 12/24-hour format; Button operation tone on/off; regular timekeeping

Power Source

Tough Solar power system (solar-charging system)

Continuous Operation

Approx. 2 years

Size of Case

55.0 × 51.2 × 16.9 mm

Total Weight

Approx. 72g
* Information and pictures courtesy of G-SHOCK and Brand Cellar *