SG Largest King Koil Gallery & Ashley Furniture Flagship Megastore celebrates 1st Anniversary
For those residing in Singapore, do you know that there is a 6-storey building that showcases Singapore largest King Koil and Ashley Furniture wide range of mattresses, bedding accessories, furniture, and other decorative items for the homes? Another big news, Singapore's largest King Koil & Ashley Furniture Megastore is celebrating their 1st Anniversary milestone at this 6-storey building with a floor space of over 30,000 square feet.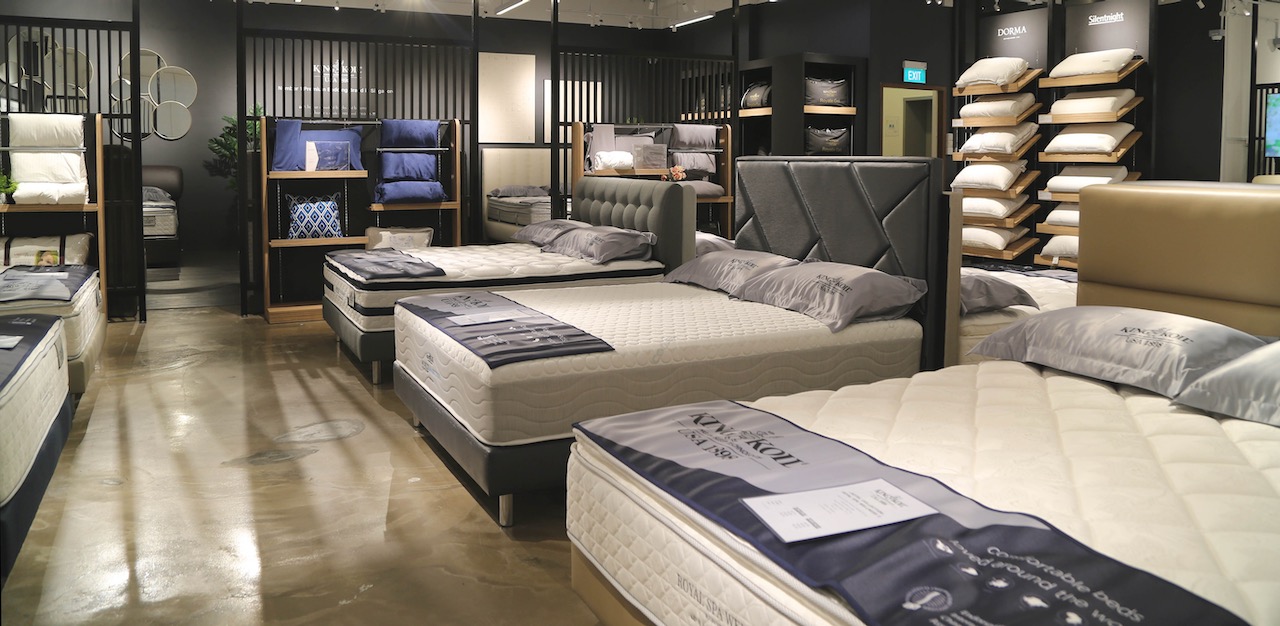 Looking for new home furniture? Come visit Singapore's largest King Koil & Ashley Furniture Flagship Megastore!
If you are a new homeowner or an existing homeowner, and you are planning to buy or change new home furniture, it's time to visit Singapore's largest King Koil & Ashley Furniture Flagship Megastore, all under one roof! To celebrate this 1st Anniversary milestone, the megastore has brought in King Koil's latest 2023 Key Collections of mattresses, sofas, and beddings, as well as a host of other brands' latest, each featuring home furniture industry's latest technology and designs.
King Koil is also focusing on sustainability in their new showroom as well, with new motion sensor lights installed to save energy when there is no activity in the space. King Koil Gallery & Ashley Furniture Megastore also brings the best of the brand's environmentally friendly furniture, with the use of eco-friendly raw materials in their products.
King Koil is founded in the United States in 1898, they are manufactured and distributed by Matsushita Greatwall Corporation in Singapore, which also owns the distributorship of other top mattress and furniture brands such as Ashley Furniture, Dorma, Silentnight, and Stylemater.
New King Koil Mattresses for an Unrivalled Night's Sleep
One of top choices among Singaporean homeowners for mattresses is King Koil. They continues to be the top choice today, designed to fit Singaporeans' body structure. King Koil is the only global mattress brand endorsed by the International Chiropractors Association to help promote proper spinal alignment and a healthier night's sleep. Its signature individual pocket spring mattresses provide optimal back support, and its unique enhanced edge support allows maximum sleep space. Its unique Excellent Edge High Resilience Foam Encasement provides a firm seating edge and allows the sleeper to maximize the sleeping surface.
King Koil 2023 Hotel Collection – Grand Palais
The latest King Koil 2023 Hotel Collection premiere is the Grand Palais. The individual pocketed spring mattress with a pillow top has a firm comfort level. It is fitted with eco-friendly natural latex for a more responsive and cooling sleeping surface. The European designed woven mattress cover gives the mattress a cool and smooth feel. King Koil is the preferred supplier of global 5-star hoteliers and serviced residences. The mattresses that are supplied to the top 5-star hoteliers have been adapted for residential use.  The Hotel Collection also includes the following products Royal Wellness Spa II, St Ritz II, Grand Glamour II, Bellagio, The Signature II and The Palazzo II.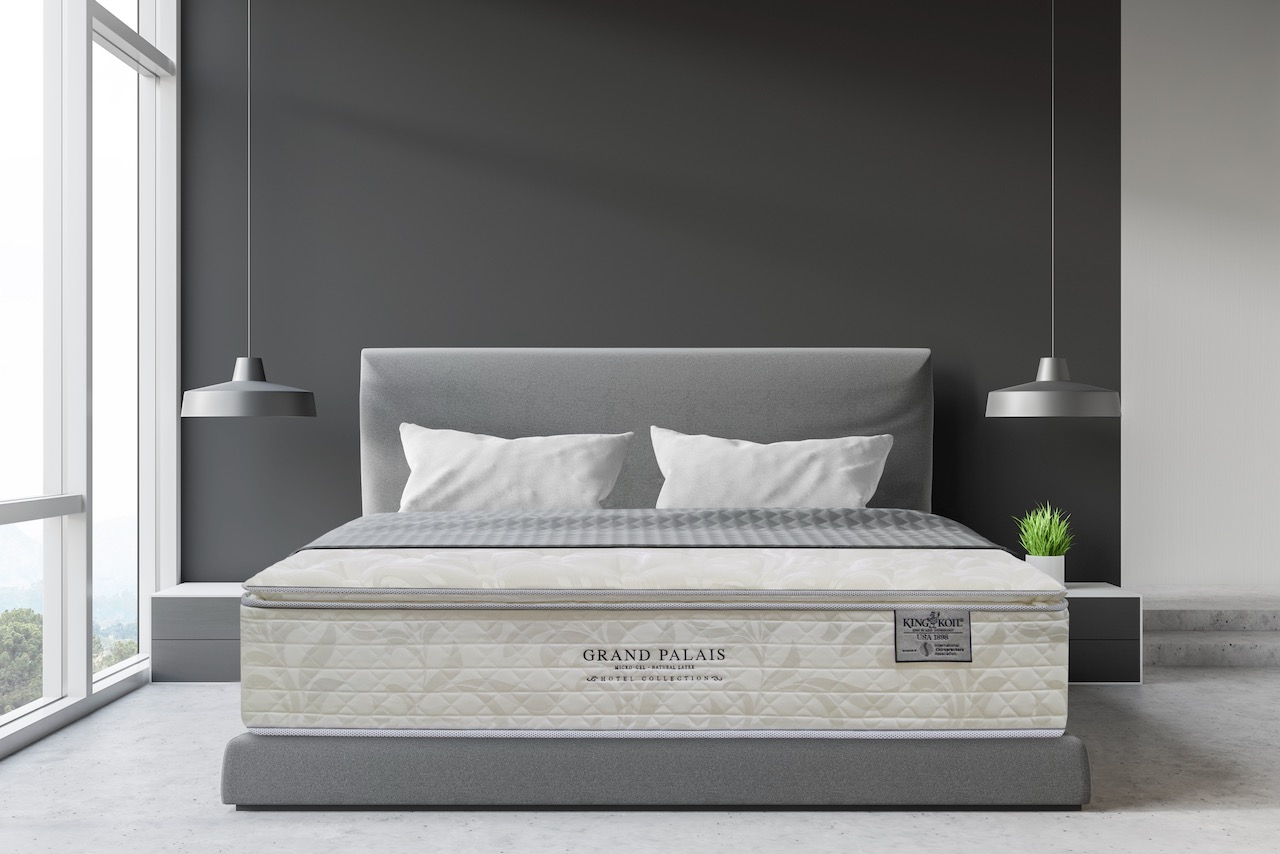 King Koil 2023 Royal Comfort Collection – The Knight
The new Royal Comfort Collection debuts The Knight, a mattress of the best Royal Comfort specification with an increased firmness rating. European designed eco-friendly woven mattress covers with Tencel yarns, gives the mattress a soft and cool touch. Eco-friendly natural latex provides relief on the pressure points while keeping you cool and giving support. The mattress offers optimal lumbar support and alleviates discomfort from swelling, pain, and stiffness. The Royal Comfort collection is fit for royalties.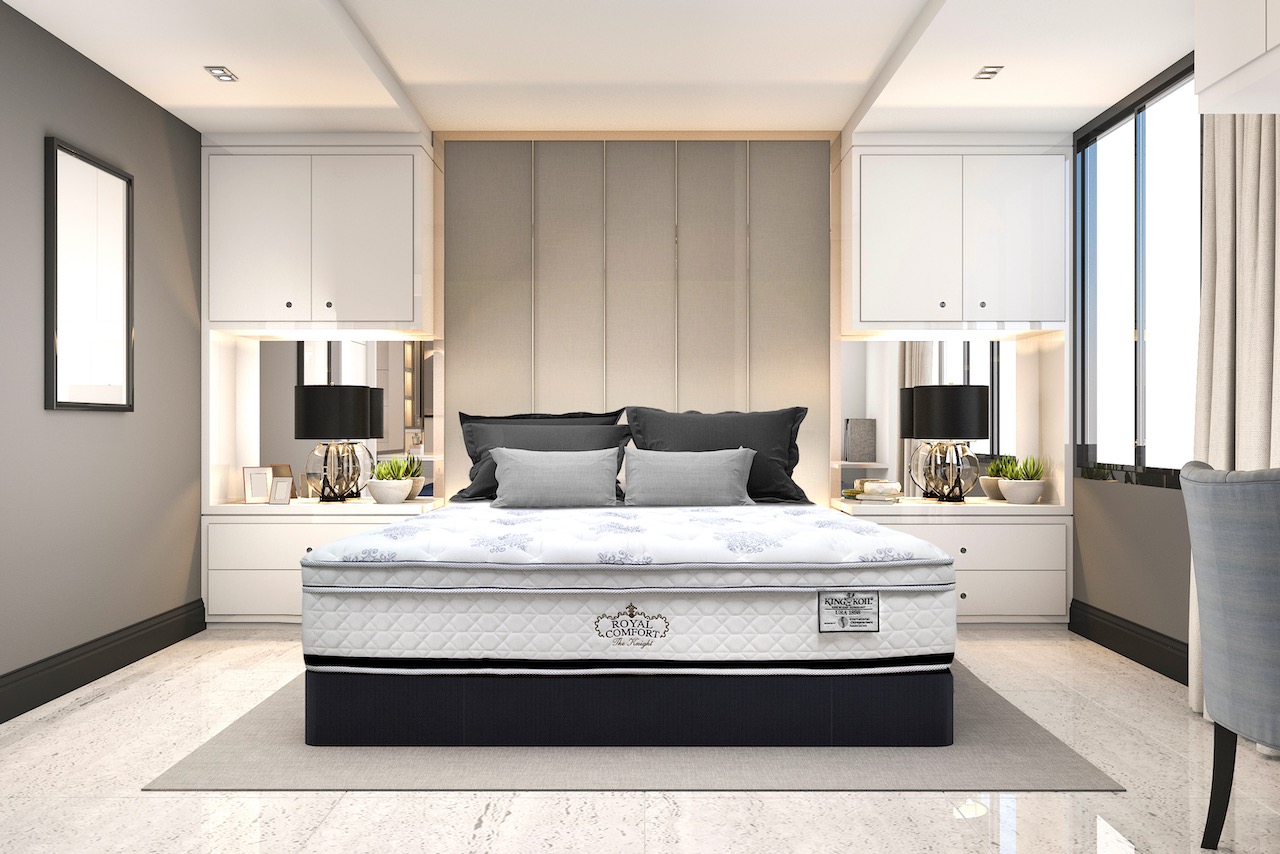 King Koil 2023 Series of Innovative Mattresses 
In 2023, King Koil is also launching a series of innovation with its mattresses including:
Bamboo Yarn: Eco-friendly bamboo yarns are woven into the textile for a smooth and cooling hand feel. Bamboo yarns are naturally anti-bacterial.
Vitasoothe Treatment: The mattress covers are infused with 6 ions to increase blood circulation and reduce muscle fatigue. The premium Vitasoothe treatment ensures a reenergising and superior sleep experience.
Natural Fibre Bed Linens: Hotel inspired design bed linens made from Egyptian cotton and natural and eco-friendly yarns with a cool touch.
Micro-Gel Bedding Accessories: Made in Korea, the Signature Micro-Gel collection features the soft touch of down and silky-smooth covers fabricated with natural cotton.
Royale Gel Bedding Accessories: King Koil's latest Royale Gel collection brings superior air trapping ability, giving the pillows, bolsters, duvets, and toppers a puffier and more comfortable feel.
King Koil Stationary Sofa and Power Recliners: King Koil brings made-to-order sofas, complete with customisable upholstery as well as colour palette. Customers can choose from a wide range of fabric or genuine leather. It comes in various configurations to fit into every living room. All King Koil sofa frames are made of treated tropical hard wood to ensure sturdiness, while the reclining mechanisms are made using German technology for good seat suspension, support, and durability.
They have a local factory in Singapore that allows King Koil to freshly produce all mattresses, headboards, and bed frames for its customers. This added flexibility, especially for customers who require customisation and ensures that all products delivered to customers are freshly produced.
New Sofas and Home Decor for Prime Living by Ashley Furniture 
The world no. 1 American home furnishing manufacturer and retailer Ashley Furniture is introducing new sofas and home decor that range from modern and contemporary to vintage and casual.
Here are the new sofas and home decor for prime living by Ashley Furniture
Brand

Model

King Koil Sofa

Maison Sofa: A minimalist design and slender body crafted with kiln hardwood frame and premium fabric. Removable, washable, and replaceable cover.

Gondorf Sofa: Made of imported high quality cowhide from Europe, South America, and Southeast Asia, Gondorf's modern designs come with comfortable seats for good lumbar support. With electric control, you have complete control over positioning for the perfect angle. Additional USB charging port allows device-charging while in use. Its compact size makes it a bestseller among new homeowners.

Ashley Furniture

Altari Sofa: Clean lines and sleek track arms make for a decidedly contemporary profile, enhanced with plump cushioning and a chenille-feel upholstery. Slate gray colour makes it easily paired with a wide array of interior colour scheme, while a pair of understated floral pattern pillows bring a fashionably fresh appeal. New Platform foundation system resists sagging 3x better than traditional spring system, as tested on 20,000 testing cycles. Smooth platform foundation remains tight and wrinkle-free without dips or sags that can occur over time.

Parellen Dining Set: This dining room table sports clean-lined frames in a gray finish that's easy on the eyes. Topped by a durable melamine surface, it's an easy-living alternative to traditional wood tables. Dining chair match with complementary textured beige fabric cover, complete with cushioned upholstered seat for support and comfort.

Onevia Round Dining Set: Sintered stone top promises to be stainproof, easy to clean, food safe and hygienic. This table is hard to chip, scratch or damage.

Modern Living Collections

Belle Sofa: A Nordic-designed modern sofa with flexible backrest configuration for freedom of movement according to your needs. It comes with removable, washable and replaceable covers.

BYY+GEO Dining Set: Scandinavian style dining set with beech wood frame structure and melamine laminated top with matching Geo dining chairs.

Home Office

Ergohuman Plus Elite Office Chair: Perfect for the home office as well as for the commercial environment from small businesses to large office contract, the Ergohuman range of office are designed with complete comfort in mind, while delivering stunning designs and human-centric ergonomics combined with adjustable settings.

Home Essentials: A variety of home décor items such as mirrors, vases, rugs, carpets and frames to suit a myriad of tastes, mood and colours.

Wall Art: Exclusive wildlife expedition art pieces taken by a freelance photographer, available in custom print and frame sizes to suit any wall space.

Home Office Desk: From stationary to adjustable settings, King Koil offers different types of office desk with wide colour selections to keep up with the speed of modern lifestyle.
The Grand Palais and The Knight come in four standard bed sizes – Single, super single, queen, and king size, with prices between $3,109-$5,689 and $4,309-$8,099 respectively. Both collections are now available at all King Koil and Ashley megastores.
Information on Singapore largest King Koil Gallery & Ashley Furniture Flagship Megastore
King Koil & Ashely Furniture Megastore
Address: 12, Jalan Kilang Barat, Singapore 159354
Other locations
1 Genting Lane, #01-01 Singapore 349544
67 Sungei Kadut Drive, L1 & L2, Singapore 729567
Marina Square, 6 Raffles Boulevard, #03-346 to 348, Singapore 039594
* Information and pictures courtesy of King Koil, Ashley Furniture and Brand Cellar *