The time now is 1111hrs on 11.11 (11th November).
This is also a day for you to grab some exciting deals at Shopee 11.11 Shopping Festival. Let me share some deals for you to grab and buy from Shopee on 11.11!
Xiaomi Mix at $1,111 on Shopee
For one day only, today on 11.11, Xiaomi Mix at $1,111 on Shopee!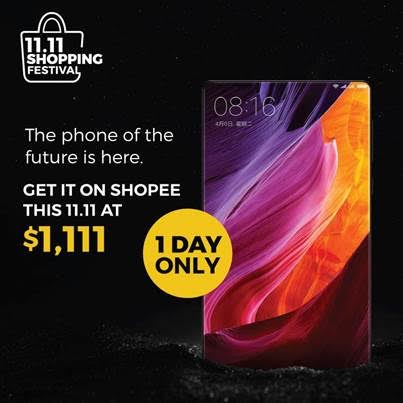 Google Pixel
Original price: $1,299.00
Sale Price: $1,149.00 *
This new kid on the block packs Qualcomm's latest Snapdragon 821 CPU with a 4GB RAM and a – wait for it – 12.3-megapixel camera. What's more, Google Pixel is the first smartphone to come equipped with Google Assistant. That means this handy sidekick is able to pull out photos, event calendars, play your music of choice on preferred apps, text friends – at a single query. Oh and did we mention that Shopee is also the first platform in Singapore to stock it?
Xiaomi Redmi Note 4
Original price: $288.00
Sale Price: $139.00
With a sleek finish and an even sweeter price point, Xiaomi has pulled out all stops with this one. This beauty comes complete with a 13MP f/2.0 rear camera with phase-detection autofocus and a 5-megapixel front camera – all the right kicks to nail that perfect #selfie.
Razer Deathadder Elite
Original price: $109.00
Sale Price: $59.90
Engineered to bring gameplay to the next level, this tough guy is equipped with the new eSports-grade optical sensor that has a resolution accuracy of 99.4% (gasp!) – delivering more power packed punches with pinpoint precision.
Philips 32" SLIM LED TV
Original price: $237.00
Sale Price: $179.00
Have a good laugh this festive season over a good ol' TV flick on this 32" wonder that boasts an ultra-narrow bezel for more picture to enjoy. This TV set comes installed with the Philips Motion Rate, bringing you adrenaline-racing sporting events and action movies in crystal clear clarity.
Transcend StoreJet 25A3 1TB Hard Drive
 Original price: $99.00
Sale Price: $39.90
Who said hard drives had to be dull and boring? The StoreJet 25A3 offers anti-shock protection, a SuperSpeed USB 3.0 interface, a convenient auto-backup button (remember that brief moment of panic when your computer hangs mid-way through a 10-page report? Yep, we've all been there!) and up to 2TB of storage – all without compromising on aesthetics. Need we say more?
Online shoppers! You can also check them out on Shopee's mobile app that's available on Android or iPhone or online here. Images can be downloaded here.
Spread the word on 11.11 deals at Shopee 11.11 Shopping Festival to your family, relatives, colleagues and friends!
Happy 11.11 Shopping!
* Information and details courtesy of Shopee Singapore and Cohn&Wolfe *