Audio House Online Store and Membership Program
Audio House, one of Singapore's largest home-grown electronics retail store, has just launched their online store – audiohouse.com.sg , along with their membership program!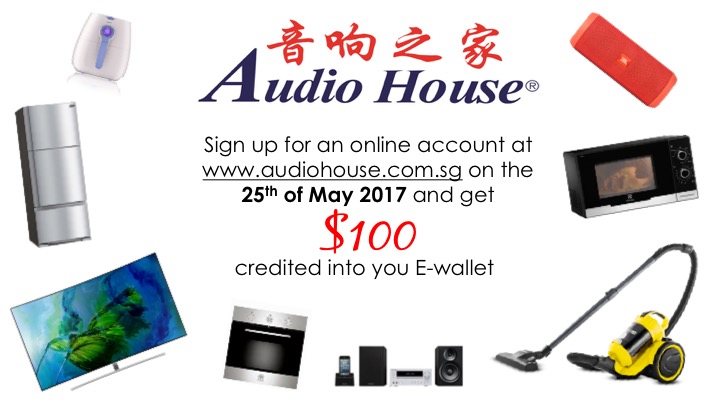 Do visit Audio House online store and check out their offers and promotions!
Tomorrow, on the 25th May of 2017, from 0000 hrs to 2359 hrs, Audio House is giving you some special membership perks if you sign up on the 25th May 2017! The sign up process is simple, can be done at home and it's free!
Membership Perks for new members on the 25th May 2017
Free lifetime membership
Free $100 cash vouchers (credited into e-wallet)
Free cash vouchers with every purchase, which can be used to offset subsequent purchases. All cash vouchers can be used on top of promotions offered.
For purchases without the use of cash vouchers, free $20 will be given for every $100 purchase
For purchases using existing cash vouchers, free 3% of net amount paid will be credited into account.
How to use cash vouchers – for every $100 spent, $20 can be deducted from your e-wallet account
If you are planning to purchase some electronics and home appliances soon, look no further and sign up as a member with Audio House on 25th May 2017 and enjoy the membership perks that they offer just for 25th May 2017!
Do Pass-It-On and share this news with your family, relatives and friends! Happy shopping with Audio House!