Catch The Simpsons at World Cup 2014!
World Cup 2014 is upon us tonight, kicking off early Friday 4am in the morning (for those living in the GMT +8hrs time zone like me!) and being a football fan, it's time to follow the holy grail of World Cup Football! Before catching the World Cup 2014 in action, I would like to share with you a special cartoon that is one of my favourite series, The Simpsons! The Simpsons are going to World Cup 2014 … Yes, in their cartoon world!
Join the Simpsons on their crazy adventure to Brazil as Homer Simpson officiates the World Cup in Brazil, deals with the temptation of match-fixing and soaks in the festive atmosphere! If you are Simpsons fan and a football fan, I am sure The Simpsons Season 25 – You Don't Have to Live Like a Referee will definitely attract your attention and you will be keen to watch it on Thursday 12th June at 7:30pm!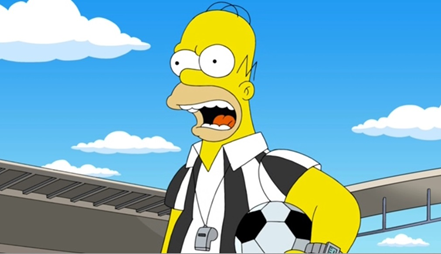 The Simpsons Season 25 – You Don't Have to Live Like a Referee

Premieres Thursday 12th June, 7.30pm

(Encore telecast at 10.30pm)

FOX

(SingTel mio TV Ch. 330,

StarHub TV Ch. 505)

FOX Sports

(SingTel mio TV Ch.114,

StarHub TV Ch. 208)
* Information and Picture Courtesy of Fox International Channels and Tactic PR *