The use of child restraints in cars is a topic that is personal to me, even though I do not have any children, I have quite a number of nephews and nieces of different age range. Being a driver myself, I experienced a motor vehicle accident and saw major vehicle accidents happening to people around me, I am personally concerned on the topic of safe driving and having the appropriate child restraints for your child (if you have one).
Recently, I was introduced to mifold, the world leader in the ultra-compact portable child car seat category, thanks to Grab. This ultra-compact portable child car seat mifold is now equipped inside GrabCar vehicles under an exclusive partnership. During the media event and mifold demonstration, I got to know more about this ultra-compact portable child car seat and they will be now be equipped inside GrabCar vehicles, that can give families with young children the assurance and safety when they hail a GrabCar for their travel.
Here are more details of the child-friendly car rides with Grab with their exclusive partnership with mifold –
Grab, the leading ride-hailing platform in Southeast Asia, announced an exclusive partnership with mifold, the world leader in the ultra-compact portable child car seat category, to enhance child passenger safety in private-hire vehicles and provide more inclusive shared transportation services. Under the partnership, all GrabCar vehicles will be equipped with the advanced, compact and portable mifold Grab-and-Go child booster seats, and be part of the GrabFamily fleet. GrabFamily is Singapore's first child-friendly private-hire car service operated by drivers who are trained to support families with young children and outfitted with mifold child booster seats designed for children between four and seven years old.
"We have been beta-testing GrabFamily for six months to provide extra care and protection to young passengers. GrabFamily is becoming a popular option for families and we want to make it even easier for parents to find a child-friendly point-to-point ride anywhere, anytime. By having the entire GrabCar fleet doubling up as GrabFamily, we are creating an inclusive shared transportation system to serve more families with young children and also provide additional income opportunities for our driver-partners who can now take GrabFamily bookings on top of regular GrabCar bookings. It's a win-win for parents and drivers. Ultimately, the goal is to make child-friendly shared transport services more accessible to everyone which will help in reducing the need for car ownership for a car-lite future," said Andrew Chan, Head of GrabCar Singapore.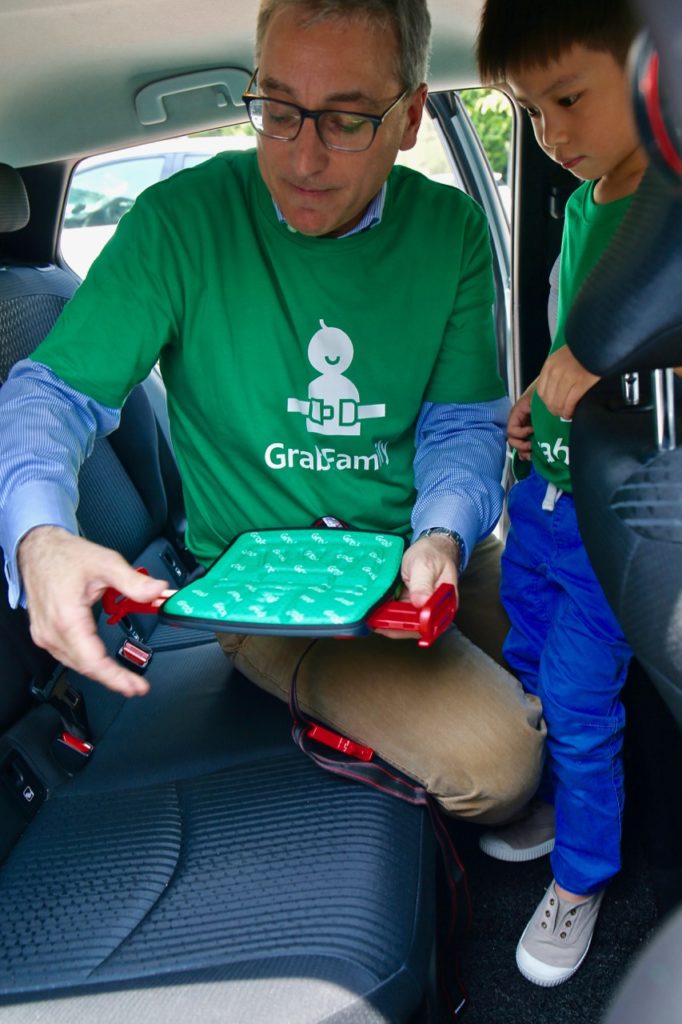 According to Singapore's Road Traffic Act, it is mandatory for children under 1.35m in height to use appropriate child restraints when travelling in private-hire vehicles. However, a Grab survey conducted last month with 520 Singapore-based parents found that only one in three parents (35%) own a child safety restraint, and only a fraction (8.5%) bring it out with them when they are not driving. Other key findings from the survey revealed that:
While safety of their child is top priority when travelling in private-hire cars, less than half of the surveyed parents (46%) are willing to pay a premium to use child restraints provided by private-hire car companies.
Majority of surveyed parents (62%) think that Grab drivers should proceed with the ride booking even if parents do not have the appropriate child restraints for their children.
Three-quarters of the surveyed parents (79%) think it is unfair that child restraints are required for children under 1.35m when travelling in private-hire cars but not taxis, while 8% think it is fair and the rest undecided. Fifty-nine percent cited that the same regulation should apply to both private-hire cars and taxis, while 37% think the regulation is unnecessary for both services.
When asked who (i.e. the parent, the driver, the private-hire car company, or all of the above) should be the most responsible for ensuring children's safety when travelling, only 5% cited the private-hire car company. Yet 47% of parents think the private-hire car company should be the most responsible for providing a child safety restraint.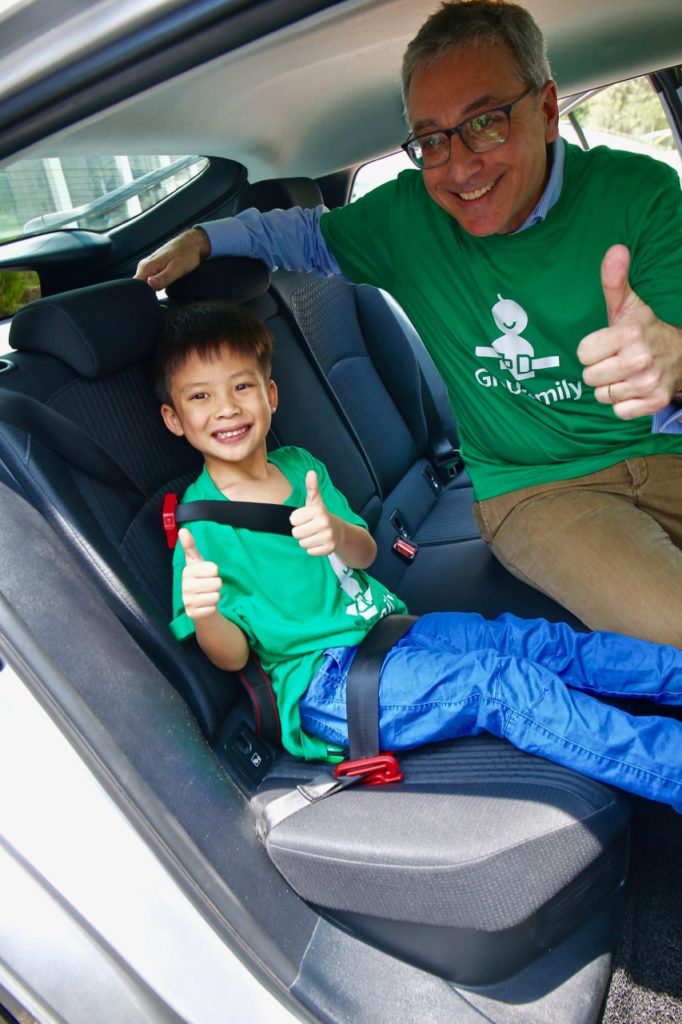 Commenting on the survey findings, Chan added: "We understand that many parents in Singapore do not own child booster seats and prefer not to invest in one so we are making every GrabCar on the road child-friendly by partnering with mifold. Trained GrabCar drivers can now legally transport child passengers aged four to seven. Grab cares deeply about safety and will continue to invest in making Grab the safest transport platform for our passengers."
"We are delighted to be selected by Grab to be the exclusive partner for the GrabFamily program," said Jon Sumroy, CEO and inventor of the mifold Grab-and-Go booster seat. "We created the ultra-compact car seat category with mifold so that more children will be safe in more cars on more journeys, more of the time. In Singapore many people rely on shared transport services to travel and it is simply not practical for passengers to carry around large bulky booster seats. Likewise, drivers cannot carry traditional bulky booster seats, taking up valuable space needed by passengers and for luggage." Jon added, "We are proud to be partnering with Grab who will be the only ridehailing company in Singapore to offer booster seats in their entire fleet, demonstrating their true commitment to child passenger safety."
A safer ride for child passengers with mifold booster seats
To ensure a safe and comfortable ride experience for child passengers and their parents, Grab selected the mifold Grab-and-Go booster seat – an advanced, compact and portable design that conforms to the most universally accepted global booster car seat regulations1.
As opposed to regular child booster seats that come in various forms and sizes, the mifold booster seat is a tenth of the size and easy to set up. Unlike a regular booster seat which requires the lifting of a child to be in the position of an adult, the mifold Grab-and-Go booster seat holds the seatbelt down to fit the child properly. Its unique design aids in shifting the seatbelt away from the child's stomach and neck so that it fits snugly across the child's chest and hips, keeping the child comfortable and protecting him from injury. The mifold Grab-and- Go booster seat can be easily adjusted to fit child passengers between four to seven years old, weighing between 15kg to 36kg, and under 1.35m in height.
For drivers, the compact mifold Grab-and-Go booster seat offers greater convenience as it can be folded into half and stored in the glove or door compartment, retrieved and set up easily whenever there is a child passenger on the ride. The booster seat is made of easy-to-clean material and stays cool even on a hot, sunny day, making it hygienic for sharing.
Choose Safety, Book GrabFamily
Each GrabFamily ride comes with one mifold Grab-and-Go booster seat for children aged between four and seven years old and weighing between 15 and 36 kg. Parents can book a GrabFamily ride by selecting the GrabFamily icon on the Grab app to ensure they are allocated to a car with the booster seat. Bookings can be made on-demand or in advance, and fares are shown upfront. A GrabFamily booking is just $2 more than the regular GrabCar Economy base fare of $2.50. As of today, more than 1,000 GrabCar drivers have started serving GrabFamily bookings, with all drivers to be onboard over the next few months.
For the best travel experience, Grab advises parents to
Introduce their child to a car seat from an early age
As part of our research through conversations with parents, Grab has found that younger children prefer a car seat they are familiar with. Parents should introduce a child car seat early, as it takes time for children to get used to being buckled into a car seat. If a child has a car seat that he or she already likes, parents can use them for their Grab rides.
2. Book GrabFamily if travelling with young kids
Parents should book a GrabFamily ride by default to ensure drivers are prepared for a ride with a child. Those who book a GrabCar ride and do not have a child restraint with them will be charged a $2 fee on top of their GrabCar fare for the use of mifold booster seat.
3. Communicate your request early on
If parents have any additional requirements, they can leave a note when making a booking, or send drivers a message using the GrabChat in-app function and save on SMS charges. This helps them assess early on if they can accept the ride request, giving parents more time to make alternative arrangements if needed.
Grab is the sole authorised dealer for mifold Grab-and-Go booster seats for the transportation and ride-hailing industry in Singapore. Private-hire car drivers, taxi drivers and transport companies can purchase the mifold Grab-and-Go seat from Grab's office at 18 Sin Ming Lane, #01-08 Midview City, Singapore 573960.
For more information on GrabFamily, visit https://www.grab.com/sg/family/.
* Information courtesy of Grab SEA and Golin *