Counting Down to Sundown Marathon 2009
In about 7 hours time , at the stroke of 2359 hours 30th May 2009, I would be embarking on my 5th full marathon and my 2nd Sundown Marathon.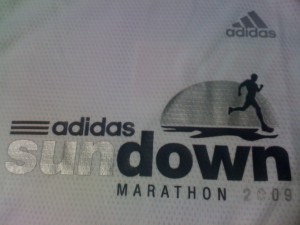 Reflecting back on my 4 full marathons, it was a great achievement for me, learning so much more about mental and physical development, overcoming the stress factor and conquering the fears and failure thoughts that could float through the mind when you are running a full marathon. Finishing a marathon gave me the learning on how to make my mind stronger and the technique of feeding only GOOD thoughts to my mind and not BAD thoughts, the psychology of self-improvement, personal development, personal well-being and growth. 
When I do my marathon running, I would always think of my past, reflecting and how I would make the changes to be better in my personal and professional life, just like improving my marathon finishing timings for my past 3 Standard Chartered Singapore Marathon (except for Sundown Marathon 2008 whereby I ran longer than my other 3 timings). This is also a great time to visualise, think, strategise, plan and execute my plans ahead in 2009 and beyond.
What would be I thinking …….. I shall share with you after my Sundown Marathon 2009 !