Finished a Very Hot Sundown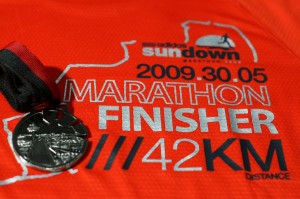 For the past few nights, it was very hot here in humid Singapore. Running in the night wasn't supposed to be that hot, yet, that was the case when I started off Sundown Marathon 2009.
Compared to the previous year, there were about double the number of runners and it was a very packed race due to the constraints of the holding ground, start point & end point area, besides, part of the route is through park connectors and wouldn't be wide enough. Lots of fun, great to see so many people running, at least you won't feel lonely running alone in the pack.
For the first 21km, it was one of the hottest night that I ever ran in, with my singlet soaked with perspiration and basically glued to my skin and feeling the weight of a singlet soaked with water (perspiration). The route from the Changi coastal route to East Coast Park was bright lights with no winds, not even sea winds blowing ! Along the route using the park connector, we ran beside the canals, the water inside was basically still and it really showed how still the air was – Dry and Very Hot !
The route was the same as last year, with 4 overhead bridges to conquer and running through the heartlands in the eastern part of Singapore, it's unique and I do like this run. The first 21km was tough due to the straightness and high humidity and hot weather, following that, it was much better, however, with insufficient training, after the 32km mark, it was really fast walk.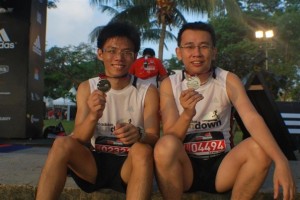 2 tired Sundown Finishers – Shi Wei (Left) , Myself (Right)
Ran part of the Sundown with Shi Wei before I went on my own to finish my own race. When I returned, my time was in the 6 hrs 50++ mins range, not a good timing by some standards, worse than my 2008 December Singapore Marathon, better than my 1st Sundown Marathon in 2008. 
Nevertheless, I ran my OWN RACE, for myself and I FINISHED my own race and I NEVER GIVE UP. 
Life is the same.