Dell Expands UltraSharp Monitors Lineup
Dell recently expanded the lineup of their UltraSharp Monitors, offering innovative design and technology, superb screen performance, improving productivity for professionals from across different industries such as financial traders, bankers, engineers,  creative industries to programmers.
Dell's UltraSharp monitors are well known in the market and they are constantly improving their monitors for the new generation of professionals entering the economy. 4K and curved monitors are getting more attention and favoured among the users in today's economy.
Having covered and followed Dell's range of technological products, Dell manufactures and produces excellent and wide range of monitors for different groups of customers, from home users to professionals of various industries. The UltraSharp range is a series that I have been looking out (and still considering) for as my work (photography business) monitor.
Let me share more information and details on the expanded Dell UltraSharp monitors family:
"Dell continues its legacy of leading innovation with multiple firsts in the industry and the launch of the world's first 49-inch curved dual QHD monitor1reflects our commitment in doing so," said Andy Sim, Country Manager, Singapore Commercial, Dell EMC. "Be it financial traders, bankers, creatives or engineers, the revolutionary monitor is enhanced for performance and productivity of these desk-centric users without compromising on design or functionality. We're always driven to meet the visualisation needs of our commercial customers, and believe the new UltraSharp family will offer the experience that our customers are looking for."
Designed with productivity in mind, the following features come as a standard in all UltraSharp monitors:
Fully adjustable stands for user comfort—height, tilt, swivel and pivot6
Flicker-free screen and ComfortView, which reduces blue light emission to optimise eye comfort
Easy Arrange on Dell Display Manager software to organise multiple applications for multi-tasking efficiency
Premium Panel Exchange7
Dell's three-year Advanced Exchange Service8
Dell UltraSharp 49 Curved Monitor (U4919DW) brings brilliance uninterrupted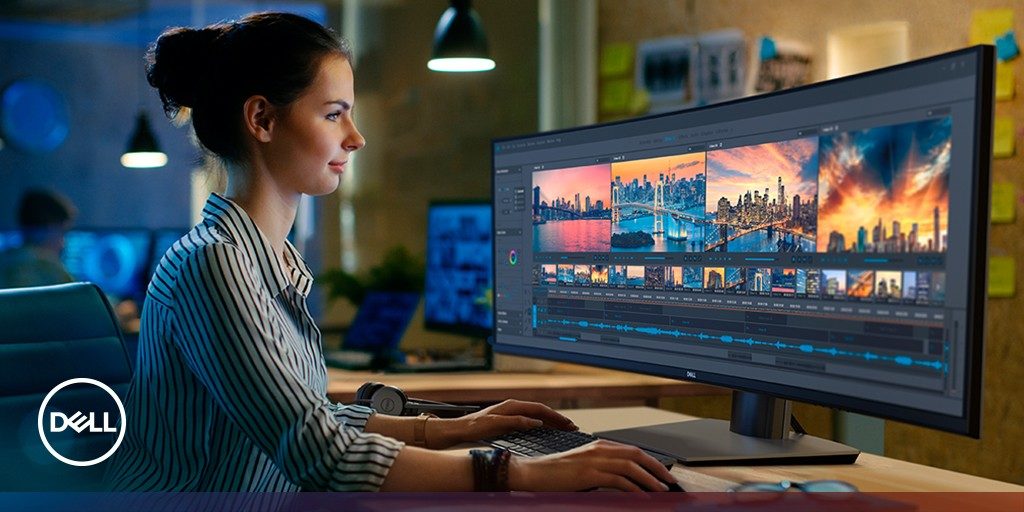 Dell is introducing the world's first 49-inch curved dual QHD monitor1with the revolutionary ultra-wide 32:9 aspect ratio for seamless multi-screen productivity. Delivering an immersive experience, this expansive monitor is the ideal replacement for two 27-inch QHD monitors. The large onscreen space with 5120 x 1440 resolution and IPS technology allows users to view more content and see fine details with consistent color across a wide viewing angle.
Dell UltraSharp 32 4K USB-C Monitor (U3219Q) shows brilliant color and clarity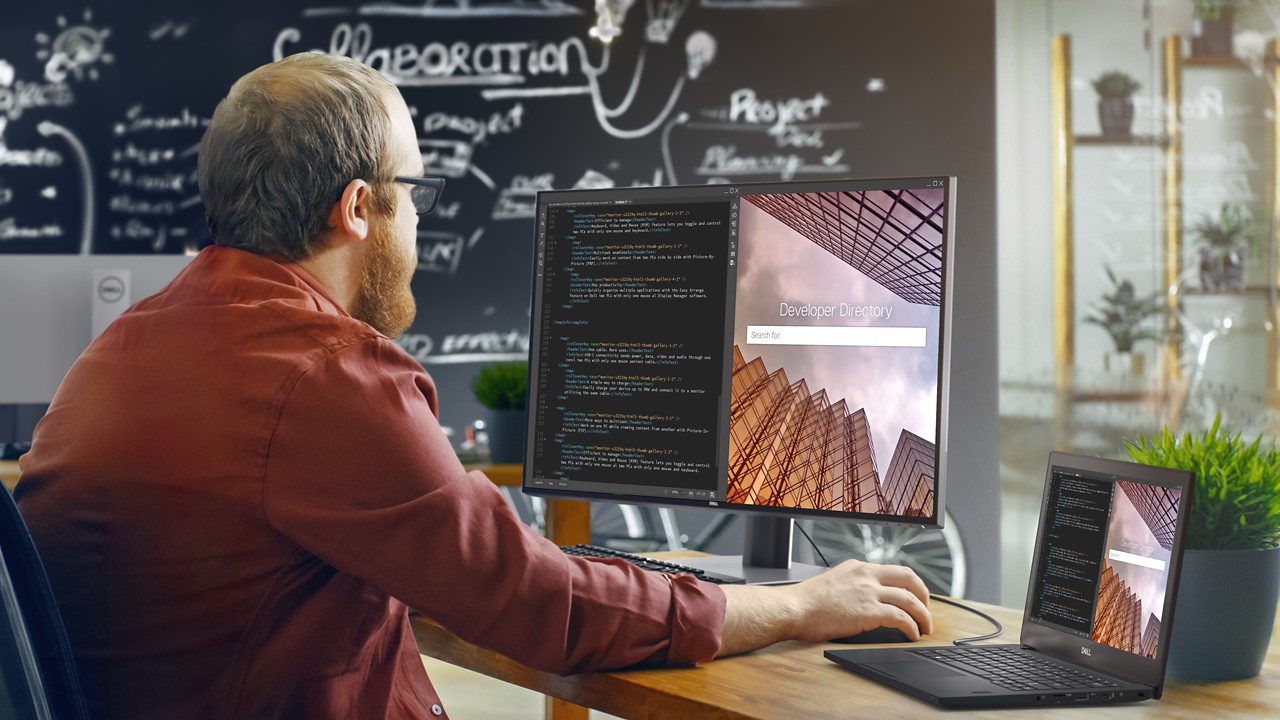 Experience outstanding screen performance in amazing detail with Ultra HD 4K resolution –  four times more detail than Full HD. VESA certified DisplayHDR™ 400 supports HDR content playback for stunning, true-to-life images. Images appear in living color revealing details that were previously tough to see withup to 400 nits of brightness (typical) and a color depth of 1.07 billion colors. Complementing the vivid monitor is the virtually borderless InfinityEdge for an edge-to-edge viewing experience. 
Dell UltraSharp 34 Curved USB-C Monitor (U3419W) provides immersive and exceptional performance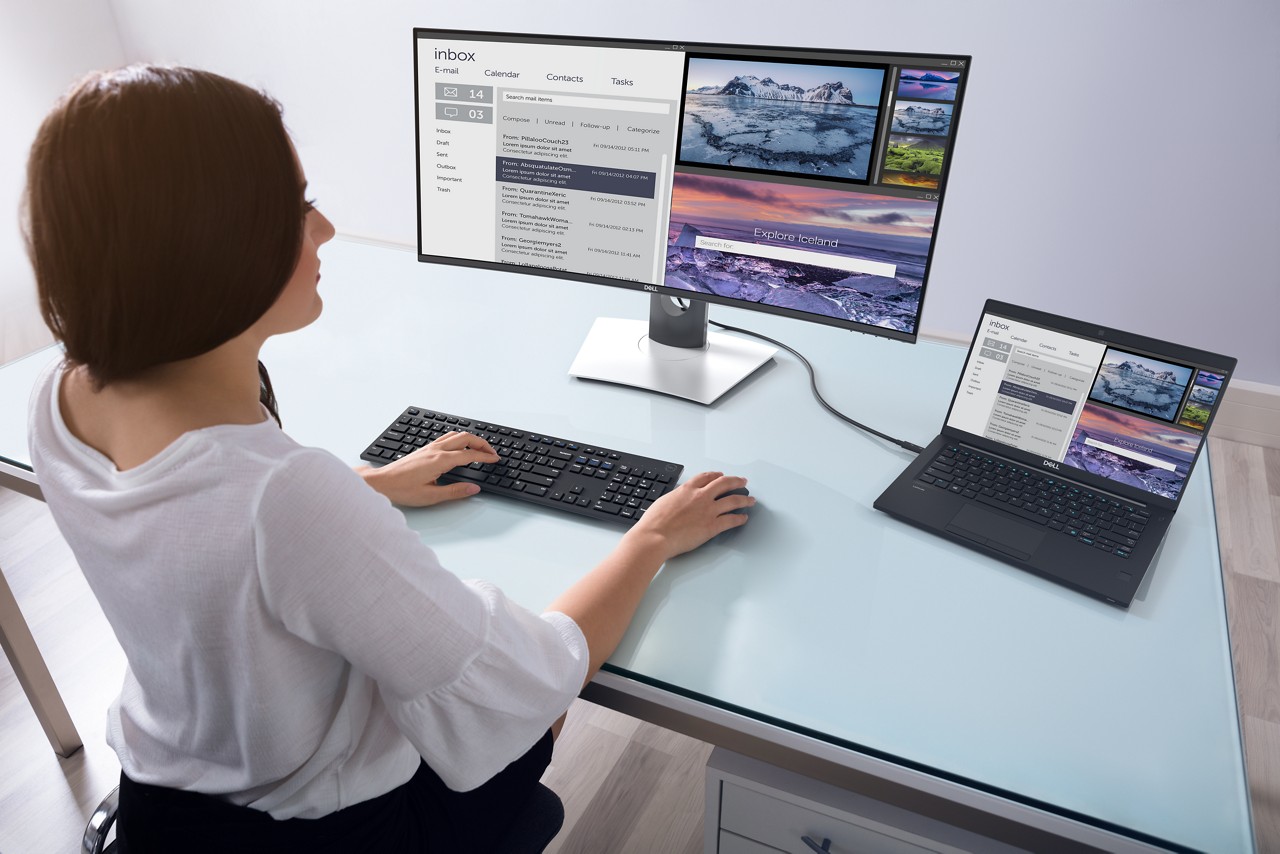 Discover precise performance and an immersive experience on this 34-inch curved USB-C monitor that elevates both work and entertainment. The ultra-wide 34-inch curved screen (WQHD (3440 x1440), IPS technology) with 21:9 aspect ratio offers a large onscreen space, ideal for multitasking, and built-in dual 9W speakers to complete the experience from sight to sound. 
Dell UltraSharp 24 and 27 USB-C monitors (U2419HC and U2719DC) designed for performance
See details and accurate, true-to-life color on the beautifully crafted UltraSharp monitors. The Dell UltraSharp 24 and 27 USB-C monitors each feature a thin side profile and small monitor base to optimise desk space, perfect for shrinking modern office spaces.The virtually borderless InfinityEdge bezel delivers an edge-to-edge viewing experience, ideal for a seamless multi-monitor set up. The new 24-inch (FHD) and 27-inch (QHD) monitors come with two different options, with and without USB-C connectivity, for superb screen performance in an innovative design.
Pricing & Availability:
The Dell monitors are now available through Dell and its authorised partners:
* Information and pictures courtesy of Dell and Burson Cohn & Wolfe *
Notes:
(6) Pivot adjustability is not available on monitors with 21:9 and above aspect ratio, such as U4919DW and U3419W
(7) Premium Panel Exchange ensures zero bright pixel defects on UltraSharp, Professional and Alienware monitors purchased from Dell during the warranty period
(8) Replacement part/unit dispatched, if needed, following completion of phone/online diagnosis. Fee charged for failure to return defective unit. Availability varies.