LG launched array of Premium Monitors
At the recent LG IT Media Launch event, I had the opportunity to view LG's newest and wide range of premium monitors from the 4K to consumer monitors. There is a LG monitor that caught my attention and it was their UltraWide monitor! Monitors grab my attention because of my photography and I would be sharing more thoughts on the range of LG monitors before sharing the press release information, technical specifications and pricing.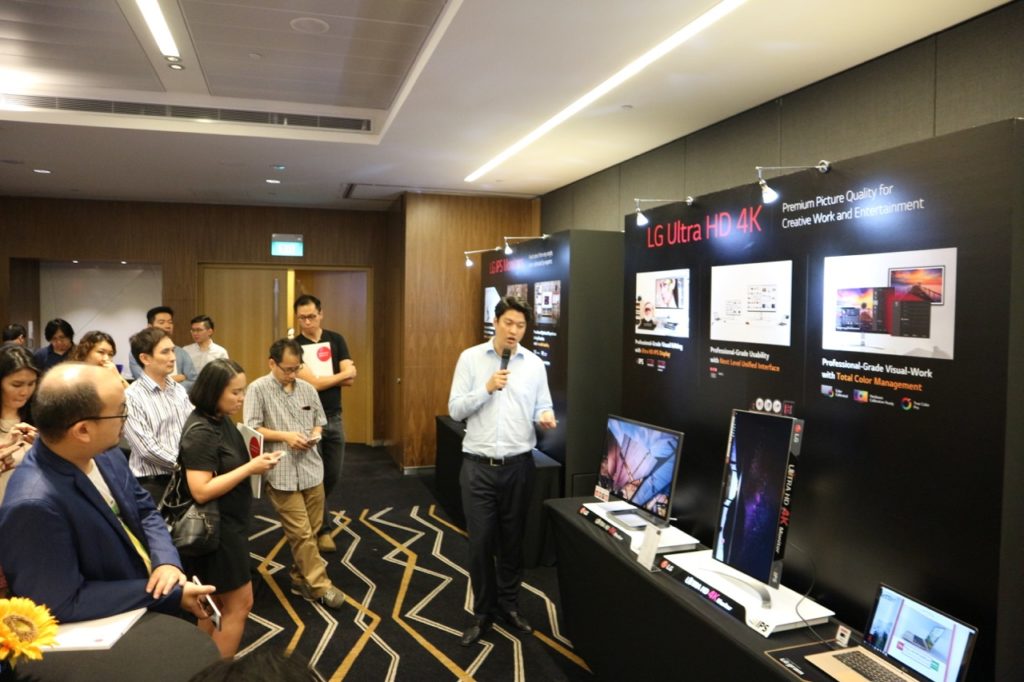 It would be ideal to have 2 big monitors side by side and I am able to work on different things concurrently. If I am able to have 3 big monitors such as 3 x LG UltraWide monitors, this would really be awesome for my photography, work and gaming! However, I would need the big office space with a big office table!
For this particular series of LG monitors launch, they are have IPS capabilities. Some key points that I saw from the LG IT Media Launch were –
Colour calibration on LG UltraWide monitors, LG Ultra HD 4k and LG IPS monitors
Total Colour Management on LG Ultra HD 4K monitors – colour calibrated, hardware calibration ready and true colour pro
From my conversation with the LG staff at the launch event, the monitors would be calibrated before leaving the factory. A colour calibrated monitor is definitely most welcomed for photographers and creative industry professionals.
The 31-inch LG Ultra HD 4k monitor colour gamut is AdobeRGB and it would really be nice to own that monitor! However, I think the 29-inch Curved LG UltraWide monitor would be on my wish list!
Let me share with you more information and details from the LG press release information below –
LG Electronics (LG) showcased its array of monitors set to heighten the viewing experience for end-users. UltraWide™, ultra-high-definition as well as consumer monitors took center stage and are poised to meet nuanced business and user demands.   
UltraWide™ Monitors for Discerning Users
The UltraWide™ line-up generated much fanfare, in particular the 34UC98 and 29UC88. Coming in curved displays, these two monitors promise an immersive experience while boasting IPS capabilities. IPS panels are designed to offer rich, true-to-life colours, deep black levels, amazing contrast and colour detail at virtually any angle. Even at wide viewing angles, users can expect consistent picture quality.
The 34UC98 has chalked up notable wins, including the prestigious iF Design Award 2016, Reddot award 2016 and CES's Innovation Award 2016. This 34-inch, 21:9 Curved UltraWide™ monitor features Thunderbolt 2, which allows users to transfer data at an amazing speed of around 20 gigabytes per second. The 3440 x 1440 Quad-high-definition resolution, picture quality-enhancing IPS technology and streamlined features cater to the needs of a wide range of users from avid gamers to digital media professionals, delivering a well-rounded multimedia experience for content creators and viewers alike.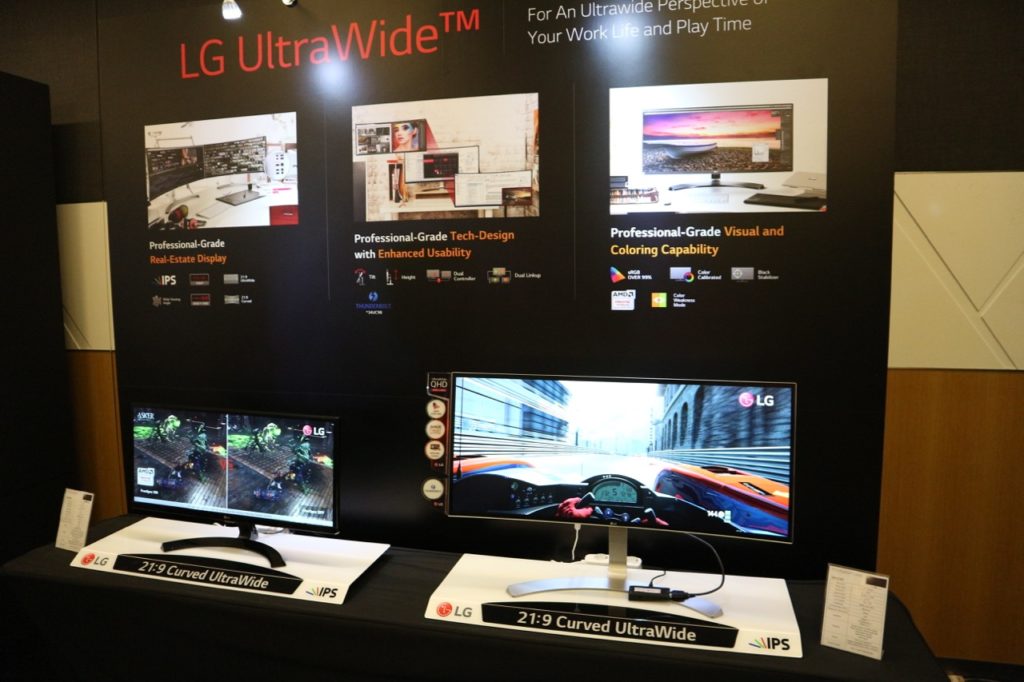 The 29UC88 boasts a 2560 x 1080 resolution, offering visual comfort and ensuring a superb viewing experience. The model celebrates the convergence of AMD FreeSync and 21:9 UltraWide™, which takes gaming to the next level where tearing and stuttering are now a thing of the past. The monitor also comes with First-person Shooter, Real-time Strategy and Custom modes, allowing gamers to choose the most ideal resolution for different game genres.
Ultra-High Definition 4K Monitors Cut a Swath
Also making an appearance is the 31MU97, which is designed to meet the sophisticated demands of working professionals. Boasting a Digital Cinema 4K display (4096 x 2160 resolution), its 10-bit colour depth supports over one billion colours and delivers accurate, detailed and natural-looking images. One of the monitor's nifty features is the Total Colour Management. This feature maintains the colour standard through a calibrator and dedicated calibration software "True Colour Pro" to minimize any differences in colour space and expressions between the original images, monitor screen and printed collateral. The monitor also provides presets for various uses such as broadcasting, medical and calibration modes. Furthermore, the 31MU97 is equipped with two internal 5W speakers and MAXXAUDIO® functions for a wide range of dynamic, crisp, clean high and low sounds while reviewing or editing 4K contents.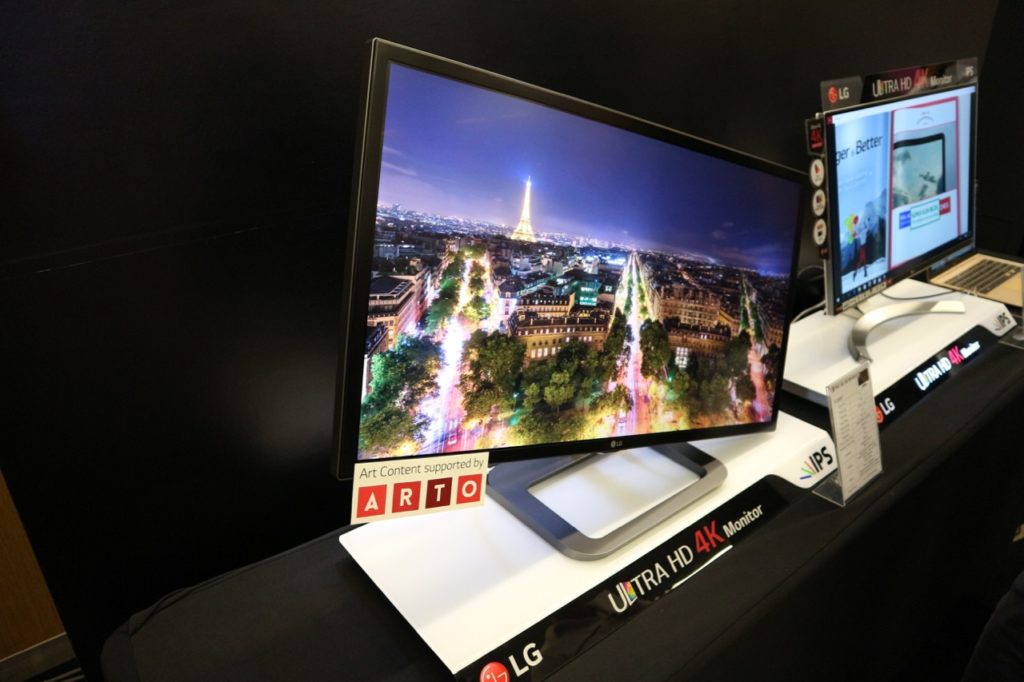 Equally impressive is the LG Ultra HD 4K monitor 27UD88, designed for creative professionals in mind and features the latest USB-C port technology. Representing the next generation of computer connectivity, the monitor allows users to charge a laptop as fast as with a dedicated power cord while simultaneously transferring data at USB 3.0 speed. The single cable gives users the ability to connect their laptops to an external monitor while also using the monitor as a power source, eliminating the need for more cables. The 27UD88 also offers colour presets including the popular Rec. 709 and SMPTE-C broadcasting standards, giving users a fast and easy way to adjust the picture depending on the screen content.
Consumer Monitors with an Affordable Price Tag
Also showcased at the LG IT Media Launch were models 24MP88HV, 27MP58VQ, 24MP58VQ, 22MP48HQ and 22M38H. These monitors stand out from the pack thanks to their outstanding designs. Compared with conventional counterparts, these sleek models have a reduced body frame depth of nearly 25 percent, helping users to better manage their workspace. With a slim make and stunning ArcLine Stand, the monitors also lend aesthetic value.
In addition to being perfect options for users looking for affordable alternatives, the monitors also pack commendable features. Before hitting the shelves, the monitors undergo colour calibration tests, ensuring clear images and vivid colours for your viewing pleasure. To maximize visual comfort, the monitors come with Reader Mode, which reduces blue light and eye strain for bookworms who spend hours reading on their computers. Also, the Flicker Safe function promises stable images regardless of brightness and frequency control, to ensure a consistent viewing experience. For gamers, the Black Stabilizer provides leverage — it brightens dark scenes for enemies in their hiding spots to be more visible. With the Screen Spilt feature and Picture-in-Picture mode, users can customise their multitasking by dividing the display for different tasks.
For more information: http://www.lg.com/sg/consumer-monitors
Key Specifications:
Category
UltraWide™
Model
34UC98
29UC88
29UM68
25UM58
Display

Size (Inch)
34" Curved
29" Curved
29"
25"
Panel Type
IPS
IPS
IPS
IPS
Aspect Ratio
21:9
21:9
21:9
21:9
Viewing Angle
178 / 178
178 / 178
178 / 178
178 / 178
Resolution
3440 X 1440
2560 X 1080
2560 X 1080
2560 X 1080
Colour Gamut
sRGB over 99%
sRGB over 99%
sRGB over 99%
sRGB over 99%
Brightness
300 cd/m2
300 cd/m2
250 cd/m2
250 cd/m2
Contrast Ratio (DFC)
Mega
Mega
Mega
Mega
Response Time (GTG)
5ms
5ms
5ms
5ms
Interface

D-Sub (VGA)
DVI
HDMI
•(2EA)
•(2EA)
•(2EA)
•(2EA)
Display Port
•
•
•
Mini Display Port
Thunderbolt
• (2EA)
USB Type-C
Headphone Out
•
•
•
•
USB Up-stream
• (USB 3.0 1EA)
USB Down-stream
• (USB 3.0 2EA)
Feature
FreeSync
•
•
•
Stand

Tilt
-5 o ~ 20o
-5 o ~ 20o
-5 o ~ 20o
-5 o ~ 20o
Height
110mm
120mm
Pivot
Wall Mount
Wall Mount Size (mm)
100 X 100
75 X 75
75 X 75
75 X 75
Speaker
Audio Output (Watt)
7W * 2
7W * 2
5W * 2
Power
Internal / External
External
External
External
External
Availability
May 2016
May 2016
May 2016
May 2016
Price
S$1,599
S$899
S$499
S$329
Category
UHD
Model
31MU97
27UD88
27UD68
Display

Size (Inch)
31″
27″
27″
Panel Type
IPS
IPS
IPS
Aspect Ratio
17:9
16:9
16:9
Viewing Angle
178 / 178
178 / 178
178 / 178
Resolution
4096 X 2160
3840 X 2160
3840 X 2160
Colour Gamut
AdobeRGB over 99%
sRGB over 99%
sRGB over 99%
Brightness
320 cd/m2
350 cd/m2
300 cd/m2
Contrast Ratio (DFC)
Mega
Mega
Mega
Response Time (GTG)
5ms
5ms
5ms
Interface

D-Sub (VGA)
DVI
HDMI
• (2EA)
• (2EA)
 (2EA)
Display Port
•
•
•
Mini Display Port
•
Thunderbolt
USB Type-C
•
Headphone Out
•
•
•
USB Up-stream
• (USB 3.0 1EA)
USB Down-stream
• (USB 3.0 3EA)
• (USB 3.0 2EA)
Feature
FreeSync
•
•
Stand

Tilt
-5 o ~ 15o
-3 o ~ 20o
-2 o ~ 15o
Height
140mm
110mm
Pivot
•
•
Wall Mount
Wall Mount Size (mm)
100 X 100
100 X 100
100 X 100
Speaker
Audio Output (Watt)
5W * 2
Power
Internal / External
Internal
External
External
Availability
May 2016
May 2016
May 2016
Price
S$1,799
S$999
S$859
Category
Consumers Monitors
Model
24MP88HV
27/24MP58VQ
22MP48HQ
22M38H
Display

Size (Inch)
23.8″
27″/ 23.8"
21.5″
21.5″
Panel Type
IPS
IPS
IPS
TN
Aspect Ratio
16:9
16:9
16:9
16:9
Viewing Angle
178 / 178
178 / 178
178 / 178
170 / 160
Resolution
1920 X 1080
1920 X 1080
1920 X 1080
1920 X 1080
Colour Gamut
sRGB over 99%
72%
72%
72%
Brightness
250 cd/m2
250 cd/m2
250 cd/m2
200 cd/m2
Contrast Ratio (DFC)
Mega
Mega
Mega
Mega
Response Time (GTG)
5ms
5ms
5ms
5ms
Interface

D-Sub (VGA)
•
•
•
•
DVI
•
HDMI
• (2EA)
•
•
•
Display Port
Mini Display Port
Thunderbolt
USB Type-C
Headphone Out
•
•
•
USB Up-stream
USB Down-stream
Feature
FreeSync
Stand

Tilt
-2 o ~ 15o
-2 o ~ 15o
-5 o ~ 20o
-5 o ~ 20o
Height
Pivot
Wall Mount
Wall Mount Size (mm)
75 X 75
75 X 75
75 X 75
Speaker
Audio Output (Watt)
5W * 2
Power
Internal / External
External
External
External
External
Availability
May 2016
May 2016
May 2016
May 2016
Price
S$399
27" – S$340

24" – S$205

S$158
S$134
*Information courtesy of LG Singapore and Brand Cellar*