If you are an iPhone user, I have something to share with you, wireless charging for your iPhone is now possible with the arrival of mophie wireless charging! This would definitely be helpful for iPhone users who forgot to bring their charging cable out or finding the charging cable cumbersome at times.
Let me share with you more about mophie wireless charging for iPhones from the press release information below –
mophie—the #1 selling mobile battery case maker in North America[1], and innovator of power solutions for mobile devices—announced its latest lineup of wireless charging solutions. Introducing the juice pack® wireless for iPhone 6s/6; juice pack® wireless for iPhone 6s Plus/6 Plus; charge forceä desk mount; and charge forceä vent mount. Along with the previously released juice pack wireless for Samsung Galaxy S 7/S7 edge, these devices represent mophie's first 24/7 wireless charging ecosystem.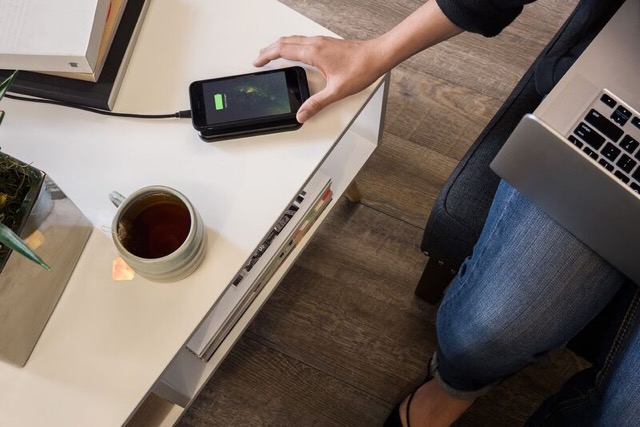 "Wireless charging is being integrated into our lives at coffee shops, restaurants, airports, in furniture, cars and so on," said Shawn Dougherty, mophie COO and Co-Founder. "By providing a diverse range of wireless charging options, we've taken the performance and convenience of mobile power even further."
The juice pack wireless is designed to be noticeably compact and fit securely in the hand while providing more than 50% additional battery to your iPhone 6s/6 (1,560mAh) or iPhone 6s Plus/6 Plus (2,420mAh). Each case is bundled with a wireless charging base, and are compatible with virtually all wireless charging standards, phones and accessories, including Qi.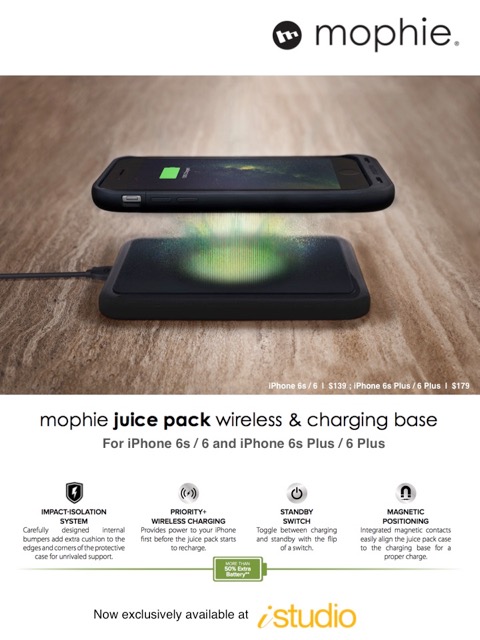 The charge force desk mount and charge force vent mount are compatible with all mophie wireless charging cases. Both are designed to hold a 5.5" phone and juice pack upright or in landscape positions, with custom embedded magnets.
The charge force desk mount features a pedestal mount that allows for multiple viewing angles to find the perfect position. The charge force vent mount has a 4-prong mount which easily slips over a car's air vent.
The mophie juice pack wireless for iPhone 6s/6 and iPhone 6s Plus/6 Plus is now available exclusively at iStudio, retailing at $139 and $179 respectively.
[1] "US Tech Geo Level Monthly Retail – US Retail Monthly Store Level", March, 2016, available from The NPD Group, Inc.
 *Information and pictures courtesy of mophie and Brand Cellar*