On 14/08/2009-365 Days Countdown to 1st Youth Olympics Games!

Firstly, I am not a youth anymore…… Nevertheless, I am always YOUNG at heart !!
Singapore is going to be a proud host and the FIRST Youth Olympics Games HOST to be held in 2010. On the 14th August 2009, Singapore is holding a countdown event/party, 365 days to the 1st Youth Olympic Games in Singapore, to be held at the Padang !
Venue : The Padang, Singapore
Date : Friday, 14 August 2009
Time : 1700 – 2100 (GMT+8)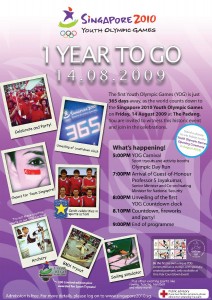 There would be lots of action ! Do take a look at the poster attached ! For more information, do drop by the Official Website on the Countdown Event ! Do drop by and support our Singapore Youths in Action !