The Onkyo DP-X1A portable music player was one of the three new audio products introduced in March 2017. During a recent Onkyo event, I had the opportunity to view, feel, touch and listen to the new Onkyo audio products in action. For this article post, I would be sharing information and details on the Onkyo DP-X1A.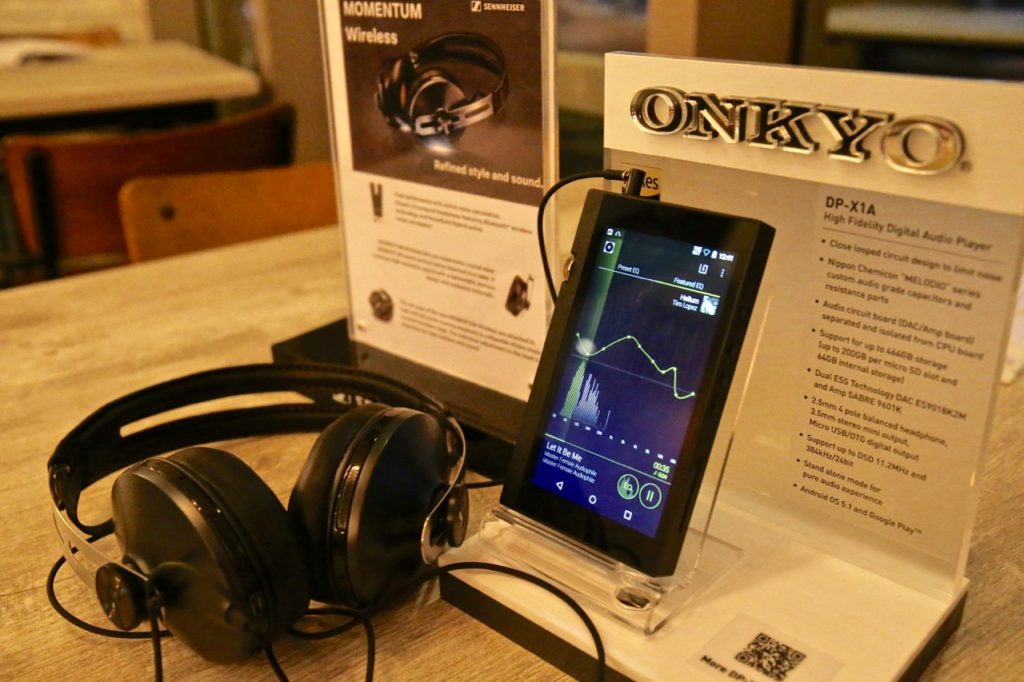 The Onkyo DP-X1A is a small, handy, pocket sized portable music player, aesthetically speaking, it doesn't look fanciful, yet it is packed with some pretty powerful technical specifications and capabilities. Pair the Onkyo DP-X1A with a good headphone, the music lover in you would love this combination, a high quality portable audio sound system.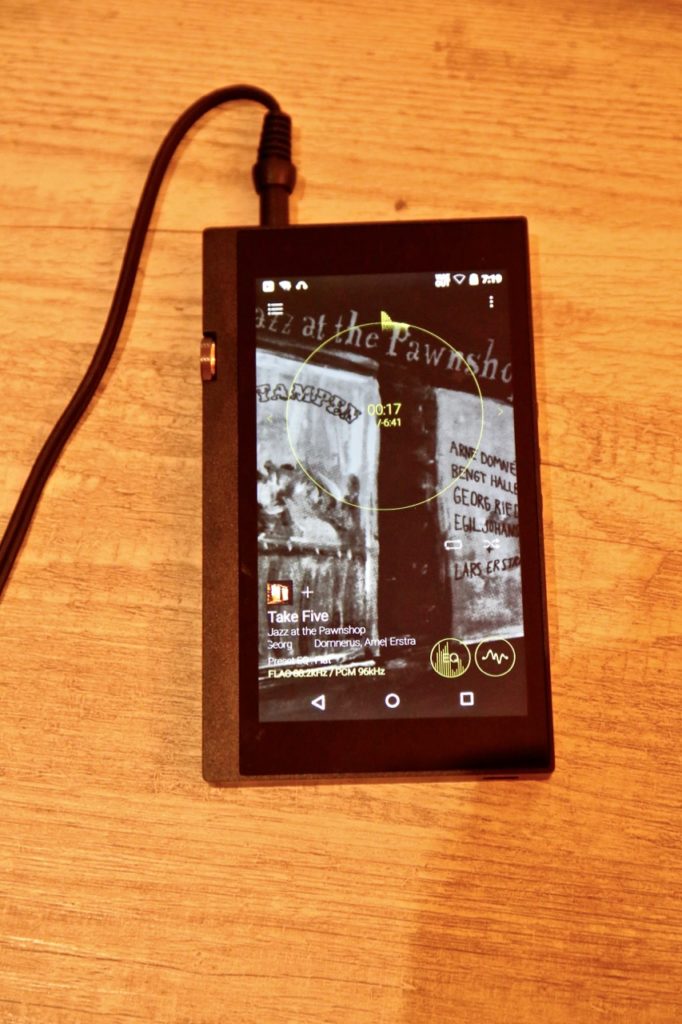 When I listened to music using the Onkyo DP-X1A with Sennheiser headphones, the listening experience was really good. The sound was excellent, sharp and clear. There is also a function inside the Onkyo DP-X1A that allows the user to change preset EQ, featured EQ or personalised EQ settings. This feature is something that I like and my personal opinion is that this feature can allow the music player and headphones to excel even better.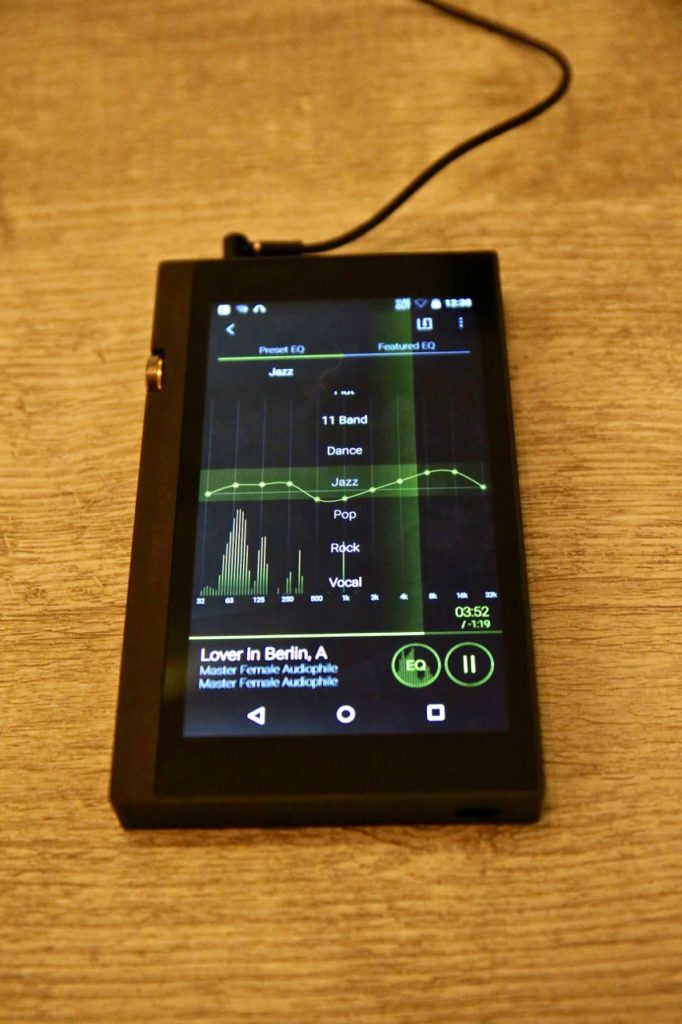 I would also be sharing on the technical aspects of the Onkyo DP-X1A for those serious and technically inclined music fans out there.
Let me share with you the information and details of the Onkyo DP-X1A from the press release information below –
As more Hi-Res audio titles become available in formats like DSD, FLAC, WAV, and MQA, there is a greater prevalence for player devices that support them and the desire to get closer to the source audio has grown, driving users toward balanced output and the use of more exotic parts to drive that sound. And with the advent of video and audio streaming, it has become easier to enjoy music on a more personalized level.
The "DP-X1A" supports up to DSD 11.2MHz, FLAC/WAV up to 384kHz/24 bit, and the latest MQA technology, fully balanced circuit design from the DACs to its output. Based on Android OS, and with built in Bluetooth® and Wi-Fi, the "DP-X1A" portable digital audio player can connect to a plethora of peripherals.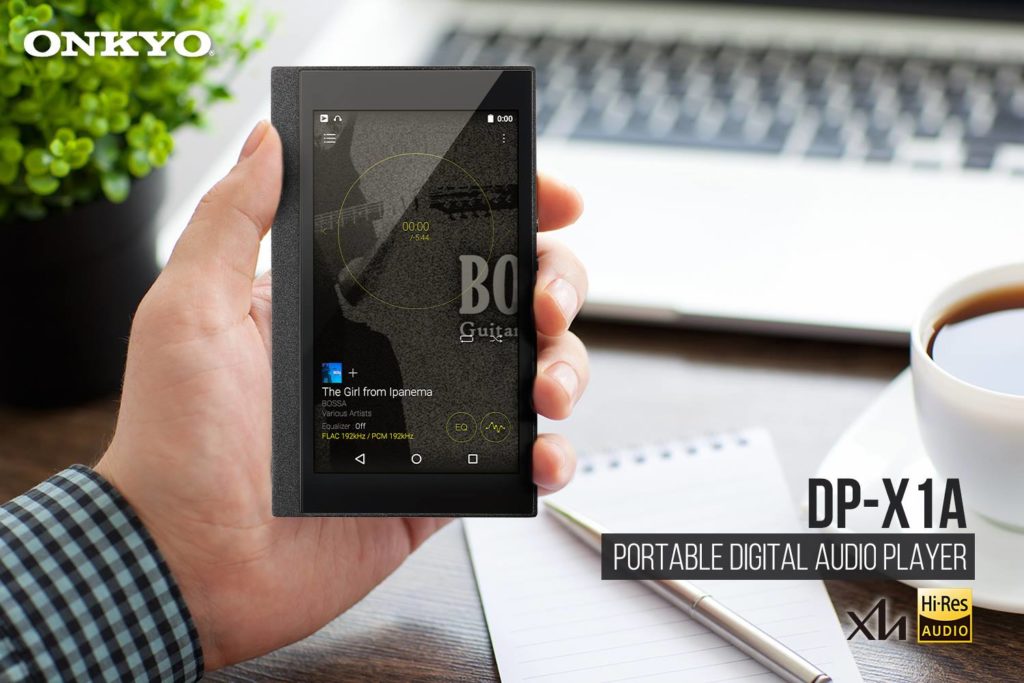 We have poured our years of experience in audio components into the "DP-X1A". Incorporating a pair of ESS Technology's SABRE DACs, connected to a 2.5mm 4 pole balanced output. The balanced circuitry allows for the conventional BTL drive, and the more esoteric ACG (Active Control GND) allowing for greater stability and clear soundstage. Overall, the circuitry design prioritized the elimination of noise entering the audio signal via extensive management of grounding and cleaning of power supply, allowing for not only Hi-Res music to sound great, but elevating the sound quality of compressed audio as well.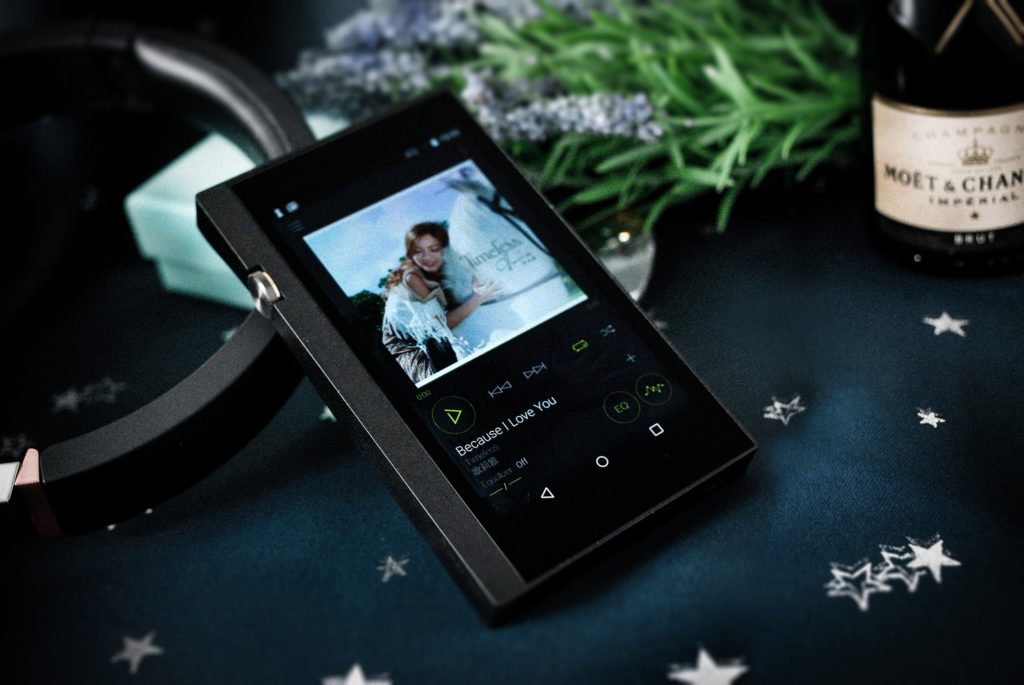 With internal memory of 64GBs and 2 microSD card slots, up to 464GB of storage is available for all forms of entertainment. The class leading 4.7inch GorillaGlass touch screen and access to GooglePlayTM allow for app support beyond what is preloaded, such as music and video streaming services and games. Using the preloaded OnkyoMusic app, downloading High Res Audio files can be done without the need of a PC.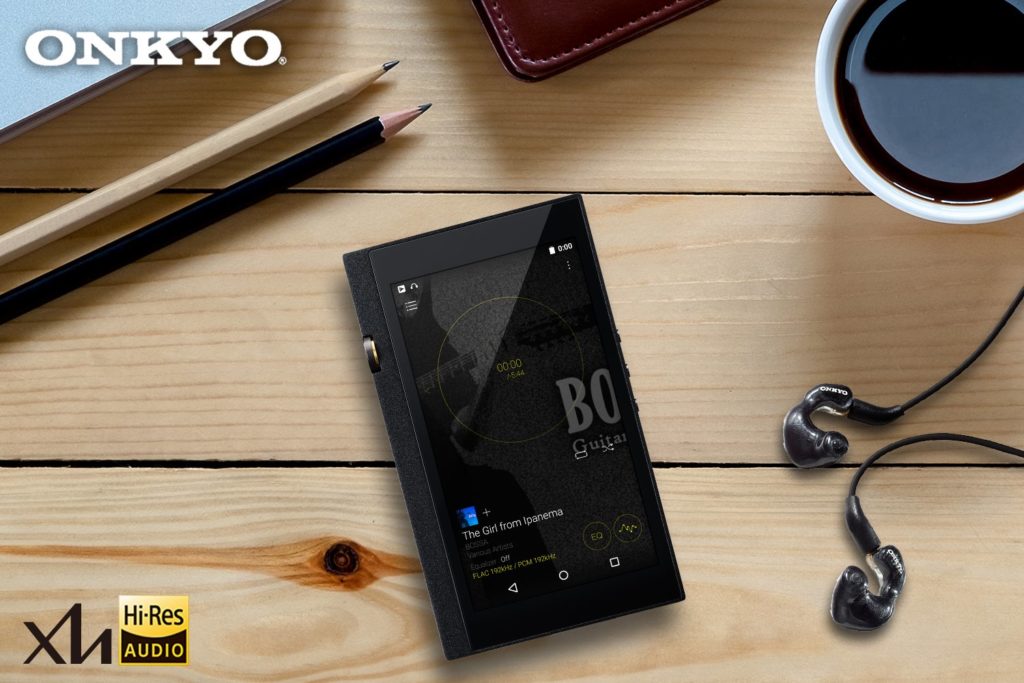 [DP-X1A features]
Designed to make the high res audio music shine
With playback support of up to DSD 11.2MHz, 384kHz/24 bit FLAC/WAV files, the "DP-X1A" was designed to bring out the best in your music.
Featuring dual ESS Technology SABRE DAC "ES9018K2M" and SABRE "9601K"amps for the highest possible sound quality and wide sound stage.
Along with standard BTL balance circuitry, Active Control GND allows the two DAC outputs to work in tandem for L-GND/R-GND "0V" lock to eliminate any distortion, broadening the sound stage while remaining clear.
Completely separated DAC/AMP and CPU circuit board allow for the audio circuitry to isolate digital noise effects from the Android board to the audio circuits.
Each device is separated into a block with its own independent power circuitry, allowing for close looped circuit design, allowing for the individual blocks to maintain separation from one another, keeping noise from entering the audio signal.
DAC local power uses Nippon Chemicon "MELODIO" series based custom audio grade capacitors for improved audio quality.
3 times the capacity available allows for greater power stability
Low ESR, ESL allows for near instantaneous power with little fluctuation or noise
Purpose built lead wires are excellent at absorbing noise allowing for further speed up of digital signals
Robust build against swings in temperature
Low noise LDOs paired with each audio IC to limit noise
Vishay resistors incorporated in unbalanced and balanced output circuit patterns
Re-optimized circuit pattern for low impedance circuit board allows for smooth audio signal transfer.
Limit the entry of noise by consolidating the analog circuits close to the headphone jacks and distancing the switching power supply as physically possible within the body.
Isolated, and for an extra measure of protection from noise, independent local power supplies, closed loop circuit design, and board design tuned to the micron to eliminate grounding issues, all to keep noise from occurring, and what noise occurs, isolated from the audio circuitry.
Fast Qualcomm Snapdragon 800 CPU for snappy operation of apps and music playback
Multiple connectivity methods with high quality audio outputs and wireless functionality

Balanced output, digital output through Micro USB/OTG*1 support allows for both high quality output via the headphone jack and peripheral
The 2.5mm 4 pole balanced headphone(BTL balance mode/Active Control GND mode/Line out mode) allows for different kinds of high resolution sound depending on preference.
5mm stereo mini output (w/Line out mode).
Micro USB/OTG digital output supports up to DSD 11.2MHz and 384kHz/24bit (DoP/Direct Transfer/PCM conversion).
WiFi, WiFi Direct, and Bluetooth® with apt-X for high quality wireless streaming.*2

Freedom of Google Play

Access to Google Play will open the capabilities of the DP-X1A beyond what's built in,*5 like streaming music, video, and games.*3

"MQA" audio support
Support for up to 464GB(64GB internal + dual microSD)
Direct download of music from OnkyoMusic service without the need of a PC
6 built in sound adjustment (Lock range adjust, digital filter, up sampling to 384kHz, Realtime DSD conversion to 5.6MHz, High Precision EQ, Featured EQ)
Innovative new GUI with flick transport control (playback, track advance) circular progress bar and physical buttons for all transport controls for "no look" operation, and standard full album artwork playback modes available.
Easy music file transfers from your Mac or PC to the player "X-DAP link" *4
 Volume knob with 161 step positions for fine granular control
User selectable volume knob lock when screen is turned off
Wide range gain setting to accommodate wide range of headphones (Low2/Low1/Normal/High)
Rigid machined aluminum body design
Custom case "DPA-PUX1" option available

*1 OnTheGo host function requires compatible cable(sold separately)

*2 Compatible hardware required. Depending on Wi-Fi network speed, high res audio playback may be intermittent.

*3 Apps that require GPS, camera, gyro-sensor may not function properly.

*4 Available on website(Mac OS10.10, 10.11, Windows 7,8,10/ 32 & 64 bit)

[Specifications]

Operating System
Android OS 5.1
APU
Qualcomm Snapdragon 800 APQ8074 2.2GHz
Display
4.7 inch capacitive touch screen(720 x 1280)
Internal Storage
64 GB(including OS system)
Expansion port
micro SD x 2(SDXC)
Wi-Fi
802.11b/ g/ n/ac??Wi-Fi direct / WPS?
Bluetooth® support
Profile: A2DP/ AVRCP/ HSP/ OPP/ HID/ PAN

Codec: SBC/apt-X Low Latency (Transmit only)

Supported Audio format
DSD(DSF/DSD-IFF)/ FLAC/ ALAC/ WAV/ AIFF/ MQA/ Ogg-Vorbis/ MP3/ AAC
Sampling rate and bits

44.1k/ 48k/ 88.2k/ 96k/ 176.4k/ 192k/ 352.8k/ 384k

16bit/ 24bit   (32bit float/integer will downcovert to 24bit)

Supported playlist formats
M3U/ PLS/ WPL
Supported video codecs
H.263/ H.264 AVC/ H.265 HEVC/ MPEG-4 SP/ VP8/ VP9
Supported image formats
JPEG/ GIF/ PNG/ BMP/ WebP
Output
75 mW + 75 mW     Unbalanced

150 mW + 150 mW   Balanced

Total Harmonic Distortion
Less than 0.006 %
S/N ratio
Over 115 dB
Frequency Response
20 Hz – 80,000 Hz
Impedance
16 – 300 ?(Unbalanced) 32 – 600 ?(Balanced)
I/O ports
2.5 mm 4 pole Balance headphone output (From tip R-/R+ /L+ L-)

3.5 mm 3 pole headphone output (Line out mode)(no microphone support)

Micro USB /OTG output (for charging and data transfer)

Gain
Low2/ Low1/ Normal/ High
Battery life
16 h (96kHz/24bit Audio unbalanced playback)
Dimensions (HxWxD)mm
128.9 x 75.9 x 12.7 mm
Weight (g)
205 g
Language support
Japanese/English/German/French/Spanish/Italian/Chinese(simplified)/

Chinese(traditional)

Accessories
Screen protect sheet(affixed as factory default), Micro USB cable(1m)

Pricing

The Onkyo DP-X1A is retailing at all authorized retailers at $999.
* Information and pictures courtesy of Hwee Seng Electronics and Brand Cellar *