The month of December, the festive Christmas period, a time to send Christmas gifts to family, relatives and friends. When you are looking around to purchase Christmas gifts for them, do you face this challenge of what to get for them?
How about sending gifts of mobile data, music and news as Christmas gifts for them? Where can you find them to buy for them? Look no further than Singtel Online Christmas Gifts, Singapore's first online gift shop for mobile services! What are the type of Christmas gifts that you can send and give to your family, relatives, loved ones and friends? Pay It Forward and Pass It On, the Singtel Online Christmas Gifts shop for mobile services to your family, relatives, loved ones and friends!
Let me share with you more information below –
To usher in the festive season, Singtel has launched Singtel Online Christmas Gifts (gifts.singtel.com/Christmas) – Singapore's first online gift shop for mobile services. It allows Singtel postpaid mobile customers to go digital and easily purchase a variety of Singtel's popular mobile services such as data, Singtel Music and Singtel Newsstand, and send them as gifts to their family and friends. Customers can purchase multiple gifts of up to S$200 and enjoy the convenience of paying through their monthly Singtel bill.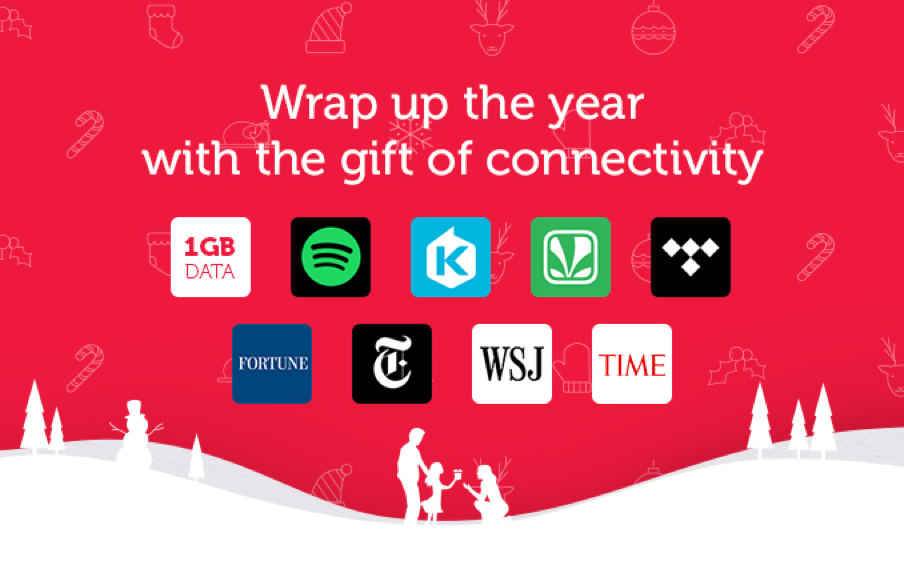 Customers will be able to enjoy exclusive festive prices when they buy any of the following gifts from now until 31 December 2016:
a three-month or six-month subscription of 1GB/month data, starting from S$23.70;
a six-month or 12-month premium Singtel Music subscription with Spotify, KKBOX, TIDAL or Saavn, starting from S$49.90; or
a six-month or 12-month premium Singtel Newsstand digital subscription with Fortune, The New York Times, The Wall Street Journal or TIME, starting from S$44.50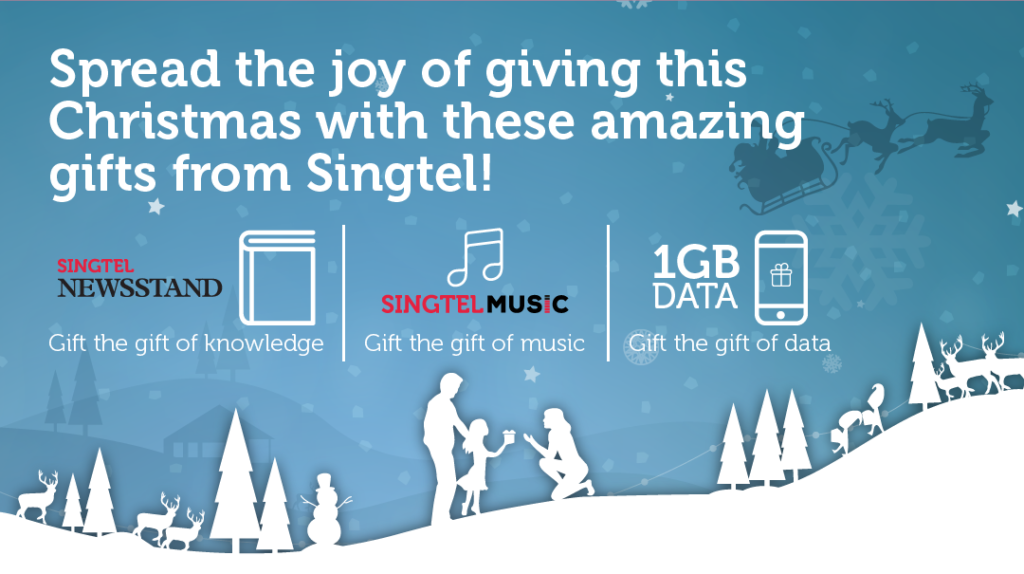 "In this digital age, we know how much our mobile customers appreciate extra data, music and news on the go. With Singtel Online Christmas Gifts, they will be able to give meaningful gifts that are also practical and useful to their families and friends at affordable prices. We are pleased to be able to offer this first-of-its-kind service in Singapore as we continue to come up with innovative products and services that delight our customers," said Ms Diana Chen, Vice President of Mobile Marketing, Consumer Singapore, Singtel.
Gifting with Singtel Online Christmas Gifts is simple. All customers need to do is log in, choose a gift, personalise a message and send it. The recipient will be notified via SMS in minutes and can redeem it anytime from now until 30 June 2017.
Spreading the Christmas cheer
To celebrate the season of giving, Singtel has a host of treats for customers.
Singtel TV
Singtel TV customers can look forward to an entertaining Christmas with selected free preview channels from 22 Dec 2016 (0500 hours) to 2 Jan 2017 (2359 hours) on Singtel TV and Singtel TV GO.
| | |
| --- | --- |
| A range of exciting movies such as Star Wars: The Force Awakens, Alvin and the Chipmunks: Road Trip and I am Number 4 will be available on the following free preview channels: · FOX Action Movies (CH 408) | · Sundance Channel (CH 401) |
| · FOX Family Movies (CH 406) | · Thrill (CH 415) |
| · FOX Movies Premium (CH 414) | · Turner Classic Movies (CH 420) |
Customers can also enjoy special Singtel TV offers such as X-Men specials on Video-on-Demand at S$1.99 each, two months' free subscription on a 12-month Movies+ Pack1 contract and 50% off the Singtel TV GO and DVR Bundle.
Singtel Dashing Christmas
Singtel Dash customers who spend S$5 or more in one transaction at any Dash merchant or remit a minimum amount of S$350 each time will earn a chance to unwrap a special gift. 60,000 gifts are up for grabs, including Samsung Galaxy S7 4G+ mobile phones, up to S$100 Dash credits2 and 10% cashback at Dash merchants3. The promotion ends on 31 Dec 20164.
Singtel gives back
In the spirit of giving, customers can do their part for charity too. Singtel is selling Christmas Baubles, which customers can customise, at S$10 and greeting cards at S$5 each at the Singtel flagship store. All proceeds will go to the Singtel Touching Lives Fund.
Find out more about Singtel's Christmas campaign on singtel.com/christmas.
* Information and pictures courtesy of Singtel Corporate Communications *