Singtel first in Asia to launch Razor Phone
A smartphone that has attracted a lot of interest in the market, a smartphone by gamers for gamers. The Razor Phone is coming to Asia, with Singapore being the first in Asia to get the Razor Phone through Singtel.
SITEX 2017 is taking place this coming weekend 23rd November to 26th November 2017 at the Singapore EXPO Halls 7 & 8 from 11am to 9pm daily. If you are keen on the Razor Phone, head down to Singtel booth at SITEX 2017 and you can take a look at the Razor Phone! At the Singtel booth, you can pre-order the Razor Phone!
For gamers by gamers, the Razor Phone is going to interest you, getting your attention! Share this wonderful news with your fellow gaming friends and community, pass it on this Razor Phone news!
Let me share more information below –
Singtel, the exclusive carrier partner of Razer Phone, will unveil the highly anticipated Android smartphone, at its SITEX 2017 booth on Thursday, 23 November, providing customers with a first look at its groundbreaking features. Customers will be able to pre-order the device at the booth and stand the chance to win limited Razer premiums.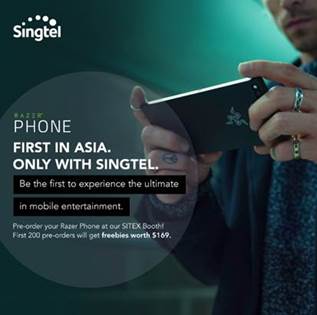 Singtel is celebrating the launch with days of exciting activities and giveaways.
The first 200 customers in line for pre-orders at the Singtel booth will receive a Razer Hammerhead Bluetooth Headset worth S$169. On each day of SITEX 2017, 50 lucky customers who visit the booth to try out Razer Phone will receive a Razer premium.
Avid gamers can also try their hand at a mobile gaming challenge, where the top scorer of the day will win a Kraken Pro v2 Gaming headset.
One lucky winner with the best Facebook selfie post taken at the Razer photo wall, will walk away with Asia's only Razer Phone Special Edition emblazoned with Razer's iconic green triple-headed snake logo.
Pre-orders for the Razer Phone are available at the Singtel booth during SITEX 2017, Singapore Expo, Hall 7, Booth 7D25. Doors open at 10.30am, Thursday, 23 November 2017.
Thereafter, Razer Phone will continue to be available for preview and pre-order at all Singtel Retail Shops and Singtel Exclusive Retailers until launch.
* Information and picture courtesy of Singtel Corporate Communications *