For Singtel mio TV subscribers, I would like to share with you with information and details about the latest and brand new mio TV GO companion app for your mio TV viewing experience!
  mio TV GO – mio TV's companion app will enhance the mio TV viewing experience.
Free to download (for both Apple and Android devices) from 31 July and provides unique features such as the 'LIVE" streaming of selected mio TV channels, locally-produced shows to enhance the BPL-viewing experience, remote control function, remote recording feature and many more.
'LIVE' screening of ten channels including mio Stadium
The app will allow BPL subscribers on the mio TV platform to enjoy 'LIVE' streaming of three mio Stadium channels (Channel 102 -104), three mio Sports channels (Channel 111 – 113)  and four Asian channels.
With mio Stadium, customers can catch 'LIVE' Barclays Premier League (BPL) matches on their mobile phones and tablets and enjoy a groundbreaking locally-produced studio show.
Catch 'LIVE' matches of UEFA Champions League, UEFA Europa League, Italian Serie A, Spanish La Liga and other football matches available on mio Sports.
Fans of Asian content can also watch Jia Le Channel, ETTV Asia, ETTV Yoyo and Jiangsu Satellite Channel on mio TVGO.
Content subscription fee of $5 per month will be 

waived till May 2014

.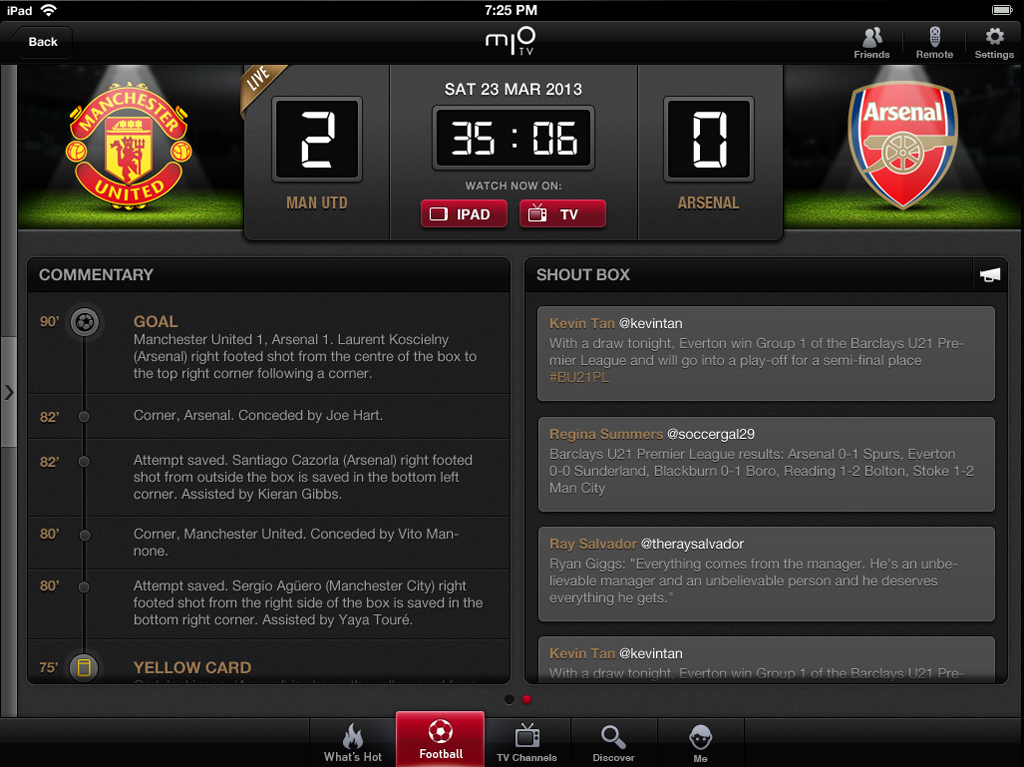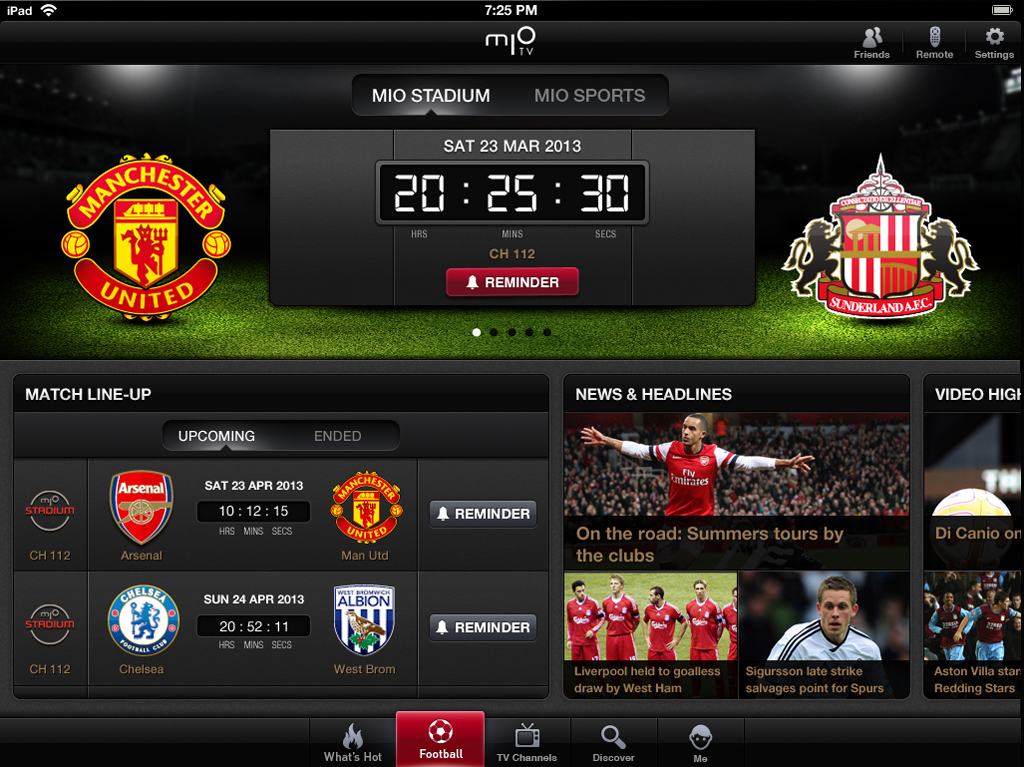 Brand new show – "SingTel Game On" and Football Portal for all your football needs
SingTel Game On – Available only to mio TV subscribers, SingTel Game On is the first-of-its-kind studio-produced programme to enhance the BPL viewing experience.
Host Richard Lenton and his guests, will give up-to-the-second updates and commentaries on concurrent BPL matches while you watch the matches at home.
Football portal – The in-app Football portal is a great source for all the latest BPL news, league table, match previews, team line-ups and other statistics.
Allows users to view 'LIVE' commentaries of games and share their comments with other users under the Shout Box section of the Football portal.
Remote control and remote recording feature
Triple Play mio TV subscribers can pair their mio TV GO app with their set-top boxes at home and use their mobile devices as a remote control.
Customers who have paired their devices can also set their mio TV set-top box to record favourite programmes remotely from mobile device, from wherever they are.
User-friendly Electronic Programming Guide (EPG)
mio TV GO users can access the app's Electronic Programming Guide to view TV schedules, read synopses of their favourite shows and even watch trailers of the latest Video-on-Demand movies.
Information and details above courtesy of Singtel Singapore.