WD, a world leader in storage solutions, recently announced the WD My Book Duo, the newest member of its award-winning line of desktop storage solutions for home and office. Utilizing two drives, hardware-level RAID and USB 3.0, My Book Duo delivers massive capacity and file transfer speeds not available on single-drive solutions. Available in 4 TB[1], 6 TB, 8 TB and 12 TB capacities, My Book Duo also comes with software that creates secure local, cloud and system-level backups for complete data protection.
 "From creative pros and expert consumers to everyday content creators – people with large amounts of data will find My Book Duo the fast and reliable way to offload content from their computers, organize it in a single location and protect it with backups, passwords and encryption," said Jim Welsh, executive vice president of content solutions and worldwide sales at WD. "My Book Duo offers super-fast transfer speeds, massive capacity and integrated WD Red® drives to provide the ultimate desktop storage solution for all your digital libraries."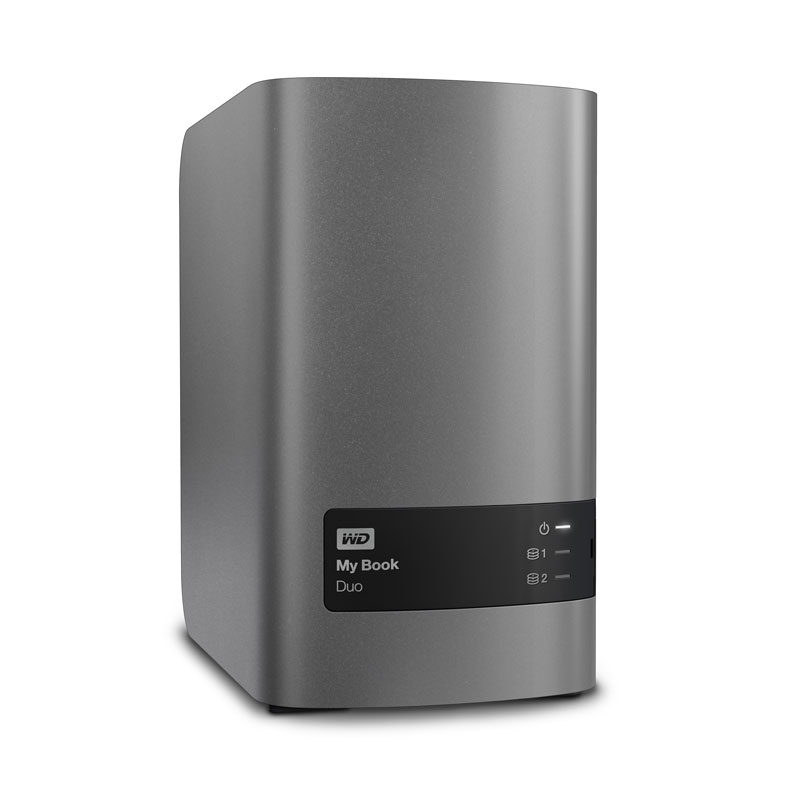 Performance
My Book Duo's dual-drive design offers superior performance with USB 3.0 connection to enable transfer speeds up to 290 MB/s. Optimized for small RAID environments, the integrated WD Red hard drives with true hardware RAID increase performance and reduce data bottlenecks.Preconfigured in RAID (Redundant Array of Independent Disks) 0 for maximum performance and capacity, My Book Duo offers users the flexibility to take advantage of mirror mode (RAID 1) for ultimate data protection or use JBOD configuration to use the drives individually. In mirror mode (RAID 1) the drives continuously maintains a second copy of all digital files for real-time data backup[2]. One drive is used to store the user's data while the second drive is used for a duplicate copy. In the unlikely event that one drive fails, all of the user's data is still available from the other drive.
Complete Backup Protection
Software available on My Book Duo offers various forms of data protection with local, cloud and system-level backup through WD SmartWare Pro backup software and Acronis True Image software WD Edition. The automatic and continuous settings within WD SmartWare Pro make file and folder backups quick and easy. My Book Duo offers multiple data protection and access benefits to Dropbox account users. Dropbox data can be securely backed up to the local hard drive and integrated cloud backup to Dropbox accounts with WD SmartWare Pro to provide safe, offsite storage of critical files – creating an extra layer of protection. Additionally, with My Book Duo, users can then access information saved in the cloud with Dropbox Web access.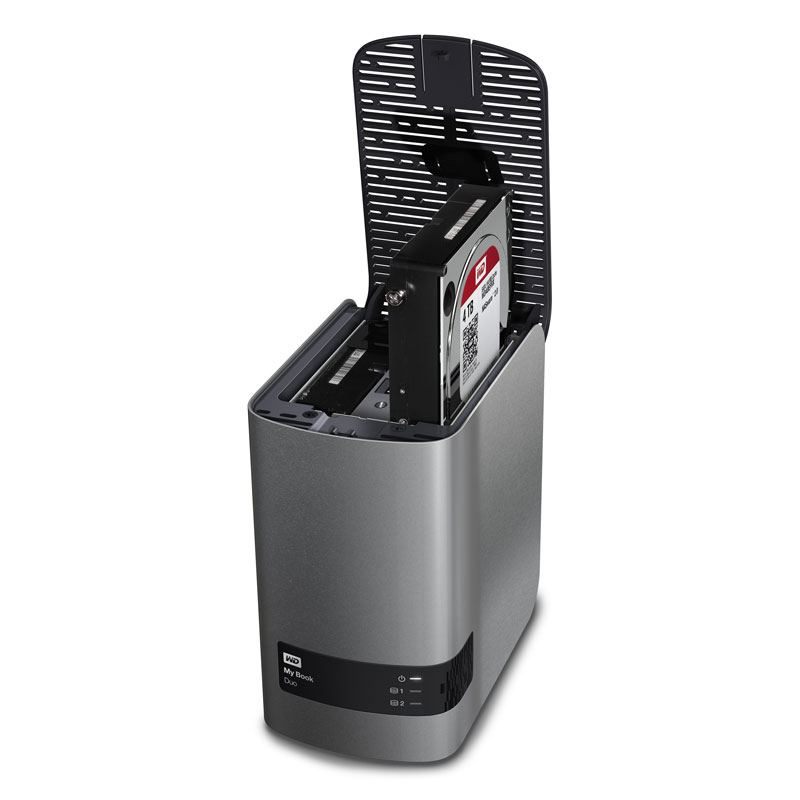 Hardware & Software Security
In addition to the performance benefits of hardware RAID, My Book Duo is engineered with optimum security in mind. My Book Duo has 256-bit AES hardware encryption and password protection to provide ultimate hardware and software security.
My Book Duo Features
My Book Duo is designed with a convenient user-serviceable enclosure and a handy USB hub on the back of the device which allows for connection of mobile phones, tablets and more for charging or data transfer, or to help de-clutter the workstation area. Additional features include:
Interface: USB 3.0 (x3)
Drives on board: WD Red hard drives
Available capacities: 4 TB, 6 TB, 8 TB  and 12 TB
Data management: RAID 0, RAID 1, JBOD; independent CPU for RAID volume management
Security: Hardware RAID, Hardware Encryption, Password Protection
Compatibility:  NTFS (default) + Reformat to HFS + J for Mac
Software: WD SmartWare™ Pro, Dropbox™ cloud integration, Acronis True Image Software WD Edition, WD Security™, WD Drive Utilities
Limited Warranty: 3-Year limited warranty (see support.wdc.com for terms and conditions)
Price and Availability
Available at select retailers and online at www.wdstore.com.sg, My Book Duo comes with a three-year limited warranty. My Book Duo is distributed by Eternal Asia (S) Pte Ltd in Singapore. Recommended pricing for My Book Duo is $469.00 for 4 TB, $549.00 for 6 TB, $699.00 for 8 TB and $999.00 for 12 TB.
[1]   As used for storage capacity, one megabyte (MB) = one million bytes, one gigabyte (GB) = one billion bytes, and one terabyte (TB) = one trillion bytes. Total accessible capacity varies depending on operating environment.
[2] 1 System is shipped in RAID 1 configuration, which leaves half of the system capacity available for data storage. System is configurable to RAID 0; JBOD or spanned, which leaves all system capacity available for data storage. Up to 0.1TB may be reserved for non-user accessible storage.
* Information and Pictures Courtesy of WD Singapore and Ogilvy Public Relations *