Game On with Mourinho on 25th March 2021
Football fans in Singapore alert, especially Tottenham Hotspurs fans! How would you like the idea to have a Game On with Mourinho on 25th March 2021? This is a special live stream event presented by AIA Singapore – enabling Healthier, Longer, Better Lives with Tottenham Hotspur's José Mourinho. Taking place on Thursday 25th March 2021 from 5:00pm o 5:30pm (SGT), Tottenham Hotspur Head Coach José Mourinho, known as  one of the greatest football managers of all time and hailed for his mental toughness, discusses his experiences during his career.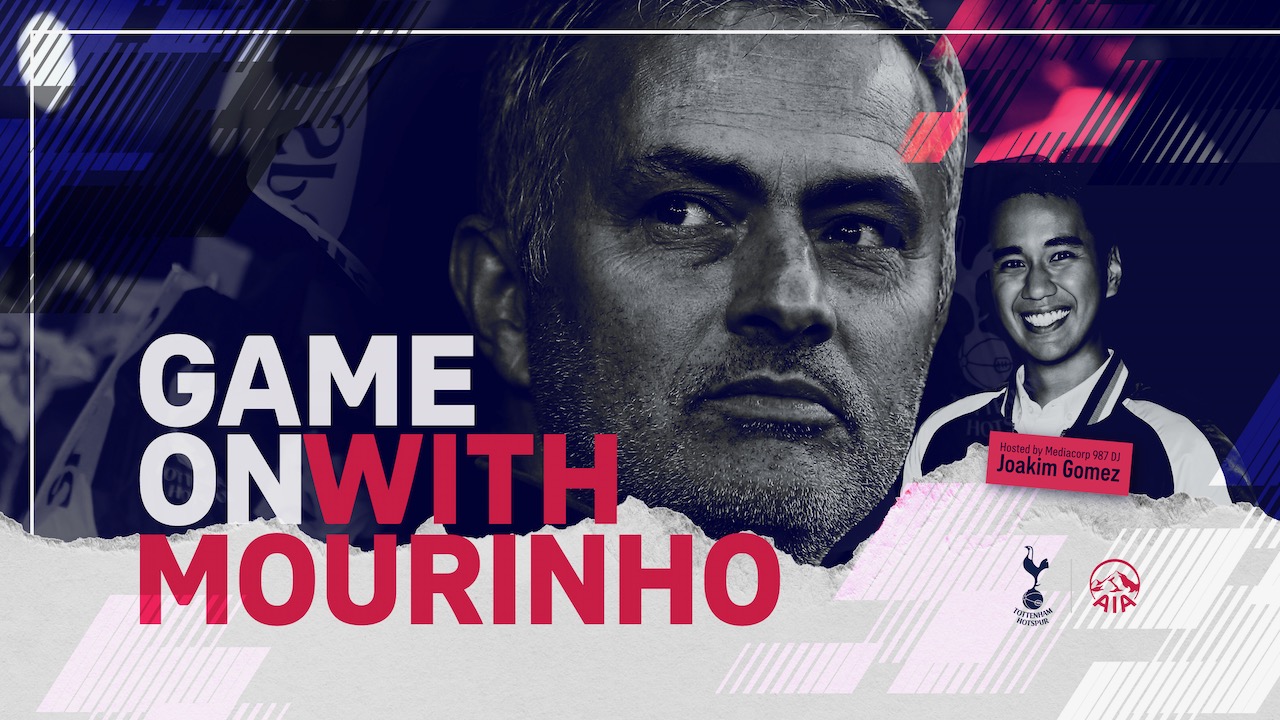 Football fans in Singapore would definitely know about José Mourinho and his achievements since we are follow and watch a lot of English Premier League matches! José mental toughness is undeniable, from his strategic game play to unmatched grit. Now, you can get your once-in-a-lifetime opportunity to have your questions answered by the two-time Champions League winner on health and lifestyle choices everyone – whether a football player or not – can make to improve mental wellbeing during these challenging times.
What do I have to do?
Answer three simple questions and submit your interview question to have a shot at asking your question to José PERSONALLY during the exclusive live stream on 25 March, 5pm (SGT). We have ONE interview spot available for a lucky Tottenham Hotspur fan out there so get creative with your questions!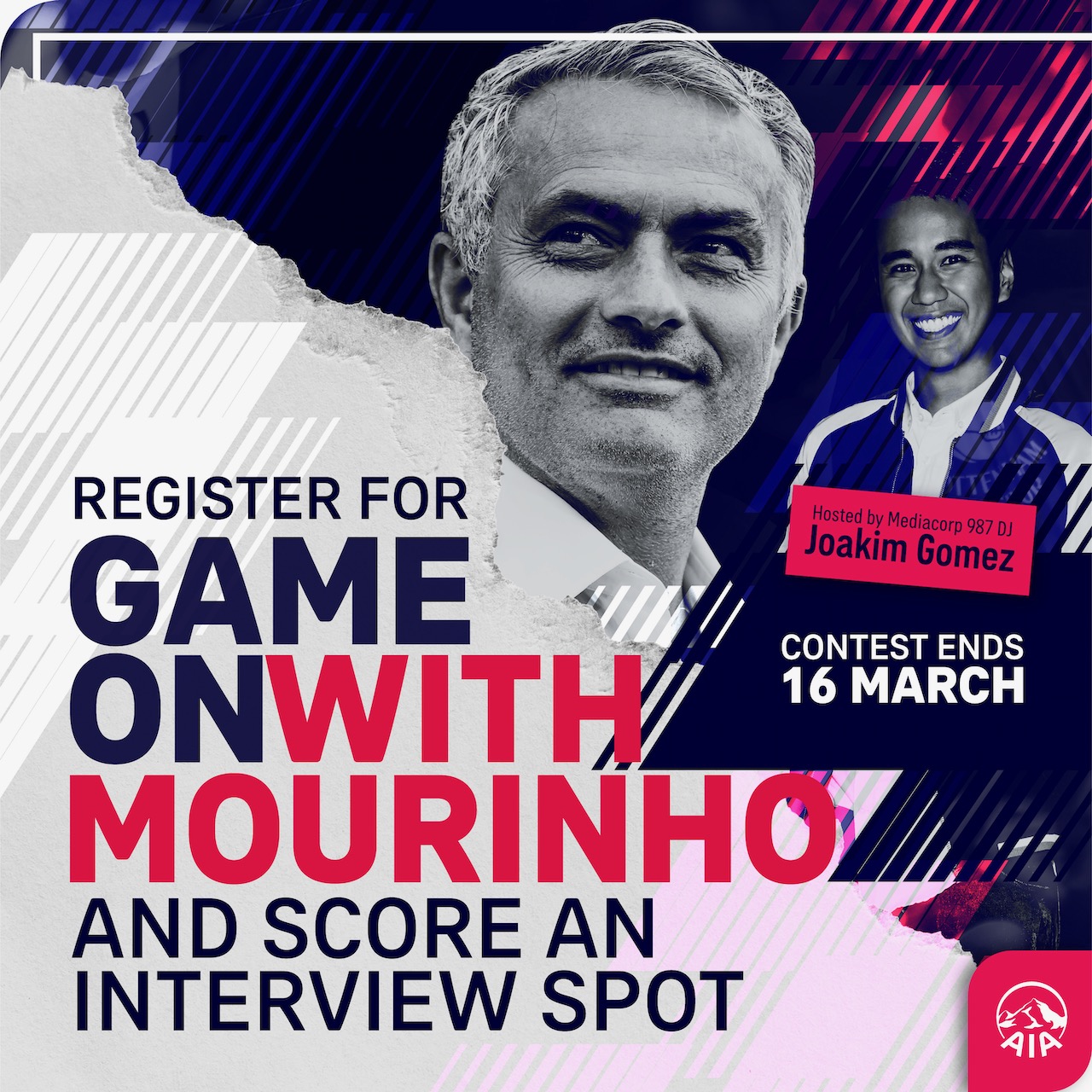 "Game On with Mourinho" Contest and Event Details:
Only ONE lucky winner will be selected for a chance to ask their question to José Mourinho, who will be livestreaming from London during the event.
To take part in the contest, participants must complete all the following:
o Register and complete the contest submission form at aia.com.sg/gameonwithmourinho
o Like AIA's Facebook (@Singapore.AIA) page and share this AIA's Facebook Contest post on your feed: http://bit.ly/GameOnWithMourinhoFBContest
o Tag your mates in the comments section of the Contest post to share the opportunity and make a positive difference in their lives
o Include hashtags #GameOnWithMourinho and #AIASG in your comment to qualify
o Contest deadline: Tuesday, 16 March 2021, 2359 hrs.
This Contest is open only to Singapore citizens, permanent residents and long-term pass holders residing in Singapore, aged 18 and above.
Participants are allowed to submit multiple entries but only one spot is up for grabs.
The shortlisted fan who will pose the question at the Live Stream interview with José will be required to attend a rehearsal physically at an AIA designated venue on 25 March, 2pm and attend the live stream physically at 5pm on the same day. The winner will be notified by Facebook private message/email.
Alternatively, you may skip the contest section and proceed to submit your registration to gain free access to the Live Stream in the same registration form at aia.com.sg/gameonwithmourinho. Event registration will close on 22 March (2359 hrs).
Game On with Mourinho is a by-invite-only Live Stream session. Upon registering, each participant will receive his/her own unique access
AIA has partnered with Tottenham Hotspur since 2013. The leading life insurer is the Club's Global Principal Partner to promote the vital role that active participation in sports plays in helping people to live Healthier, Longer, Better Lives.
Remember to follow AIA Singapore on Facebook (@Singapore.AIA) and Instagram (@AIASingapore) for the latest updates. Remember these hashtags – #GameOnWithMourinho #AIASG #HealthierLongerBetterLives #AIASpurs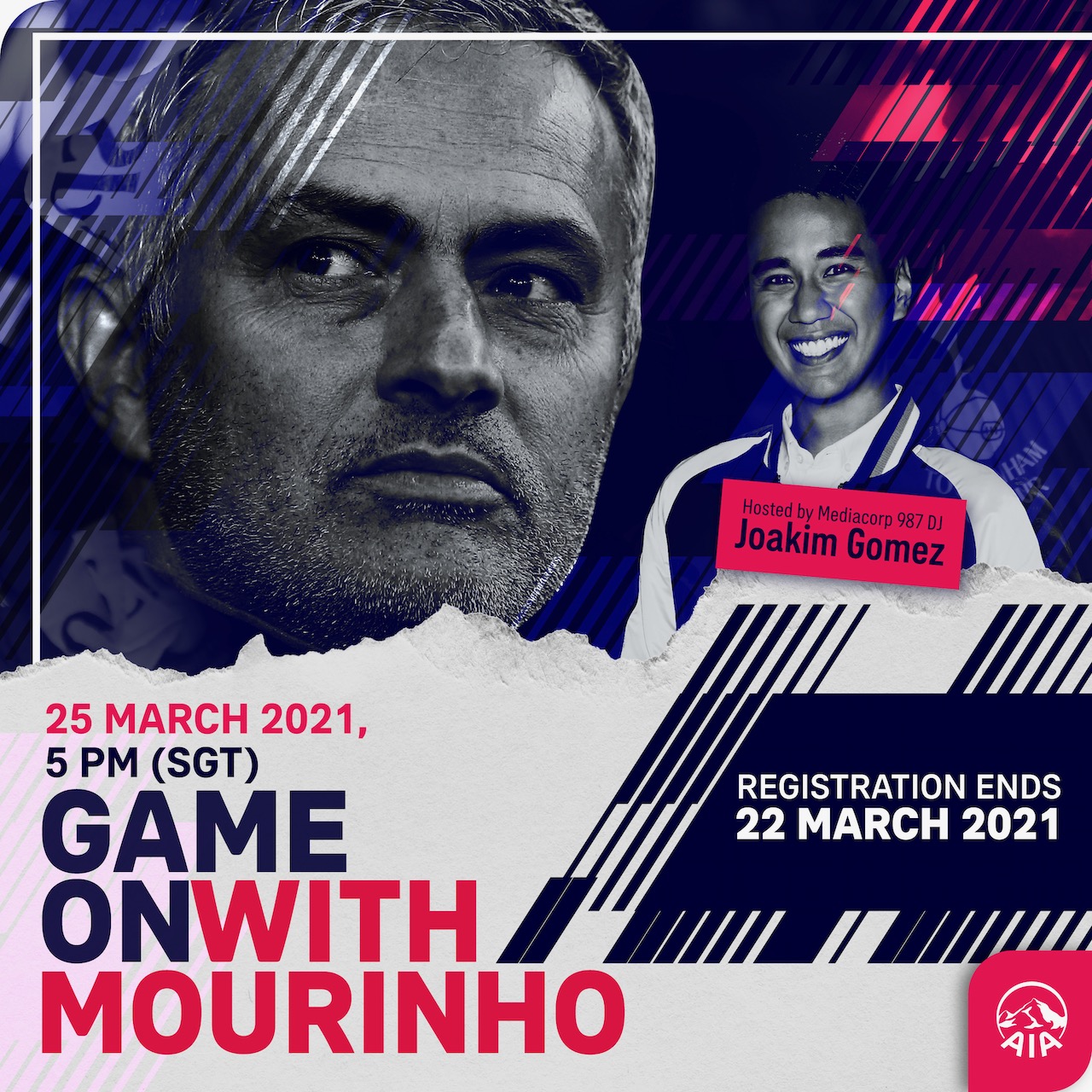 Do Pay-It-Forward and Pass-It-On, to your fellow football fanatics here in Singapore (especially Tottenham Hotspurs supporters here in Singapore!) on Game On with Mourinho on 25th March 2021!
* Information and pictures courtesy of AIA Singapore and Ogilvy *