Acer introduces sustainable Vero series
Acer introduces sustainable Vero series, a continuation in the growth of its lineup of ecologically sustainable laptops. Two new Vero laptops are launched, they reflect Acer's commitment to developing products that foster a more ecologically sustainable industry.
For the first time, the Acer Aspire Vero comes with the the Intel Evo platform, which is awarded to laptops that meet Intel's key hardware specifications. What does this mean for the Aspire Vero series? They now support long hours of battery life (up to 16.5 hours of video playback), fast charge (4 or more hours of battery life in a 30 minute charge), Thunderbolt 4 port, and instant wake to name a few.
Reducing Waste and Going Green
The new Aspire Vero models are full-featured laptops designed around waste reduction from the ground up. These models are consciously designed that enable the use of sustainable materials such as Post-Consumer Recycled (PCR) plastic, Ocean-Bound Plastic (OBP) and recyclable packaging to reduce their carbon footprints.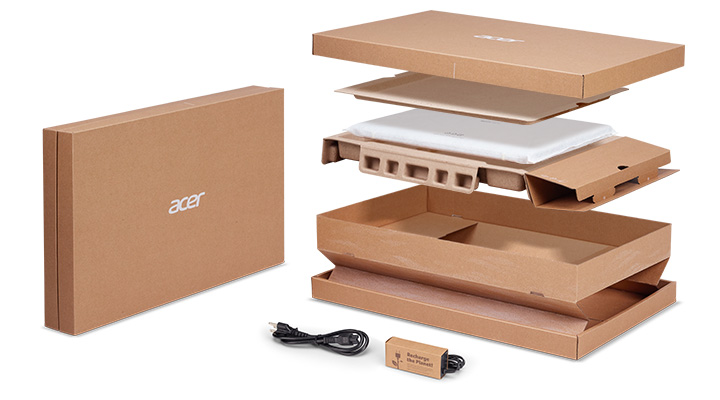 PCR plastic is made from reclaimed plastics that have been recycled and repurposed. The chassis of both models consist of 30% PCR plastic, which reduces carbon emissions from the manufacturing process by 21% (1), and yet does not compromise durability and rigidity. Likewise, the screen bezel uses 30% PCR plastic while the keycaps use 50% PCR plastic.
To further reduce the potential use of toxic chemicals, Acer does not paint the chassis, resulting in a unique and eye-catching look. The OceanGlass™ trackpad is made from OBP collected within 50 kilometres of a coastal area or waterway. OBP helps with the reduction of plastics adrift in the ocean and reduces the occurrence of micro plastic pollution in our oceans.
Sustainable designed from top to bottom
Eye-catching ecologically sustainable laptops, is it possible? Yes, you can see it from the Acer Aspire Vero lineup. Besides their signature Cobblestone Grey, the AV14-51 will also be available in a new colour, Mariana Blue.
Even the packaging for the Aspire Vero incorporates a co-conscious design. The Acer Aspire Vero was awarded the Red Dot Design Award 2022 for its green packaging and design. The packaging is made with up to 90% recycled paper and 100% new recyclable packaging.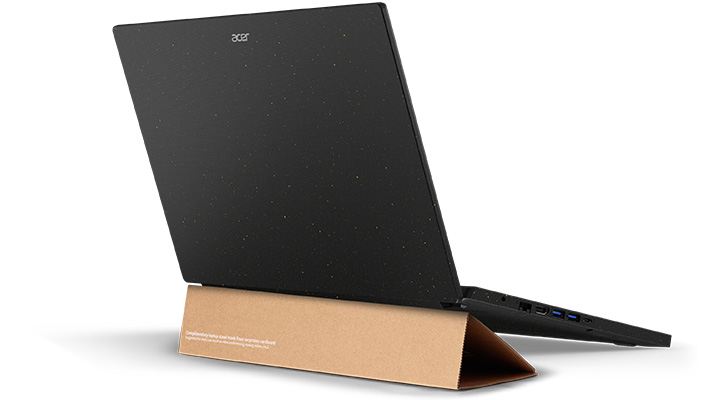 Redefining conventional packaging with a one-design system regardless of size and packing components, the inner partition can be transformed into a laptop stand (2), allowing users to enjoy three different typing angles. The box can also be expanded and repurposed as a storage box.
Fully featured and easily upgradeable 
The new Aspire Vero series comes in a 14-inch (AV14-51) and 15-inch (AV15-52) Full HD display, powered by the latest 12th Gen Intel® Core™ processors along with Intel® Iris® Xe graphics and Wi-Fi 6E. It's complemented by an ample port selection that includes Thunderbolt™ 4 USB Type-C and two USB 3.2 Gen1 Type-A ports, one of which can be used to charge mobile devices even when the system is turned off. Both models are also equipped with a Full HD 1080p camera that supports high-quality videoconferencing for connecting and collaborating.
Furthermore, the bottom cover of every Vero laptop is secured with standard screws and is easily removable. This makes it easy to replace and upgrade internal components like the RAM and SSD modules, which help extend the laptop's longevity.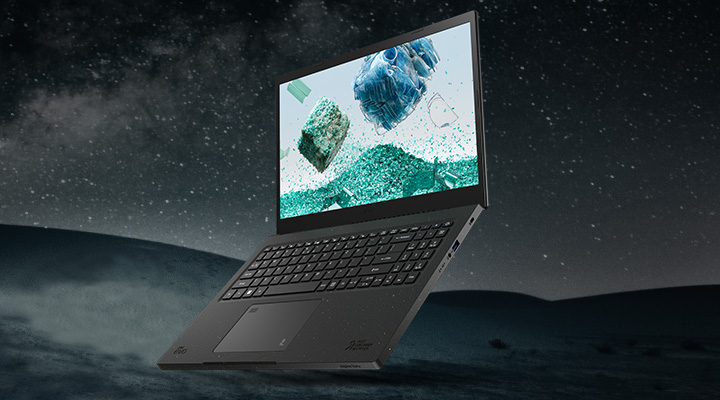 Pricing and Availability
The Acer Aspire Vero (AV14-51 and AV15-52) laptops start from SGD1,098 and are available on Acer Singapore's e-store and other online marketplaces such as Shopee and Lazada.
The 14-inch (AV14-51) and 15-inch Aspire Vero (AV15-52) are available in Mariana Blue and  Cobblestone Grey respectively.
Notes:
(1) Emissions saved compared to regular laptop plastic chassis for laptops of the same size. The estimated value is calculated from PlasticsEurope Eco-profile reports. The comparison is only focused on the material itself and is limited to compare 100% virgin plastic with 70% virgin plastic and 30% recycled plastic while assuming other factors that may influence CO2 emissions are equal.
(2) Suggested for static use (such as video conferencing, viewing videos, etc.)
* Information and pictures courtesy of Acer and Gloo *