LG OLED and Xbox One S Promotion
The weekend is here, however with the current circuit breaker situation in Singapore, we are not able to enjoy your usual weekend lifestyle that we used to have prior to the Covid-19 virus situation. Nevertheless, while we are taking measures to be safe and staying at home, we can do online shopping. Let me share with you a LG OLED and Xbox One S promotion!

Since we all have to stay at home, let's make full use of this time and make the best out of this time with educational content and entertainment available online. From self-enrichment like recipe videos to fitness classes, from blockbuster movies and the latest television series to choose from to action-packed video games to play, now is the perfect time to experience the LG OLED TV.
From April 17 to May 4, customers can purchase the 55" C9 OLED TV* at a special price of S$2,799 (RCP: $4,099), and redeem a gift-with-purchase: Purchase the 55" C9 OLED TV and redeem an Xbox One S Two Controller Bundle (worth $429) or $200 worth of grocery vouchers. (Redemption date: May 5 to July 31)
Let me share with your more information on the LG OLED C9 TV
An Optimal Cinematic Experience powered by AI
The LG OLED C9 TV has the second generation a9 Gen 2 Intelligent Processor with a deep learning algorithm built inside it. Their AI Picture recognises the quality of the content and optimises clarity and sharpness, while AI Brightness detects ambient light in the surrounding environment and automatically tweaks brightness in the image to keep the visuals optimally clear for comfortable viewing. AI Sound analyses the source of the sound and optimises the sound quality, and is also able to replicate rich virtual 5.1 surround sound from 2.0 channel sound sources. AI Acoustic Tuning recognises the position where the viewers are seated to automatically adjust and improve how audio is delivered to them, the end product is a pure and refined auditory experience regardless of content.
Poetry in Motion
For the sports fan in you, the LG OLED TV C9 offers a distinguished image on every frame, made possible with an OLED display with self-lighting pixels that can individually turn off during dark scenes to achieve deep black levels or "perfect black"
For the gamer in you, enjoy a heightened, uninterrupted experience with Automatic Low-Latency Mode (ALLM) and Variable Refresh Rate (VRR) in the LG OLED TV C9, giving them the ultimate edge.
Multi-tasking made Easy
Inside the LG OLED TV C9, there is LG ThinQ AI with Google Assistant built-in, busy families can control their smart home devices and streamline their household chores through simple voice commands.
Safe Cinematic Experience
Certified with the Eye Comfort Display Certification from TÜV Rheinland, an independent testing organization, families with young children can be assured of a safe viewing experience on every family movie night.
The perfect Audio Accompaniment 
Complete your LG OLED C9 TV perfect home theatre setup with LG Dolby Atmos Sound Bars, incorporated with MERIDIAN technology (model SL10YG, SL9YG and SL8YG).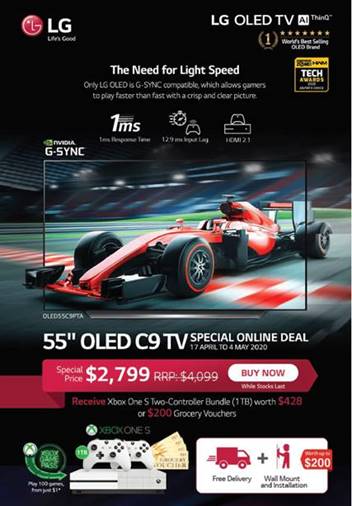 For more information, please visit: https://www.lg.com/sg/tvs/lg-OLED55C9PTA-oledtv
Do share this LG OLED and Xbox One S promotion with your family, loved ones, relatives and friends. Sharing is caring! Pass It On and Pay It Forward!
During this circuit breaker period, be safe, stay at home, as we stay #SGUnited #SGTogether against the #Covid19 situation!
* Information and pictures courtesy of LG Electronics Singapore and Asia PR Werkz *