Meet Lucy – A New Digital Banking App for Women
Meet Lucy – A new digital banking app for women by Lucy Holdings Pte Ltd. This is a free mobile banking app for women, offering useful and flexible financial services targeted specifically towards women. The name is simply called LUCY, this app improves access to finance for women leading small businesses, running households as well as supporting families. Lucy's theme – Grow. Thrive. Shine. With an aim to support aspirational women in being unstoppable.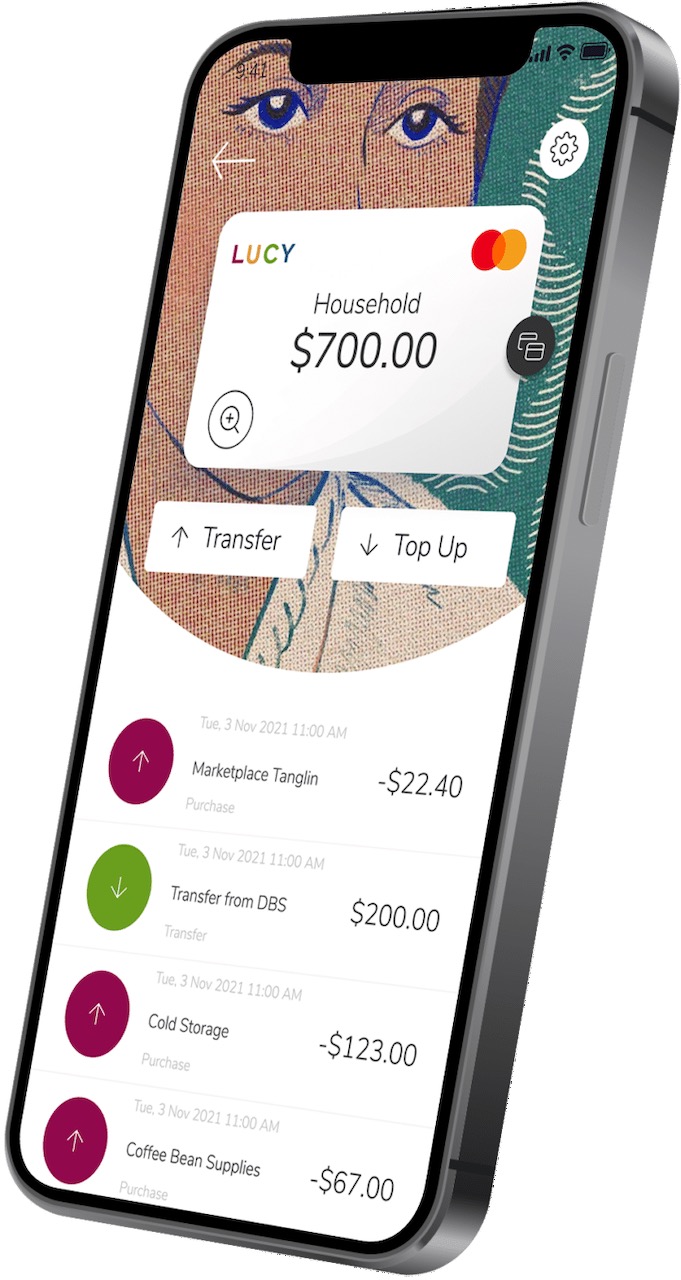 "We've launched LUCY with the aim of helping and empowering women to manage their finances in a seamless and holistic manner. Our app has been designed as an integrated solution with the customer at the centre of each interaction, keeping their experience simple and hassle-free. We hope women will benefit from having this centralised portal to spend and save so that they can focus on what matters." Says CEO, Debbie Watkins. 
As I began to learn and understand more about LUCY, I had a better understanding on what they are doing. LUCY helps Entrepreneurs, Employers, Households, Domestic Helpers. This would really be useful and accessible for women of all levels. While LUCY is for Singapore residents at the moment, they are looking to expand into more countries soon, keep a lookout for them!
What is LUCY? What do they do? What is LUCY all about? In the paragraphs below, we would be able to understand more in-depth about LUCY, and how you can Pay-It-Forward and Pass-It-On, this new digital banking app for women by women.
What Is LUCY?
LUCY is a one-stop mobile banking solution providing easy to open, fee-free accounts powered by Mastercard. Users can set up separate banking accounts within one convenient app to manage finances and payments for personal, business, household, children and even domestic help expenditures.
They have additional option to create individual savings pockets, users can also oversee savings for different purposes and track their progress. All functions can also be automated to activate interest-free regular payments.
LUCY is devised to accept money via PayNow, MasterCard, Visa, bank transfers, as well as cash top-ups. This app is simple, fast and convenient to use for managing money on the move.
The most important point, LUCY is a safe and secure platform, regulated by the Monetary Authority of Singapore (MAS).
Zero Fees for Multiple Banking Accounts within One App
The roles and responsibilities of a women in the modern society/economy cannot be underestimated. They are excellent at multi-tasking, carrying huge roles and heavy responsibilities concurrently – from holding the fort at home as the manager of the household, in the business world as an employer, micro business owner or entrepreneur.
LUCY eliminates the need for them to oversee different bank accounts for household, business and personal spending. There is also no fee for opening accounts in the app, and no minimum balance required.
LUCY offers free and easy finance management for entrepreneurs, employers, households and domestic helpers.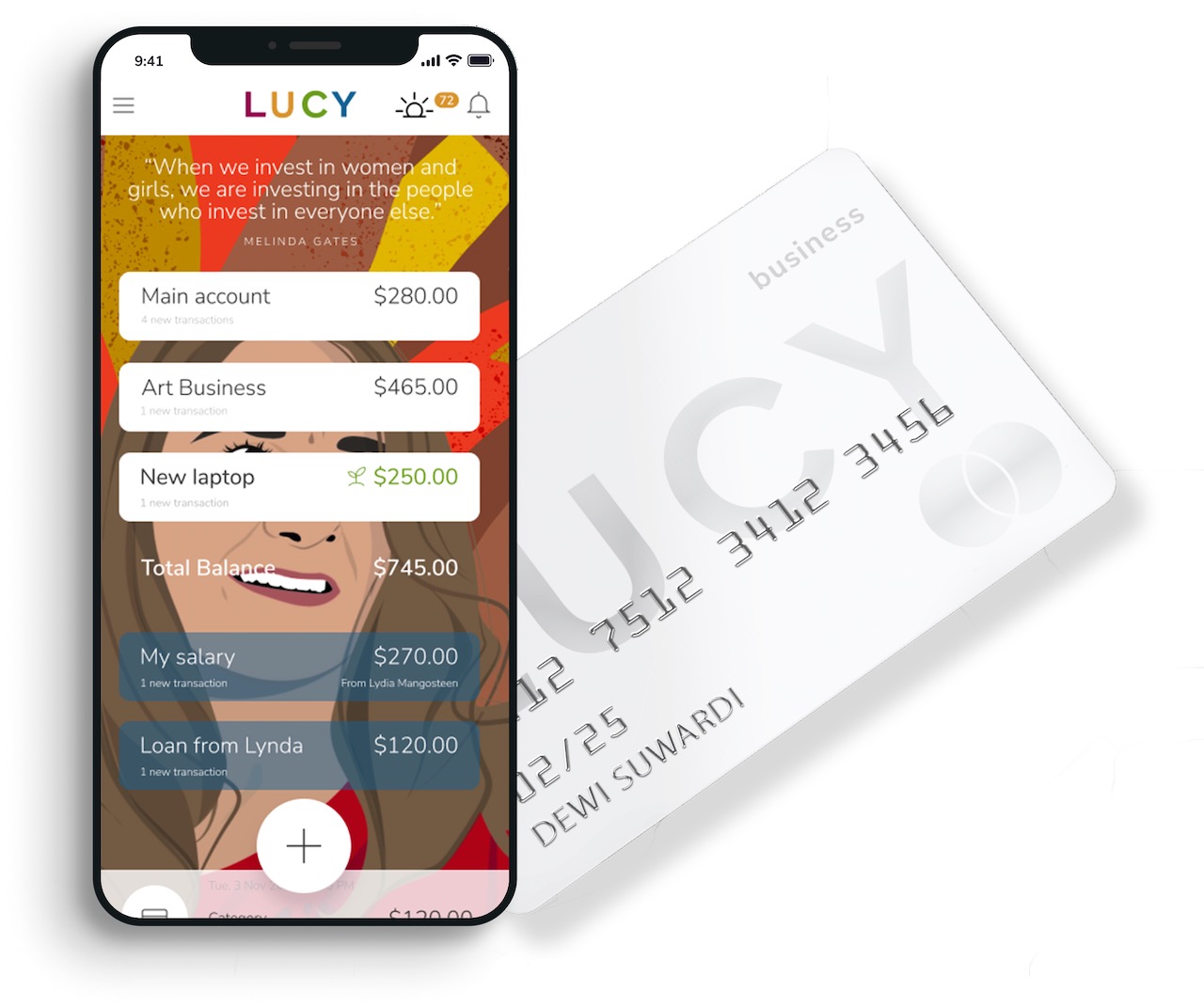 Financial Tracking for Savings and Payments
Women can now use LUCY as a single solution to enable financial tracking for savings and payments. When they are using the LUCY app, they can create as many accounts as required for different purposes, e.g. groceries, bills, wages payments etc etc. They can keep track all of these different accounts with ease.
Using the principle of money jars, each account can also contain savings which can be tagged to goals, linked to their financial management goals and helping them to achieve it.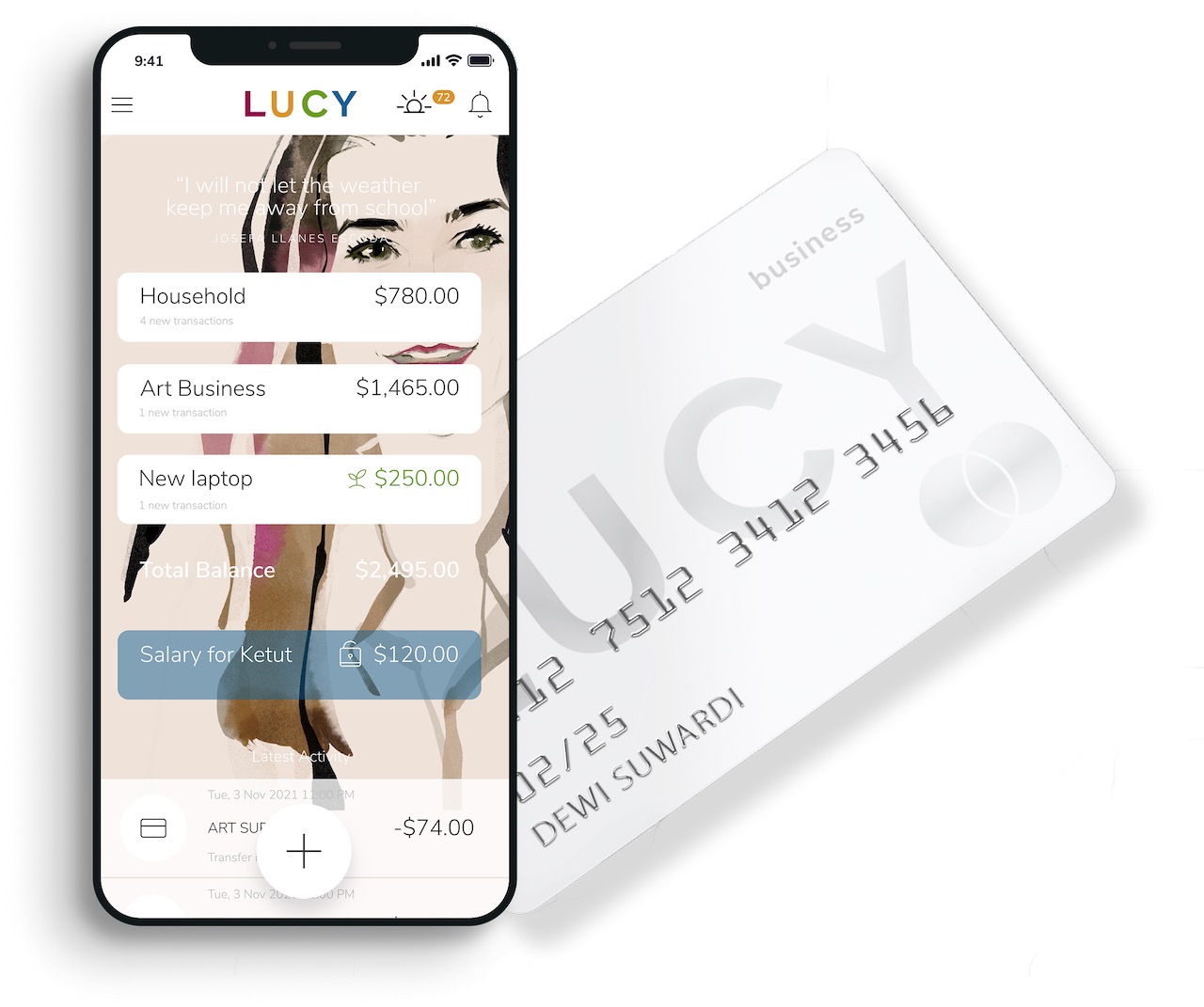 Free Mastercard Debit Card for Each Account
For each account within LUCY, they also comes with a physical prepaid MasterCard enabling in-store shopping, thus facilitating online purchases or even taking public transport.
Foreign domestic workers can also use their physical prepaid MasterCard linked to their LUCY account for online purchases from a shop in their home country and have the item sent to any address there.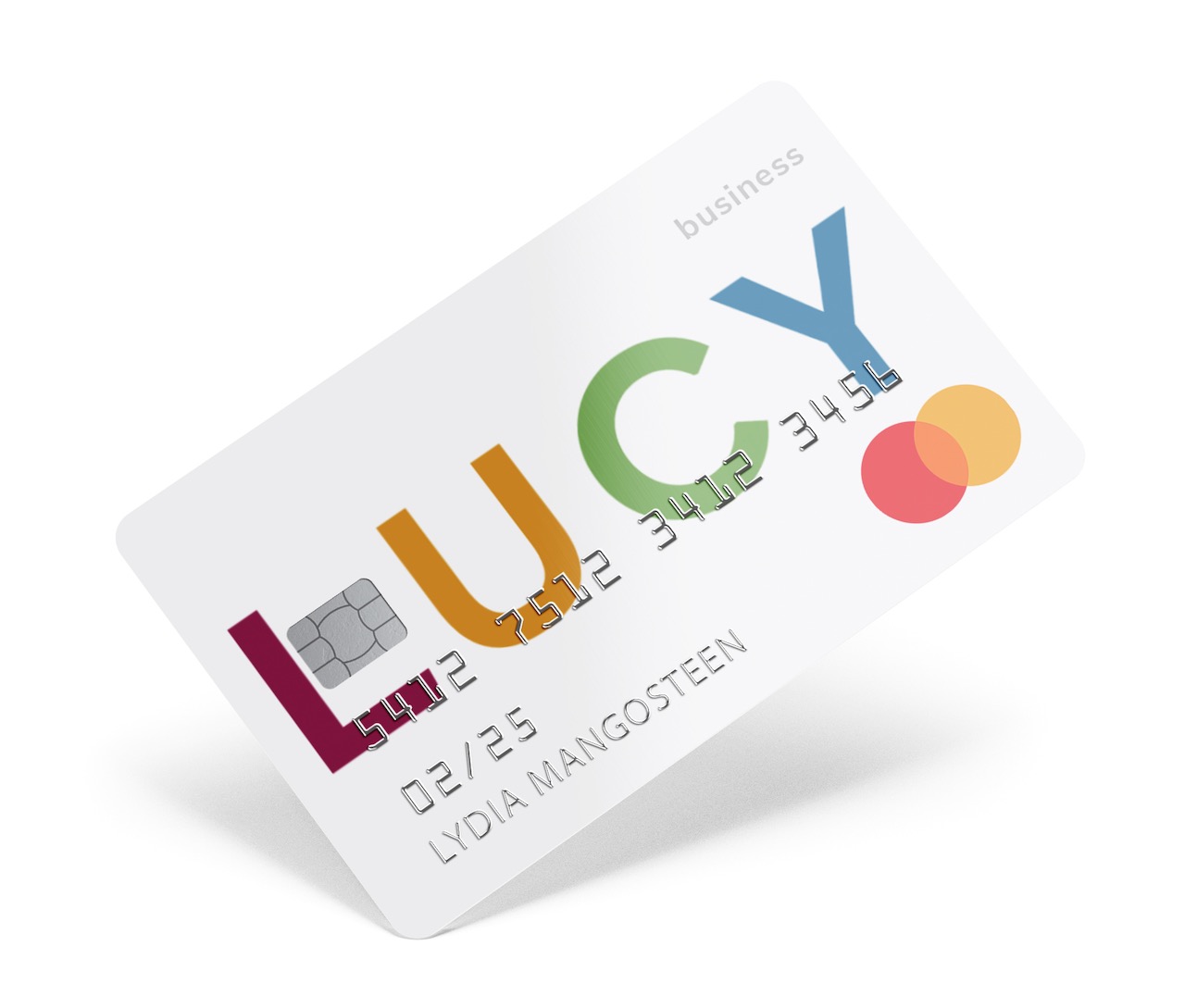 Interest-Free Advance Salary Transfers
For domestic workers here in Singapore, this would be very helpful and useful for them. They can set up their personal LUCY accounts easily accessible through their mobile phones to request for wages earned up to the day or even an advance on their wages for a flat fee of S$1.
Any advance payments transferred by employers do not incur any interest fees and automated salary payments can be activated effortlessly.
They can access their account to perform remittances (available to Indonesia and Philippines currently) with a low fee and at the best exchange rates, including sending cash to agents. This would avoid precious hours queuing at a remittance agent or bank.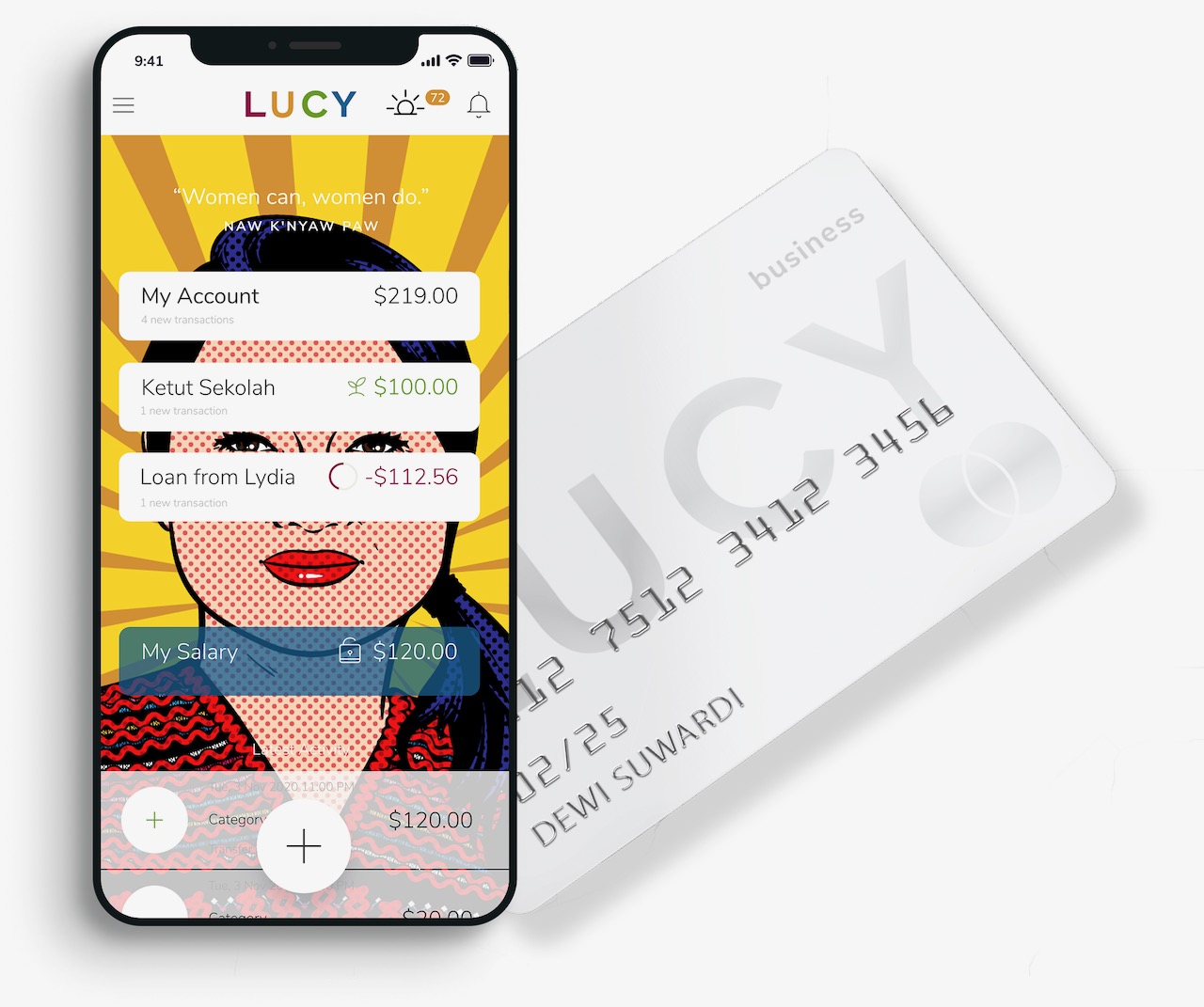 Pay It Forward
For every payment transaction made using the prepaid MasterCard on LUCY, it qualifies for a Pay-It-Forward reward scheme whereby users can accumulate points that can be exchanged for tangible rewards that benefit less fortunate women in Singapore.
One example would be users could sponsor a training course on entrepreneurship skills or provide a food package for someone living in a shelter. Users can pick and choose the reward the resonates most with them personally.
What's Next For LUCY?
Next on the cards for LUCY is creating and connecting like-minded entrepreneurial communities, whereby users will get exclusive access to a network of micro entrepreneurs and all led by female trailblazers.
From talented tattoo artists to a female cobbler specialising in repairs of bespoke footwear or a seamstress weaving magic on fabrics, women can become part of LUCY's network and open up doorways to opportunities for flourishing small enterprises.
LUCY invites all female micro entrepreneurs to be part of this directory for free. This directory will be launched in the third half of the year.
For more information on LUCY
For more information or to download the LUCY app, please visit https://welucy.com/. The app is available on the Google Play Store and Apple Store.
Connect with LUCY on their social media platforms
* Information and pictures courtesy of Lucy Holdings *