New Latitude 7320 Detachable
A new era of work is upon us, the future of work is now and hybrid. Around the world, a number of us has adopted and adapted work-from-home (WFH) due to the ongoing global pandemic. As the world economy learnt how to change, adapt and adopt new work environments and systems, it has evolved into a new future of work that is now and it's hybrid. We are no longer just WFH, we can "work-from-anywhere", living in a "do-from-anywhere" world, not confined to one location or any one activity. Collaborating and connecting can take place in many forms and from anywhere. With all these in mind, Dell Technologies announced the latest Latitude PC, the new Latitude 7320 Detachable.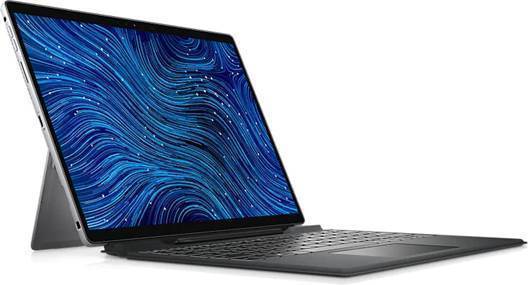 The new Latitude 7320 Detachable represents a new age device for the new era of working professionals in a hybrid future of work, it's designed for a new world of connectivity, collaboration, sustainability and security. Whether it's for executives, business consultants, sales representatives or real estate agents, the Latitude 7320 Detachable is designed for the mobile professionals who are driven to grow their business and they want a thin and light device. This device is sleek, lightweight, and ready to support users as they go about their "do-from-anywhere" day.
Work like a boss and kick-off your day like one
The Latitude 7320 Detachable is hard at work even before users start their day. It is packed with Dell Technologies' presence detection software, Express-Sign-in, making it the only commercial detachable device in the world (1) with this technology. Together with the smart kickstand that instantly wakes when powered on, users can log in quickly to start their day.
Users can also count on the Latitude 7320 Detachable for their video conferencing needs. The device comes with advanced 5 MP front-facing and 8 MP rear-facing cameras with Temporal Noise Reduction (TNR) to bring brighter, sharper visuals to video calls so users can have clear picture quality, while on-the-go or in low-light settings. The device also offers connectivity options with Intel Wi-Fi 6, 4G LTE or eSIM capability with an integrated WWAN.
Sustainable, smart design
The new Latitude 7320 Detachable comes with the world's fastest charging stylus pen available on a commercial detachable tablet (2). It can charge up to 100% within 30s and lasts for up to 90mins of continuous usage. Dell's focus was to create an "always ready experience" with the right battery technology that charges quickly, paired with a physical design that allows the pen to change by contacting the device. This pen can also be stored easily within the device.
The new Latitude 7320 Detachable comes with the built-in AI software, Dell Optimizer. This software keeps users focused on what matters to them while it manages efficiencies such as battery life, audio settings and background applications. With all ports and security features in the tablet head, users can enjoy the flexibility of the device and detach it without worry.
The Latitude 7320 Detachable also contributes towards Dell Technologies' 2030 sustainability goals with EPEAT Gold registration, waterborne paint on 100% of painted parts, and packaging trays that feature ocean-bound plastic (25%) and HDPE recycled plastic (75%).
Powerful, yet cool to the touch
The Latitude 7320 Detachable eases eye strain and fatigue by delivering the most comfortable viewing experience with ComfortView Plus low blue light technology.
As Dell Technologies' first detachable that is thermally-architected with dual opposite outlet fans and the battery positioned along the bottom of the device, the Latitude 7320 Detachable remains cool in the most common touch areas. It is the first Intel EVO-verified detachable (3), and with up to the latest 11th Gen Intel® Core™ i7 vPro® processors, it offers built-in security features, manageability, and the stability that IT needs. It also offers 54% more performance than its predecessor (4), making it the world's most powerful, secure and serviceable business detachable for enterprise (5).
Pricing and Availability
The Latitude 7320 Detachable is available for purchase at dell.com.sg and at Dell Exclusive Stores in Funan Mall, NEX and Plaza Singapura.
| | | |
| --- | --- | --- |
| Product | Availability in Singapore | Starting Price (SGD) |
| Latitude 7320 Detachable | Available now | $4,993 |
Notes:
(1) Based on Dell analysis, October 2020. 
(2) Based on Dell analysis, March 2021. Actual charging times may vary depending on product usage, operating conditions, and other factors.
(3) Based on Dell analysis, April 2021.
(4) Based on internal testing, April 2021, comparing a Latitude 7320 vs. previous gen similarly configured with Intel Core i7. Actual results may vary.
(5) Based on Dell analysis, October 2020. 
* Information and picture courtesy of Dell Technologies and burson cohn & wolfe *