Samsung and Singtel partnership – Making fitness more rewarding for Singaporeans
Samsung Electronics Singapore and Singtel recently announced that Samsung Health, the essential health and wellness companion for Samsung Galaxy devices, will be integrated with Singtel's StepUp wellness platform to make fitness experiences more personalised and rewarding for users. In addition to lifestyle rewards such as vouchers for sports apparel, health foods and more, users can enjoy up to 3GB of local mobile data every month when they sync their step count on Samsung Health directly onto StepUp.
For Samsung Galaxy users on Singtel mobile network, this would be a great time to keep fit and get rewarded at the same time! It's the best of both worlds! I am on Singtel StepUp wellness platform, hitting my daily steps to hit my 3GB of local mobile data every month!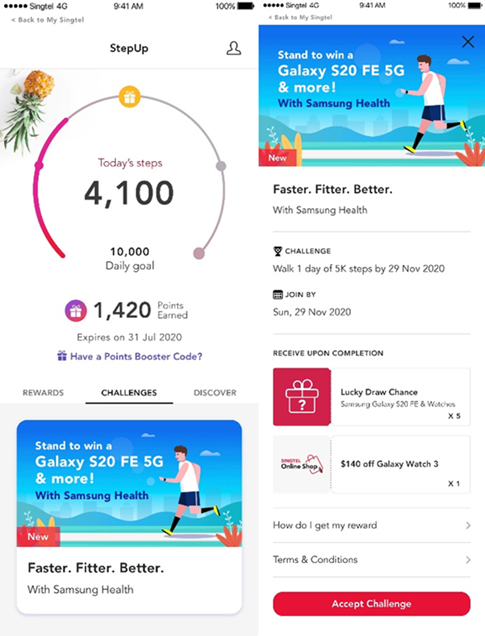 "As Singaporeans place greater emphasis on their health and wellness, our Galaxy Watch offerings and Samsung Health app are becoming more popular. From tracking diet to monitoring sleep and workout routines, Samsung Health app lets users put a pulse to their holistic well-being. To further strengthen our Galaxy Watch proposition and encourage users to achieve their wellness goals, Samsung is partnering Singtel's StepUp platform where users can earn lifestyle rewards with every step of the way," said Sarah Chua, Vice President of IT and Mobile, Samsung Electronics Singapore.
Samsung is supporting StepUp's Faster. Fitter. Better. Challenge happening until 29 November 2020. Samsung Galaxy users on Singtel mobile network take note of theses goodies! Samsung is giving away exclusive vouchers, discounts on Samsung products, and an opportunity to win attractive Samsung prizes such as the Galaxy S20 FE, Galaxy Watch3, Galaxy Watch Active2 and more. StepUp users just need to sync 5,000 steps in one day on their StepUp account to receive five lucky draw chances and a $140 discount voucher for the Galaxy Watch3. In addition, those who complete a simple quiz on StepUp can get $50 off selected Samsung devices.
Mr Elvin Too, Vice President of Consumer Digital at Consumer Singapore, Singtel, said, "With the pandemic casting a spotlight on health and wellness, we've seen StepUp users getting out and about more, clocking more than 79 billion steps since the end of circuit breaker. Now that Samsung Health has been integrated with StepUp, users can convert their daily steps into rewards, seamlessly and conveniently. With health apps such as Samsung Health on board, we are also gearing up to offer rewards, challenges and content based on other health indicators such as sleep and even oxygen levels."
Since StepUp's launch in July 2019, its more than 400,000 participants have walked an average of 8,000 steps a day, taking a total of 321 billion steps. Customers can earn up to 3GB of mobile data depending on the number of steps they take in a month. For example, a customer who takes 5,000 to 7,500 steps a day over the course of a month will be able to redeem 1GB of mobile data, while a customer who achieves a daily goal of 10,000 steps in a month will receive 3GB of mobile data. In addition to the mobile data earned, customers can sign up for various partner challenges to claim lifestyle rewards. The popular wellness platform has over 30 rewards partners including PUMA, Grain, Shopee and Samsonite.
For more information on how to earn Samsung rewards with every step they take, customers can visit StepUp's Faster. Fitter. Better. Challenge website.
Manage your health and well-being with advanced technologies from Samsung
Over the years, Samsung has developed a suite of hardware and software to help users gain better control of their lifestyles, by making it easy to maintain and monitor daily routines, or even kickstarting an all-new fitness routine.
Samsung Health, which is available as an app for selected Galaxy devices, provides users a simpler way to take charge of their overall wellbeing and maintain peak conditions. Users can set goals and track their daily progress on activity level, workout intensity, sleep quality, as well as calorie and water intake. The app also provides access to a full-service fitness studio featuring a library of more than 120 different workout videos so that it is easy to remain active even at home. Users can also have a peace of mind when it comes to security with all health data safely secured by Samsung Knox.
For those seeking to cultivate better health and well-being habits, the latest Samsung smartwatches, including Galaxy Watch3, combine smartphone-level productivity and cutting-edge technology in a premium, timeless device. Besides advanced running analytics, blood oxygen monitoring (SpO2)[1], and enhanced Together feature whereby users can challenge their fellow fitness buddies, the Galaxy Watch3 also features blood pressure (BP) monitoring[2], electrocardiogram (ECG) readings[3], as well as a new feature that detects falls and can send an SOS notification to your chosen contacts[4].
Notes:
* Information and picture courtesy of Samsung Electronics Singapore, Singtel and IN.FOM *