Singtel celebrates National Day 2022 with 5G for prepaid and GOMO plans
Singtel celebrates National Day 2022 with 5G for prepaid and GOMO plans. They have recently surpassed 95% nationwide 5G coverage and effectively making Singapore the first country in the world to be fully covered by standalone 5G. Singtel is extending its 5G plans to include more customers who can now enjoy the unparalleled speed, greater connectivity, and ultra-low latency that 5G brings.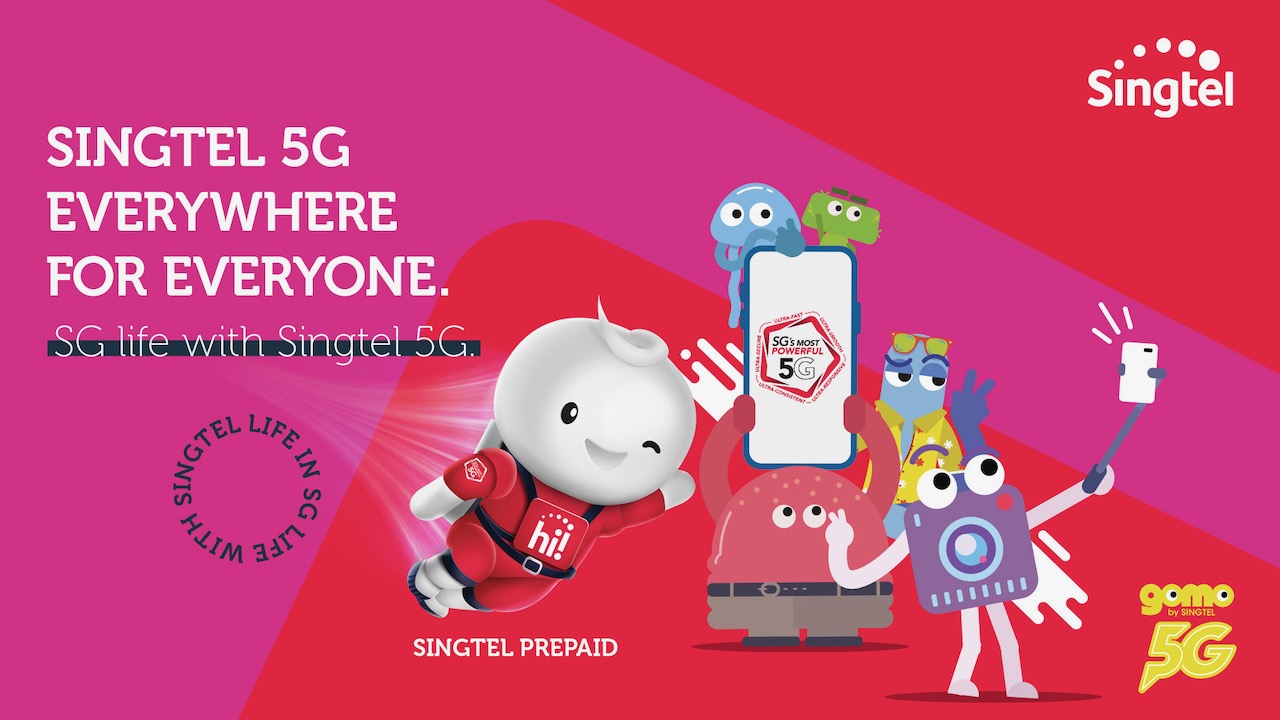 Singtel is the only telco in Singapore to offer 5G for both pre-paid and postpaid customers. The new Singtel 5G plans cater to the lifestyle needs of those customers who are heavy data users, heavily reliant on their mobile phones as their primary source of communication and entertainment.
To celebrate National Day 2022, customers who sign up for the new Singtel Prepaid and GOMO 5G plans in August will enjoy S$57 off the Xiaomi Redmi 10 5G handset (U.P. S$299). This offer is valid while stocks last.
Singtel has the fastest and most extensive 5G network in Singapore, delivering 5G speeds of up to 1.2Gbps, and spanning more than 1,300 outdoor locations, over 400 buildings as well as underground.
Unlocking faster connectivity and more entertainment options for prepaid customers
Singtel's prepaid customers comprise mainly the migrant community who rely on their mobile phones to stay entertained and connected with their families back home. As part of the National Day celebrations and to cater to the needs of these users, Singtel is offering a new Prepaid 5G Ultimate Plan which comes with 150GB of 5G data, 5,000 minutes of talk time, 500 local SMS and up to 2,000 IDD minutes at S$40. They will also enjoy complimentary access to selected entertainment channels on CAST.
Customers can sign up via Singtel's hi!App, Singtel Shops or authorised prepaid retailers. The first 10,000 customers who sign up will enjoy free data on popular social media apps. Subscribers will be automatically connected to Singtel's 5G network within minutes upon successful sign up.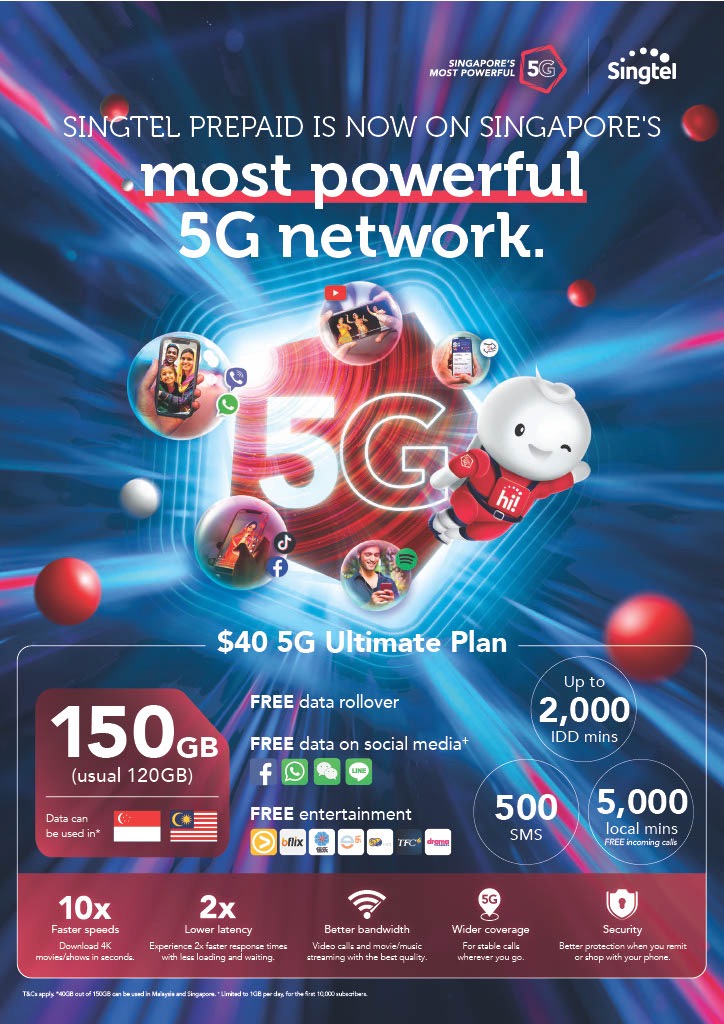 To find out more about Singtel's prepaid plans, visit singtel.com/prepaid5G and find out more!
Enabling seamless mobile experiences for GOMO customers
Live-streaming, gaming, and working on the go, these are the activities that Millennial and Generation Z consumers are doing a lot more, therefore there is a greater appetite for faster and seamless mobile experiences. In order to support the demand for more data and faster connectivity, Singtel is offering the GOMO 5G Plan which comes with 60GB of 5G data, 1,000 minutes of talk time and 1,000 local sms at S$30. They can also rollover up to100GB of unused data, talk time and local sms to the next month.
From now till 31st August, customers can subscribe to the GOMO 5G Plan at a promotional price of S$25 and enjoy an additional 40GB of 5G data.
For existing GOMO customers who wish to experience the advantages of 5G first-hand, they can redeem a free 5G boost pack that will enable 5G on their current for 30 days. Should they wish to continue enjoying 5G after the trial, they can switch to a 5G plan at S$30 or purchase a 5G boost pack at S$10 for 30 days. They can make the switch on the GOMO app.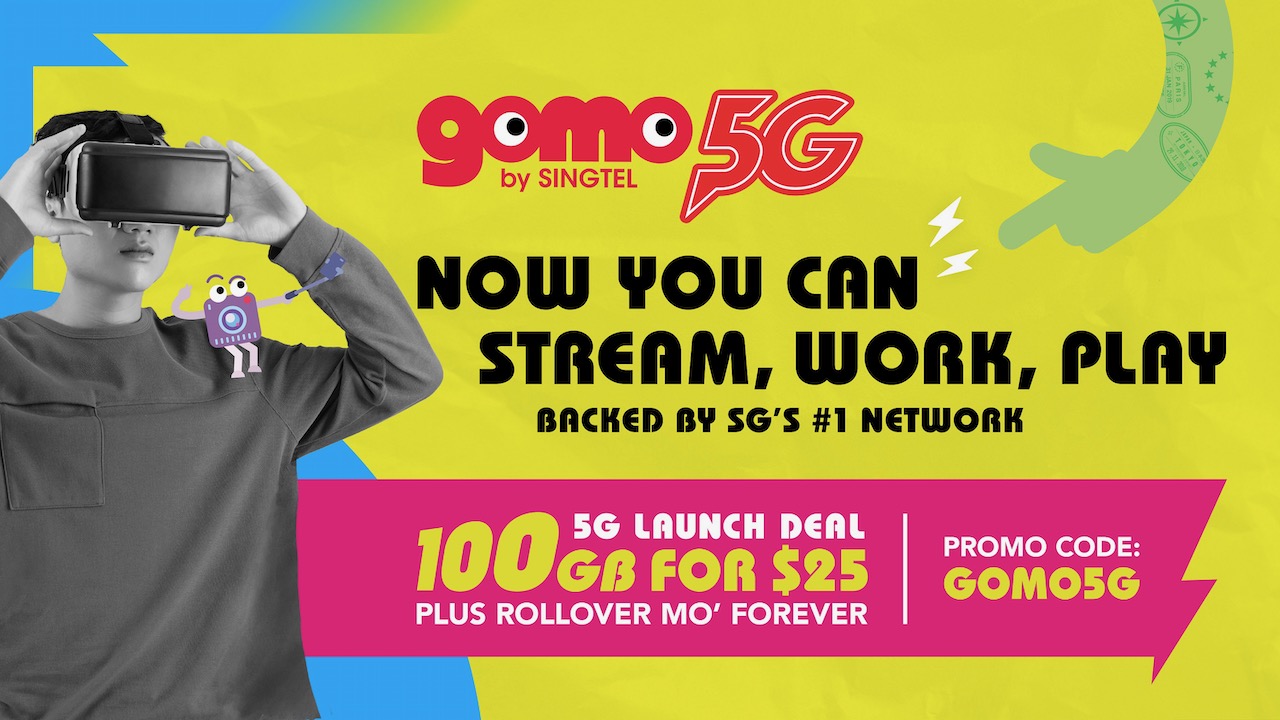 For more information on Singtel GOMO plans, please visit gomo.sg/5g to find out more. 
For more information on Singtel's 5G offerings, please visit singtel.com/5G and check them out!
* Information and pictures courtesy of Singtel *