Running, a popular sports in Singapore, that had gained quite a fair bit of publicity and participation growth over the past few years. In the coming weeks and months, there would be some of the more popular community and competitive runs in the Singapore running calender.
Before my grand finale Singapore Marathon in December 2009, I would be taking on the Nike+ Human Race 10km on 24th October and New Balance Real Run on 8th November, as my prelude and training runs for the 42.195km Singapore Marathon. Training for my full marathon is a little bit of my training schedule due to business commitments and falling sick for a week, thus interrupting my training schedule by 1 week.
Back to the Nike+ Human Race 10k and New Balance Real Run 15km, I am looking forward to these 2 runs. Both runs have its unique features and challenges, Nike+ Human Race is more community based and attracts younger runners especially students that are still schooling, with its fun and hip concept. New Balance Real Run 15km is a terrain challenging run that gives runners a taste of road, sand and trail, over 3 different terrains and a hot morning Singapore sun.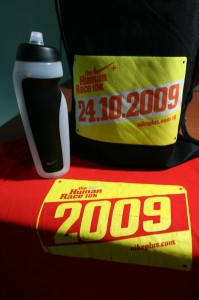 For these 2 runs this year, the race pack for Nike+ Human Race had changed and it was lesser goodies than their 1st year, entry cost had lowered thus lesser goodies inside I supposed, a sign of budget cuts or constraints. The Nike+ Human Race T-shirt is quite nice though, like it a lot.
As for the New Balance Real Run, you had to wait for me to complete the run before I would be to show you, my readers, the finisher pack, with the medal, small messenger bag and running t-shirt. The race pack collection for the New Balance Real Run 2009 consists of a ziploc bag with the number tag, safety pins and timer chip.
Last but not least, the email to inform runners for the New Balance Real Run 2009 to collect their race packs was very late, the email reached me on 16th October 2009 0350 hrs for collection dates 16th October to 18th October. This was very unusual and hope this would not happen again in the future.