Football fans in Singapore, take note! AIA Singapore announced the headliner for second AIA Live in Singapore 2021 event, it's game on with Spurs! Fans of Tottenham Hotspurs Football Club would be happy to hear this, you are invited to join the stars of Spurs for an exclusive session on how to live healthier, longer, better lives together in fun and unexpected ways on Thursday 21st October 2021.
AIA is the global partner of Tottenham Hotspur Football, they have been engaging communities through football and healthy living. With an active participation in sports, AIA seeks to promote the values of teamwork, discipline and sportsmanship to positively impact people's life.

Ms Melita Teo, Chief Customer and Digital Officer of AIA Singapore, says, "To keep active and stay positive are two key ingredients AIA believes will lead individuals and families towards healthier, longer, better lives. Our AIA Live event series ethos is to encourage our customers and the community to embrace new norms and adopt healthier lifestyle habits, especially during a time of great stress and uncertainty. We are grateful for the continuing support of our partners and ambassadors who share a similar mission in inspiring more people to take charge of their health and future."
AIA Live in Singapore 2021 – Game On with Spurs!
This October, join a star-studded line-up of players for an hour-long virtual event focusing on the theme of mental wellbeing. With the help of local influencer Amanda Chaang and Singapore Premier League side Young Lions, the Tottenham Hotspur footballers will be taking on AIA Singapore's challenge of football drills.
The event will be filmed at Hotspur Way in London, with a delayed telecast exclusively for Singapore the same week on Thursday, 21 October 2021, 5.00pm to 6.30pm (SGT).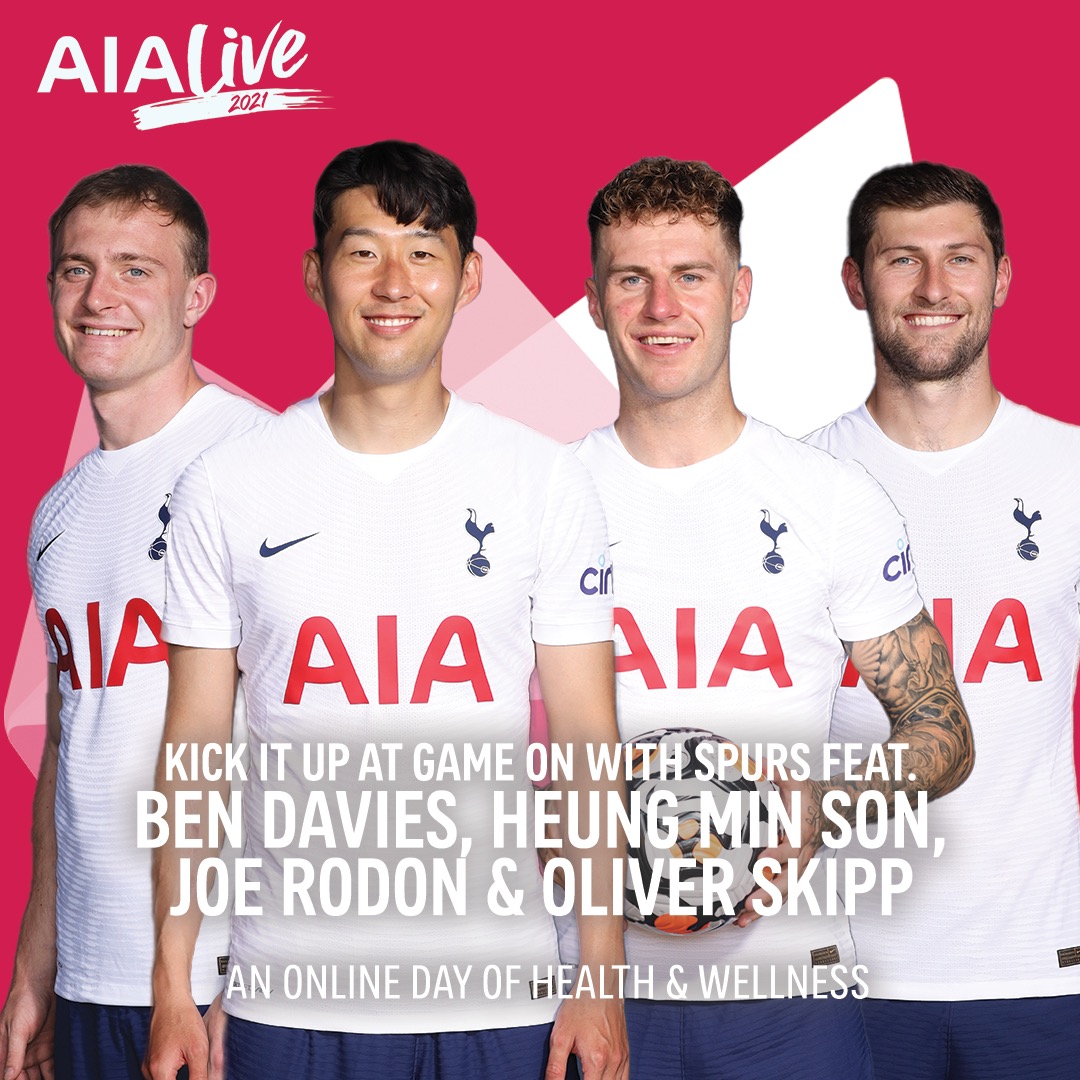 Fans will also get a once-in-a-lifetime opportunity to have their questions answered by Son Heung-Min Ben Davies, Joe Rodon and Oliver Skipp during the event on how they have been managing their mental health professionally and personally. In doing so, they hope to share tips on the little changes that everyone – whether a football player or not – can make to strengthen mental resilience and improve overall health.
Tottenham Hotspur forward Son Heung-Min added, "It is an honour to play a vital role in encouraging people to live healthier lifestyles through sports. We are grateful for the opportunity to inspire great positivity among our fans and supporters in Singapore through this series with AIA. Let's set new health goals and keep moving forward together."
To register for the event, stand a chance to have your questions answered by the stars of Tottenham Hotspur and win exclusive signed merchandise, please visit: http://bit.ly/GameOnWithSpurs.
Question submission will close on 10 October 2021, (2359hrs) and the last day of event registration is 19 October 2021, (2359hrs).
Do share AIA Live in Singapore 2021 – Game on with Spurs! with your family, loved ones, relatives and friends, especially those are Spurs fans!
* Information and pictures courtesy of AIA Singapore and Ogilvy *