Amazon Prime launch in Singapore
If you are an avid online shopper, this giant brand name Amazon is no stranger to you. Amazon Prime is now available in Singapore today on Wednesday 6th December 2017, with Amazon announcing the launch of Amazon Prime in Singapore. Prime is Amazon's popular membership program that provides exclusive access to benefits such as fast shipping, streaming and gaming.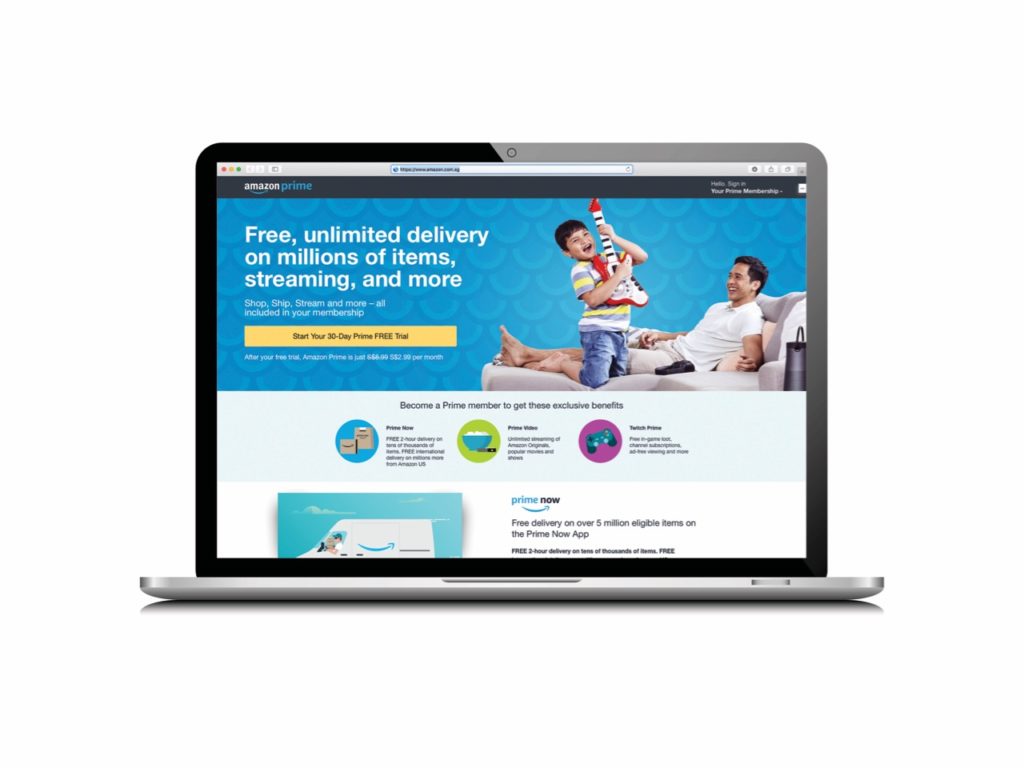 While I am not an avid online shopper, I do visit Amazon once a while for "window shopping", keeping a lookout for good deals. With Amazon Prime now available in Singapore, it gives me the opportunity to enjoy Amazon Prime and its services.
What are the benefits of Amazon Prime membership in Singapore? Here are some information on the Prime membership benefits:
Free Two-Hour Delivery with Prime Now: Following the introduction of Prime Now earlier this year, customers began enjoying exclusive access to Prime Now benefits and can continue to enjoy those benefits as part of their Prime membership, getting ultra-fast delivery on tens of thousands of items with free two-hour delivery on orders over S$40, between 10am and 10pm daily. Items range from groceries to electronics, including a variety of new brands added to Prime Now since the launch such as Sunshine, Bebe Bamboo, Archipelago Beer, Kat Food, Razer and more.
Free International Shipping on over 5 Million Items: Unlimited free shipping in 7 to 9 business days on orders over S$60 from the Prime Now App on more than 5 million international products shipped from Amazon US. Products include a wide selection of top brands such as Leap Frog, Rubbermaid, Zojirushi, BCB Generation, The Children's Space, Pet Safe, Rebecca Minkoff, and Melissa and Doug.
Amazon Prime Video: Members can stream or download popular and award-winning Amazon Prime Originals like the highly anticipated second season of The Grand Tour premiering December 8, starring Jeremy Clarkson, Richard Hammond and James May, Golden Globe-winner Mozart in the Jungle, Emmy-winner The Man in the High Castle, comedy series The Tick, Bosch, Tom Clancy's Jack Ryan coming in 2018, and more, as well as other popular movies and TV shows like Fear the Walking Dead, Seinfeld, Justified, The Transformers franchise and Mission Impossible franchise. Prime members can watch anytime, anywhere through the Amazon Prime Video app on Android and iOS phones and tablets, select smart TVs, game consoles or online at PrimeVideo.com.
Twitch Prime: Free in-game loot, like exclusive characters, boosts, and skins, in games including Blizzard Entertainment's Hearthstone, Ubisoft's Assassin's Creed Origins, and Digital Extreme's Warframe, plus full games from indie developers. Members also receive a Twitch channel subscription every 30 days, as well as ad-free viewing, an expanded set of chat emotes and colors, and an exclusive chat badge, all available at amazon.com/prime.

If you are keen in Amazon, you can try all of the benefits of Amazon Prime for 30 days. There is an introductory promotional price of S$2.99 per month  for a limited time, ahead of the S$8.99 monthly price.
Customers can visit www.amazon.com.sg to sign up for a free 30 day trial and to learn more about Amazon.
* Information and pictures courtesy of Amazon Prime and Ogilvy Public Relations *