The current world of technology and devices are getting closer, between the people using it and the various types of different devices. The Internet of Things or IOT as it is commonly known now in the world, is driving new products, devices, markets and technologies around the world, shaping a new era ahead, in both leisure and working life.
Augmented Reality is an area that recently caught my attention in my coverage on the topic of Internet of Things. This technology would probably be getting more prevalent in the near future, in our homes for our leisure use and in our professional work use.
Epson launched the Moverio Pro BT-2000 smart headset recently, while it is designed for industrial and enterprise use, we are looking at greater developments and designs in Augmented Reality for both industrial and leisure use.
Here's the press release information for the Epson Moverio Pro BT-2000 below –
Epson, a global leader in projection technology and visual communications, announced the launch of the cutting-edge Moverio Pro BT-2000 smart headset. The Moverio Pro delivers binocular smart glasses experience for augmented reality applications designed for industrial and enterprise use for onsite use or remote support.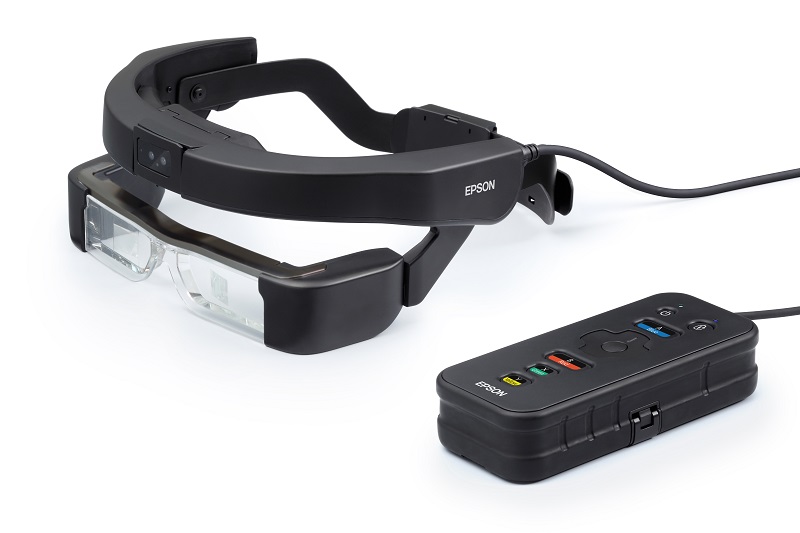 Leveraging Epson's patented optical and precision technologies, the Moverio Pro has micro projectors located on each side of the eyeglasses that project transparent overlays of digital content directly in the user's field of view over the real-world environment.
Featuring a high-resolution five megapixel stereo camera with three-dimensional depth sensing that detects the dimensions and spatial positioning of objects in relation to each other, the Moverio Pro BT-2000 provides a platform for displaying augmented reality content over the real world environment and 3D images.
The headset also includes a highly sensitive motion sensor unit, the Epson Inertial Measurement Unit (IMU), consisting of high-precision motion sensors such as a gyroscope, accelerometer and magnetometer for accurate head tracking or indoor positioning.
With a 1350cd/m2 high-resolution display, the product brings a new dimension to commercial environments by allowing workers in various locations to see exactly what their counterparts are seeing, get visual assistance and to provide informed support and training. An Ambient Light Sensor (ALS) automatically adjusts the display brightness for each location at work.
Augmented reality smart glasses can improve worker efficiency for various industries in vertical markets such as warehouse/logistics, field service, automotive, manufacturing, construction, retail and more. Uses for Moverio include inspection or training purposes, or for remote field service support for complex repair assistance and troubleshooting. The BT-2000 comes with a rugged design and is dust and water resistant for durability.
Designed with an Android operating system, the new Moverio Pro enables enterprises and other organizations to create and share applications that tailor the product to meet their precise needs. The new product also provides Wi-Fi and Bluetooth for connectivity with external interface devices such as keyboards, mouses and headsets, voice interpretation and recognition for easier hand-free operation, and two exchangeable batteries that allow work to continue with minimal interruption and downtime.
"The Moverio Pro BT-2000 is a result of our discussions with customers in different industries who see the tremendous potential of Moverio smart glasses that can help enhance productivity of their businesses. The Moverio has the potential to revolutionise workflow for onsite or remote operations. It adds a new dimension to professionals for improving their efficiency and accuracy at work, enabling workers to share their experience virtually or provide hands-free movement for hands-on work," said Ms. Tan May Lin, Epson Singapore's General Manager (Sales, Marketing & Customer Service Division).
The Moverio Pro BT-2000 retails at S$4,857 and is currently available in Singapore, Thailand and Philippines. For enquiries, please contact Epson Singapore for more details.
*Information and Picture Courtesy of Epson Singapore and Asia PR Werkz*