Sony W Series MP3 Walkman, the latest model NWZ-W252, white in colour, put to the test and still ongoing. How did the Sony W Series MP3 Walkman NWZ-W252 came into my hands, drop by my blog post here and check it out! It's a nice MP3 player that has come in nicely into my life, work lifestyle, leisure and sporting lifestyle. I would be putting the NWZ-W252 MP3 player to the test, however, before that, let me do a review from a technology user perspective first !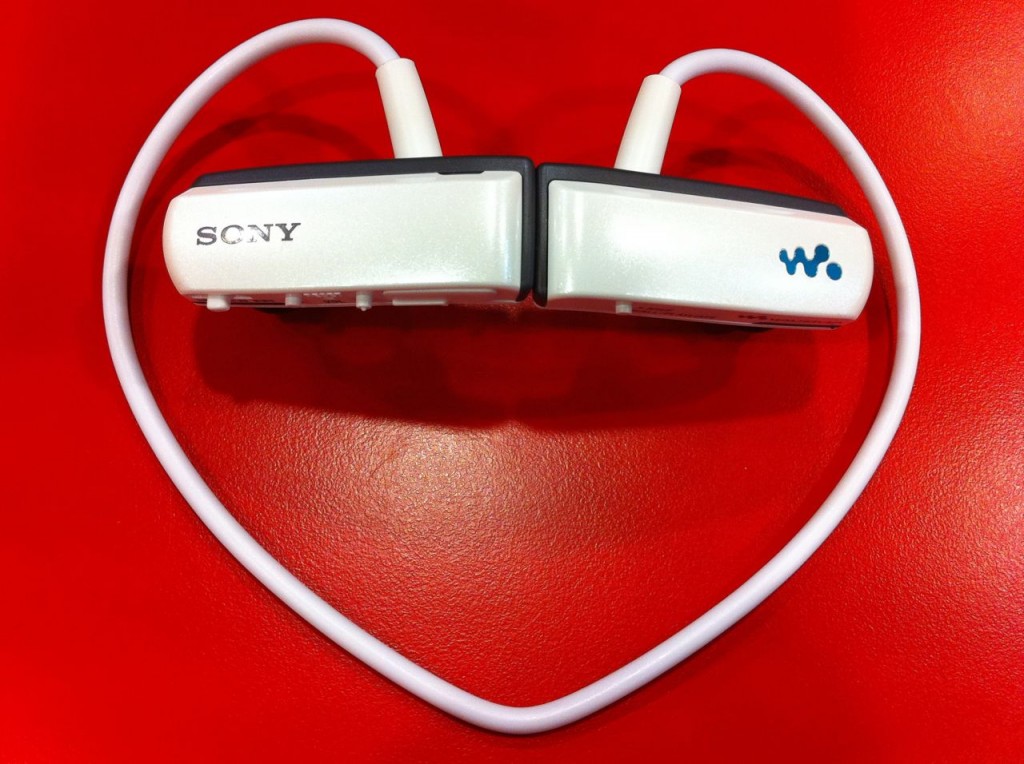 First and foremost, I would highlight some of the key specifications of the Sony W Series MP3 Walkman NWZ-W252 –
2 GB capacity
New & Improved Water Resistant
New ZAPPIN™ and Folder Skip Functions
11 Hours Battery Life (Quick charge : 3 minutes charge 90 minutes play back)
Weight : 43 grams
Number of songs : Approximate 470
Continuous Playback Time : Approximate 11 hours (128 kbps)
5 different colours available : Green, Limited Edition Camouflage, Pink, Black & White
Full specifications details of the Sony W Series MP3 Walkman NWZ-W252 can be found here !
Therefore, how's the performance of the Sony W Series MP3 Walkman NWZ-W252 ? After using it for a few days and listening to the MP3 player while I am commuting from places to places, these are my tech reviewer personal opinions –
Pro
– Sound quality ~ It's great, loud and clear.
– Not too heavy, even for daily walking from place to place with the MP3 player on my head and ears.
– Firm construction, solid body and well-built up, no flimsy and weak cables/wires.
– Ease of drag and pull songs from your computer to the MP3 Player (for both Windows OS & Mac OS)
– Long battery life, essential and important especially if you are on the road traveling or running marathons.
– Ease of use on the buttons and controls ~ once you get the hang of it and know which button and control is for which function, it's simple and helpful.
– Catered for (targeted at) the sporty lifestyle, however, it also suits the leisure and working lifestyle too ! Just hang it around your neck !
– MP3 player stand + USB charger , 2 in 1 function, holds up the MP3 player in place while charging it at the same time, it's great for display too !
– Magnet to connect the 2 sides of the MP3 player together.
– Voice instructions that inform you when you are playing the song, ZAPPIN (songs searching), skipping of folders
– ZAPPIN ~ enables you to "ZAP-in" to preview the chorus of the next track with a choice of either 4 or 15 seconds, making it easy to browse and find the track you want. Once you found your favourite song? Press the button again to "ZAP-out" to start playback from the beginning.
– A runner would usually select his/her songs for their runs (short distance, middle distance or marathons) and they would plan their folders and songs into less complicated structure, thus allowing them to listen to their flow of music selection and concentrate their running with the help of the music from their Sony MP3 Player.
– It might be a good alternative MP3 player for people already holding a smartphone, not wanting to burn out the battery life or separating the playing of MP3 from their smartphone, the Sony  W Series MP3 Walkman NWZ-W252 fits in perfectly (leisure, work and active sports)
– Using the Sony W Series MP3 Walkman NWZ-W252 player, you would not face the issue of messy headset wire/cables. No headphone wire/cable connecting your smartphone or MP3 portable player and getting tangled up with your arms, hands, bags or other people's arms, hands and bags.
Cons
– If you have many folders and songs, without a panel on the player to look at the songs, it might be  difficult to search for your particular favourite song (especially if you have time on hand and wanted to search for a particular song)
– With such excellent construction (that's an excellent point by the way), the MP3 player stand to connect the player to, is pretty tough and can be a little bit tricky at times to connect them together, due to its excellent construction, thus might cause some frustration at times.
– Some people might find 2GB disk space to be insufficient for their songs storage.
– The ear buds given is not too bad, nevertheless, for long distance running or long hours plugging in and listening to the MP3 player, maybe the ear buds could be of better quality, for comfort and listening too.
– No matter how good or light an MP3 player can be, if a person just want to have everything all-in-one squeeze inside a smartphone (including MP3 playing), this Sony MP3 player being light and powerful, would not suit this particular group of people.
From a technology user perspective, the Sony W Series MP3 Walkman NWZ-W252 is a pretty cool, trendy and multi-purpose MP3 player that can be adapted in active sporting lifestyle as well leisure and corporate lifestyle too!
Stay tuned for my upcoming a runner's (that's me ! ) review post on using the Sony W Series MP3 Walkman NWZ-W252 player when he/she is running, the feeling and comfort of the player !
This Sony W Series MP3 Walkman NWZ-W252 is kindly sponsored by Sony Singapore.