The Epson Moverio BT-300 was announced in October 2016 and it was available in the Southeast Asia region in the first quarter of 2017. The Epson Moverio BT-300 is a pair of smart glasses, nice, stylish and compact design. The smart glasses are gaining more foothold in the augmented reality (AR), virtual reality (VR) markets, that can be applied in different industries such as hospitality, travel, museums, aerial photography etc.
On a personal note, I had seen for myself how some of the technology companies moving into the VR and AR devices sector. In my personal opinion, this sector would grow and expand in the near future. From 3D reality gaming, to hospitality, travel, museums, training etc etc … keep a lookout for the VR and AR devices that might one day be a B2C device and not just a B2B device.
At a recent media event, I witnessed and experienced it for myself on how the Epson Moverio BT-300 can be applied to a hospitality organisation, giving their guests additional and enhanced experiences, on top of the aesthetics, customer service, accommodation and f&b experiences. For this special event, I would write and share my AR experiences in another separate article. Keep a lookout for it and I would update my article here when the article is up!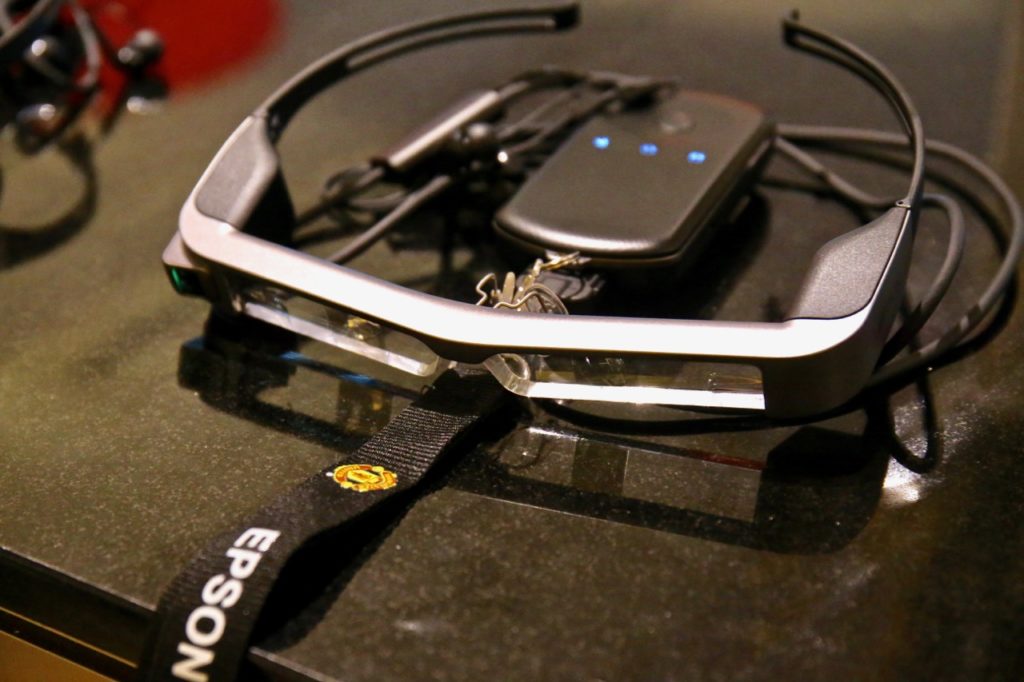 I can still remember when Epson first launched the BT-100 and I had a chance to see and try it out. Over this period of time, we can see the changes and improvements from the BT-100 to the BT-300. I hope to see more AR and VR technology being available and applied to enhance a visitor experience in museums, travel and hospitality industries.
Hopefully, in the near future, I can utilise smart glasses for aerial photography.
For this article, I want to introduce and share more information and details on the Epson Moverio BT-300:
The Moverio BT-300 features Epson's own cutting edge silicon-based OLED (organic light emitting diode) digital display technology, enabling the device to be the lightest see-through binocular smart glasses on the market, and setting the new standard for augmented reality smart eyewear.
Leveraging Epson's patented optical and precision technologies, Epson's Moverio BT-300 smart glasses has micro projectors located on each side of the eyeglasses that project transparent overlays of digital content directly in the user's field of view over the real-world environment.
The Moverio BT-300 bring hands-free operability through a front-facing 5-mega-pixel HD camera and intelligent tracking sensors that detects the dimensions and spatial positioning of objects in relation to each other. A key feature is that users can take HD-quality video and pictures hands-free, bringing new levels of productivity for deploying the device for work-related purposes. The device features an LED to indicate when the camera is recording.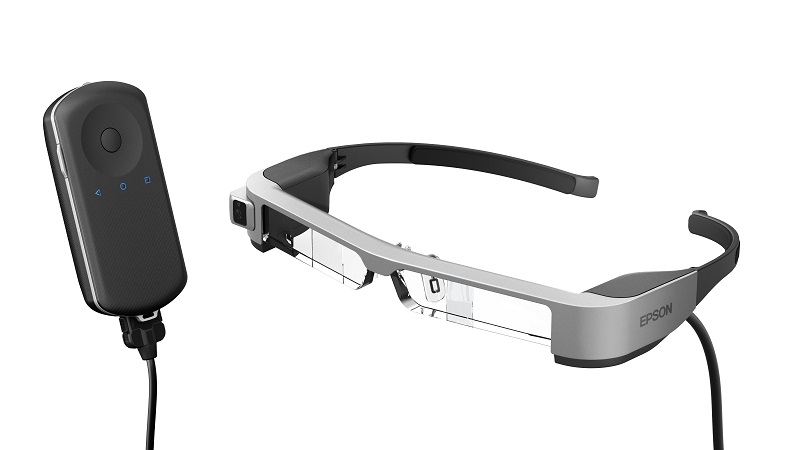 Designed to be worn with ease for use at work or play, the Moverio BT-300 is compact and lightweight, and fits over normal glasses comfortably. It is approximately 20% lighter than its predecessor, the BT-200. Built with a quad core Intel Atom processor and Android OS 5.1, the BT-300 maintains up to six hours of battery life for processing of 3D heavy content.
Augmented reality smart glasses can improve worker efficiency enabling hands-free and real-time display across various industries such as warehouse/logistics, field service, manufacturing, healthcare, travel and hospitality, retail and more. Uses for the Moverio smart glasses include learning and training purposes, remote field service support for complex repair assistance and troubleshooting, managing of inventory and warehousing, guided museum tours and others.
"The Moverio BT-300 continues Epson's commitment to binocular smart eyewear, real optical see-through overlay, and increased performance. We see potential for growth for industry use in the region. The Moverio has the potential to revolutionise workflow for onsite or remote operations. It adds a new dimension to professionals for improving their efficiency and accuracy at work, enabling workers to share their experience virtually or provide hands-free movement for hands-on work," said Siew Jin Kiat, Regional General Manager (Southeast Asia), Printers & Visual Instruments Division, Epson Singapore.
Epson is currently working with businesses and independent software vendors to develop applications for use. It has partnered with DJI, a leading maker of drones, to develop applications for the Moverio smart glasses that will enhance safety, productivity, and piloting experience for hobbyists and professionals alike.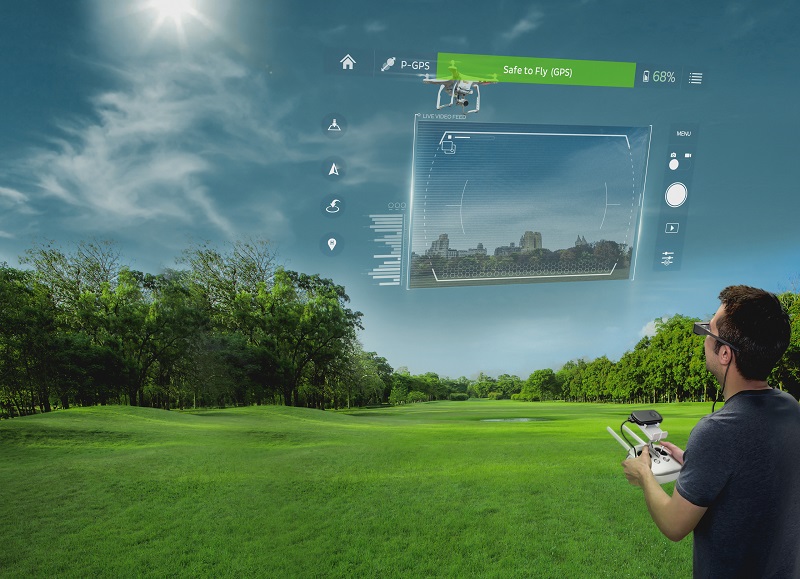 Using the optimized DJI Go app for the Epson Moverio BT-300 smart glasses, drone pilots will be able to see crystal clear, transparent first person views (FPV) from the drone camera while simultaneously maintaining line of sight with their aircraft. The Epson/ DJI partnership is timely as businesses look to expand the use of drones for a variety of aerial photography and videography purposes.
* Information and pictures courtesy of Epson Singapore and Asia PR Werkz *