The Onkyo NCP-302 wireless audio system was recently introduced, it's a standalone speaker that produces pretty good sound quality, looks sleek and nice in design, it would fit it nicely with the furnishings in your home.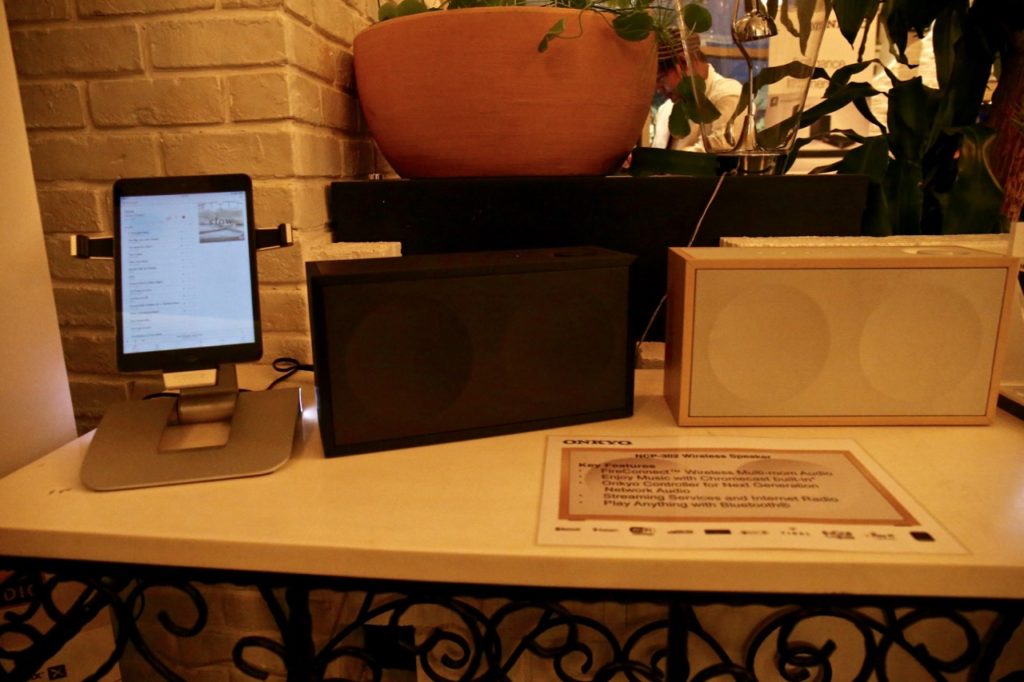 During a recent Onkyo event, I had the opportunity to see the Onkyo NCP-302 wireless audio system and listen to the quality of the sound produced from this system. With my short time there listening to the music played by the Onkyo NCP-302 wireless audio system, it was pretty good and enjoyable even in the midst of the noisy crowds at the venue.
For the music enthusiasts, the Onkyo NCP-302 wireless audio system can also be connected to other units and compatible Onkyo master components. This might be a good opportunity to build/customise your home or personal audio system. Take a look at their latest Onkyo DP-X1A portable music player, these 2 music players do make a good pair!
Let me share with you more information about the Onkyo NCP-302 wireless audio system –
Multi-room audio enriched with limitless and accessible music is now a reality as Onkyo unveils its NCP-302 Wireless Audio System, a standalone speaker that can link with other units and compatible Onkyo master components, such as AVRs, to mirror home entertainment sources around the home over FireConnect™ powered by Blackfire1.
FireConnect™, a network protocol based on Blackfire and provided by Blackfire Research, USA, operates over 5 GHz/2.4 GHz Wi-Fi® and offers 44.1 kHz and 48 kHz sampling.
The NCP-302 supports a variety of music streaming and internet radio services, such as Spotify®, TIDAL, Deezer, and TuneIn2, together with audio files stored on mobile or media server inside the Onkyo Controller application3.
With Chromecast built-in4, support for the Spotify® Connect app, and DTS Play-Fi®*4 technology, along with Bluetooth® wireless technology, the NCP-302 can be played to separately or grouped with other units using Onkyo Controller.
Chromecast built-in allows users to cast any music from smartphone, laptop, or PC to speaker or speaker network with ease. Control playback with regular audio apps for iPhone, iPad, Android™ phone or tablet, Mac® or Windows® laptop, or Chromebook™ with support for Google Play Music included.
NCP-302 speakers can also mirror network music playing through a master component as well as sources input via analog audio terminals*5, including vinyl records, CDs, and cassettes.
Onkyo Controller offers source selection and playback management for individual or multiple speakers within a single intuitive interface. Sound follows as the listener moves through their day, keeping them company and adding atmosphere when entertaining friends and family.
The control app can assign the listener's preferred sources to NCP-302 speakers and save them for later recall. Adding or dropping speakers, changing music, or adjusting volume involves a swipe or tap on the touchscreen.
Product quality is evident in the solid MDF enclosure housing two 77 mm woofers and a 26 mm balanced-dome tweeter. The speaker is tuned for pleasant, non-fatiguing sound. Like the woodgrain or black hair-lined finishes, physical controls are minimalist to suit any interior design.
With NCP-302 and a FireConnect™-ready master component in the main living space, families can experience Onkyo's Next Generation Network Audio: an ecosystem of technologies that coalesce in smartphones to deliver audio anywhere, any time.
Next Generation Network Audio grows with the user, adapting to changing listening habits. It delivers what's important: enjoyment of sound, enjoyment of control, and enjoyment of life.
Pricing and Availability
The NCP-302 speaker is retailing at all authorised retailers at $599.
Notes
*1 FireConnect™ is enabled by a firmware update.
*2 Service availability depends on region.
*3 Available for iPhone, iPad, iPod touch, and Android devices. Check App Store or Google Play™ for OS and device requirements.
*4 Enabled with a future firmware update.
*5 Enabled with a future firmware update. Transmission via external analog inputs is not supported on the TX-NR555 Onkyo products compatible with FireConnect™.
* Information and details courtesy of Hwee Seng Electronics and Brand Cellar *