The LG G6, the latest flagship smartphone by LG Electronics (LG) was unveiled on 5th April 2017. At the media launch event in Singapore, I witnessed the unveiling of the LG G6 and had a short hands on session with the LG G6 smartphone.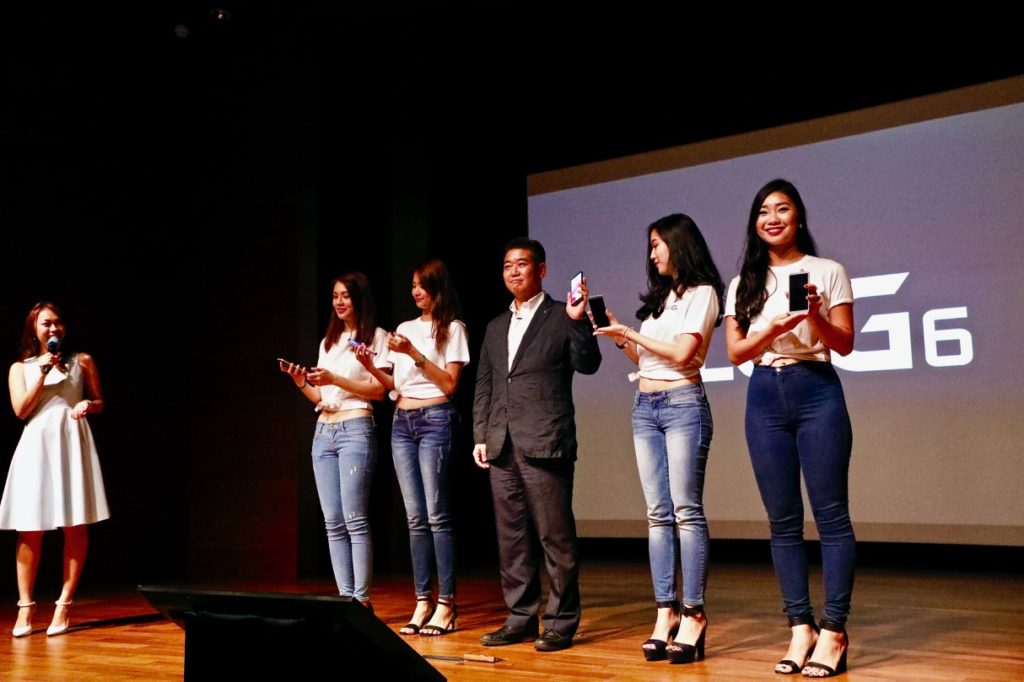 This LG G6 is a smartphone packed with a number of interesting features and it was also designed with the help and input from the consumers through feedback and user opinions. With ideas, designs, inputs and opinions from both sides of the LG G6, the manufacturer/designer and consumers, the LG G6 is a smartphone that has the best of both worlds.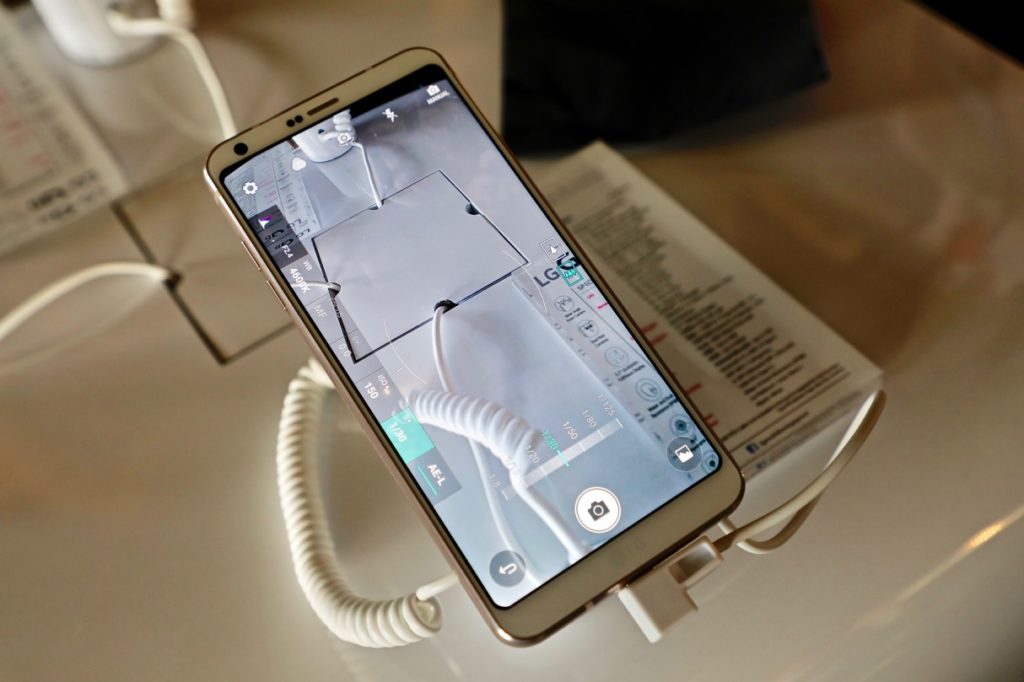 During my short hands on session at the LG G6 unveiling event, I was most impressed with the following features of the LG G6
Form factor and screen size, a 5.7inch 18:9 QHD + FullVision Display in the size of 148.9 x 71.9 x 7.9mm
Dual 13MP cameras with wide angle lens.
Rich and vivid colours produced by the LG G6 dual lens smartphone camera
New photography features – Square Camera Mode, Grid shot, Snap shot, Match shot and Guide shot
While I wasn't able to fully try and test all of the new photography features out during the event, I would share some of the photographs on the capabilities of the wide angle lens. Personally speaking, the LG G6 smartphone camera functions and features had improved and I hope to obtain a review unit and share on the LG G6 smartphone, from a daily usage for leisure/work and as a smartphone camera for enthusiast/serious photographers.
Meanwhile, let me share the key information and details of the LG G6 from the press release information below –
LG Electronics (LG) unveiled the G6 smartphone, its latest flagship offering that features a bold new display format complemented by a cinematic viewing experience, exceptional screen to body ratio, wide angle camera and more. Designed in response to consumer feedback and user opinions, the LG G6 focuses on the features consumers want, most notably a big screen that comfortably fits in one hand.
First Smartphone in the World to Feature 18:9 Display Format
The LG G6 comes with a 5.7-inch QHD+ (2,880 x 1,440 resolution) FullVision display, and for the first time ever in a smartphone, an 18:9 screen aspect ratio. Compared with conventional 16:9 aspect ratio displays, the 18:9 format offers more viewing space and a more immersive experience when streaming videos and playing games.
Despite the larger display format, the LG G6 comes in an ergonomic design that is optimal for usage with one hand. The ergonomics research teams led by Dr. Andris Freivalds at Pennsylvania State University and Dr. Ji Yong-gu at Yonsei University tested the smartphone, and it received the highest marks for the test categories including stability when holding the phone, comfort in various postures and actions, as well as muscle fatigue when using the smartphone for long periods.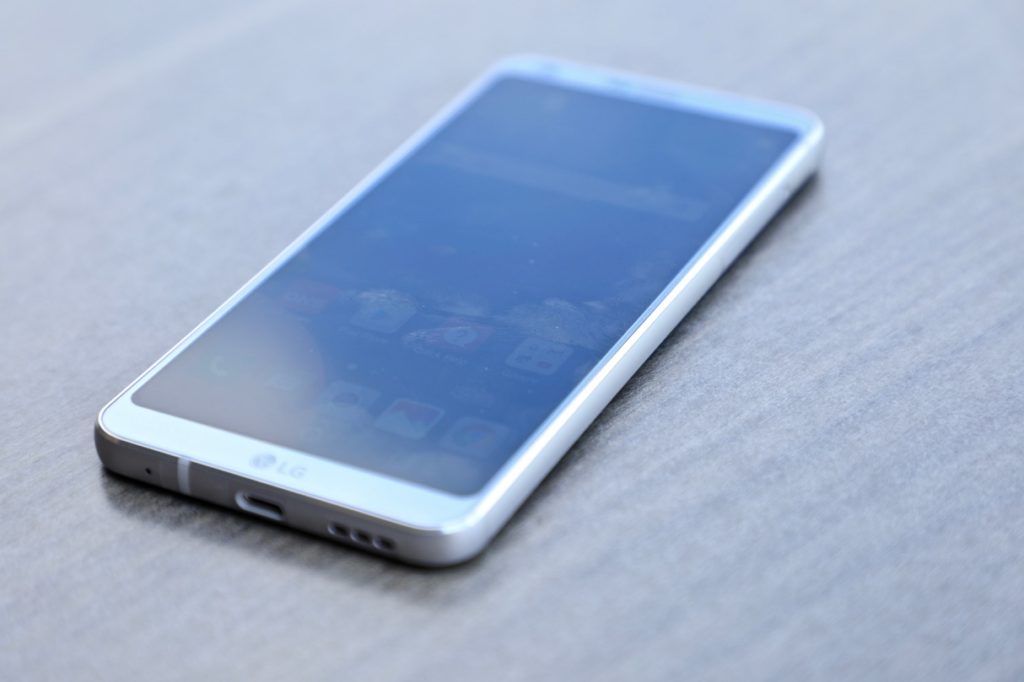 Sculpted from aluminium and glass, the G6 features a minimalist and sleek design smooth to the touch. The metal frame that is a soft matte finish, imparts solidity in style with a high gloss back is perfectly flat. The rounded corners of the G6 also disperse the impact if the phone is dropped.
Elevate the Mobile Viewing Experience with Dolby Vision
With the rising trend for content on demand and a greater viewing experience, the LG G6 now supports two High Dynamic Range (HDR) standards for viewers to get more out of cinematic contents available for smartphones. As the first smartphone to feature Dolby Vision technology, the LG G6 also supports HDR 10, both of which are standards for the picture quality technology that displays a wider range of colour and luminosity. The darkest and brightest areas are more vivid, revealing greater detail for a truly immersive viewing experience. Users will get to enjoy cinematic-like viewing experience for streaming videos from Netflix, Amazon and more content providers that are increasingly creating HDR video content.
Dual 13MP Cameras with Wide Angle Lens to Capture all the Beauty
LG G6's dual 13MP rear cameras, which boast a 125-degree wide angle lens, capture more in a shot that regular phones cannot achieve. When taking scenic shots of natural landscapes such as vast mountain ranges and waterfalls, simply switch to the wide angle lens to get all the beautiful details in. Users will also experience seamless transitions when zooming in and out between the wide angle and standard camera lenses even during 4K video capture.
 *** Special thanks to Dennis from SuperAdrianMe for holding the LG G6 and allowing me to take these 2 photographs! ***
The G6 comes with an expanded 100-degree field of view with its 5MP front camera, which means users can take selfies or wefies without the need for a selfie stick. Plus, the camera reduces edge distortion, which makes for more natural-looking images.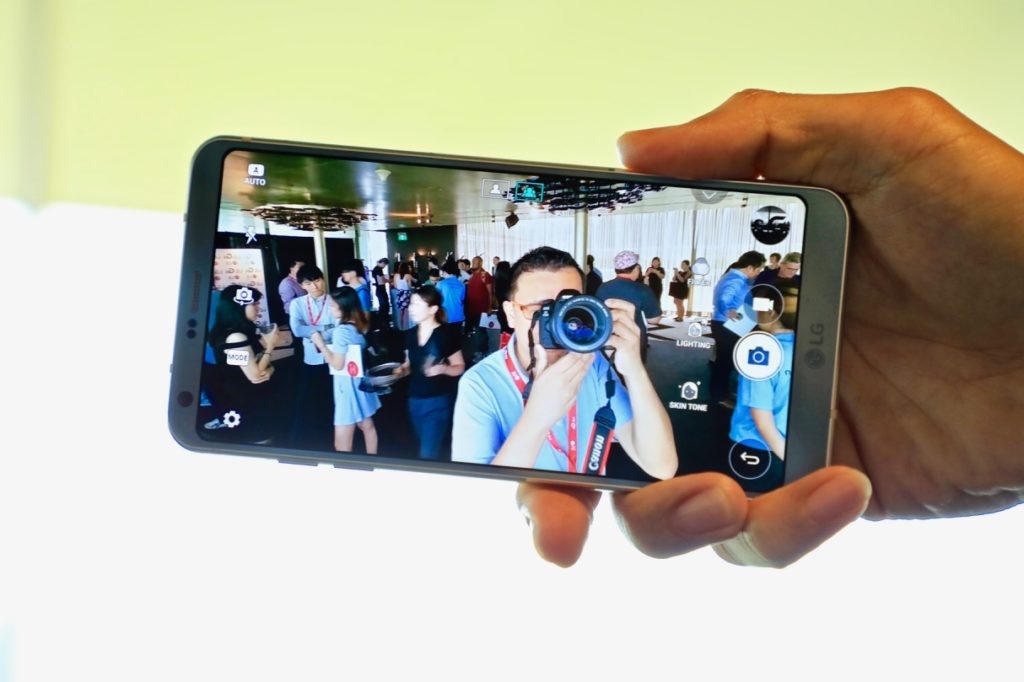 *** Special thanks to Ivan from SGIG for holding the LG G6 and allowing me to take this wefie view photograph ***
Square is the New Creative
The LG G6 smartphone offers a Square Camera Mode, which offers new exciting ways to create photos with the Snap shot, Match shot, Grid shot and Guide shot features. Snap shot splits the screen into two, taking advantage of the screen's 18:9 display which are essentially two squares. The upper half is a viewfinder while the bottom half lets users preview the photos after they take them for easy comparisons. Match shot allows users to get creative, matching disparate photos, such as the wings of a bird to the tail of an airplane.
With Grid shot, users can form a collage made up of four quadrants with photos and video contents. The mode eliminates the need for any third-party apps, and users can share the collages on their favourite social networks instantly.
Finally, the Guide shot is a smart and creative feature that matches the composition of a chosen image to act as a guide for the next shot. This is especially useful to snap a series of photos, such as striking a similar pose in different settings, or various cuisines shot in the same plating format.
With the Square Camera Mode, users can also take pictures in 1:1 ratio on one window while checking, editing and uploading pictures in another window immediately after shooting. They can even create animated GIF files by combining between 2 and 100 photos from the gallery in a loop.
By taking perfectly square photos in 1:1 ratio, the LG G6 is ideal for Instagram, Snapchat and other social media apps. Users can also choose other ratios, such as 4:3, 16:9 and 18:9 based on their preferences.
Built for Durability
The LG G6 boasts IP68 water and dust resistance, which makes it protected up to 1.5 meters of water for as long as 30 minutes. Users can now worry less about accidental drops in water and spillages.
The smartphone also endures tests for high temperatures and nail penetration, and uses a proprietary technology that dissipates heat via an internal heat pipe, the first in an LG smartphone. LG engineers have also positioned the components most prone to overheating as far from each other as possible.
Everyday Tasks a Cinch with the Google Assistant
 The LG G6 has Google Assistant built-in. It works seamlessly with LG apps, empowering users to get fast answers, manage everyday tasks, enjoy the best music and videos and search the G6 quicker than ever. And with the remote after-service utilizing artificial intelligence, the more Google Assistant is used, the more personalized the user experience becomes.                                                                                    
"The LG G6 offers users new visual and manual experiences, as it marries an expanded screen with the convenience of one-handed use," said Mr David Yoh, Mobile Communications Business Director of LG Electronics Singapore. "LG will continue to lead smartphone innovation with a focus on convenience and reliability in order to exceed consumer expectations."
For more information, please visit http://www.lg.com/sg/mobile-phones/lg-G6
Pricing and Availability
To own the G6 is to embrace the future of smart technology. This stunning smartphone comes with voice control and a personal assistant amongst other new features, offering unrivalled usability and convenience. Coming in astro black, ice platinum and mystic white colors, the smartphone will retail at S$988 and is available from April 14, 2017 onwards at M1, Singtel, StarHub and other LG authorized retailers. Each purchase of the G6 comes with a free flip case worth S$58 while stocks last.
Key Specifications:
Chipset: Qualcomm® Snapdragon™ 821 Processor
Display: 5.7-inch 18:9 QHD+ FullVision Display (2880 x 1440 / 564ppi)
SIM: Dual-SIM (4G/3G)
Memory: 4GB LPDDR4 RAM / 64GB UFS 2.0 ROM / MicroSD (up to 2TB)
Camera:
Front 5MP Wide (F2.2 / 100°)
Rear Dual: 13MP Wide (F2.4 / 125°) / 13MP Standard OIS 2.0 (F1.8/71°)
Battery: 3,300mAh (embedded)
Operating System: Android 7.0 Nougat
Size: 148.9 x 71.9 x 7.9mm
Weight: 163g
Network: LTE-A 3 Band CA
Connectivity: Wi-Fi 802.11 a, b, g, n, ac / Bluetooth 4.2 BLE / NFC / USB Type-C 2.0 (3.1 compatible)
Colours: Astro Black / Ice Platinum / Mystic White
Other: 32-bit Hi-Fi Quad DAC / Water and Dust Resistant / Fingerprint Sensor / UX 6.0 / Dolby Vision™ / HDR10
* Information courtesy of LG Electronics Singapore and Brand Cellar *