LG launched many new products in their home entertainment (HE) and information technology (IT) products for the year 2017. For this article, I am going to share on the LG IT products that they had launched for year 2017 recently.
The LG IT products are the LG gram, 21:9 UltraWide Monitors, Gaming Monitors, 4K UHD Monitors and IPS Monitors. For all the techies out there, the LG IT products would definitely interest you.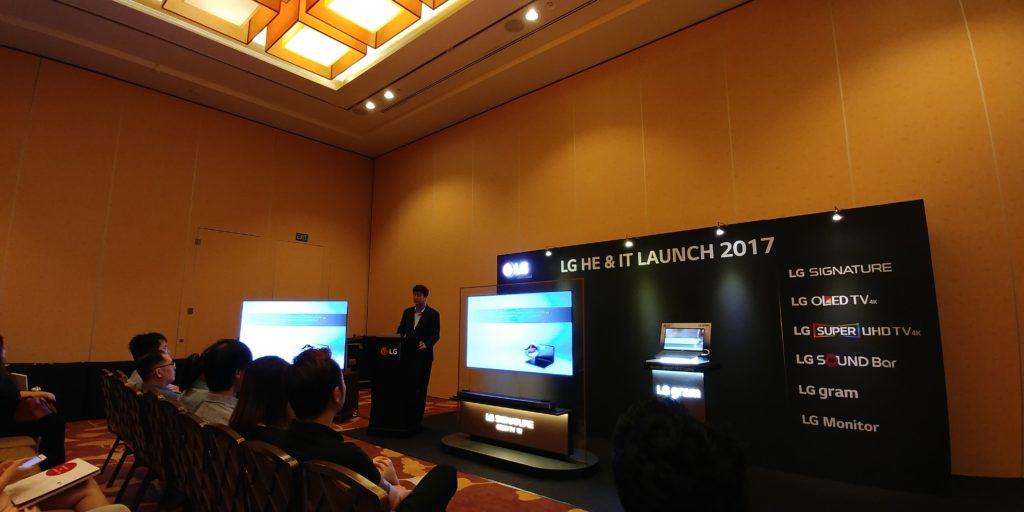 At the recent LG HE & IT 2017 launch in Singapore, I had the opportunity to visit and take a look at some of the many LG HE & IT products launch for 2017. Since I am more inclined towards photography and IT products, I decided to share on the LG IT products first, inside this article.
LG gram
The LG gram is now available in 3 different sizes, they come in 15.6, 14 and 13.3 inch bodies.They are also the lightest in their own category and is an ideal choice for working professionals and students, those are who constantly on the move and need lightweight and powerful specifications laptop.
The LG gram uses the advanced seventh-generation Intel Core i5 or i7 and the screen supports a Full HD resolution (1920 x 1080) IPS display. On top of that, the gram provides comfortable usability; it is able to connect with a variety of other devices through multiple ports, including the new USB-C port, which can be used to transfer content to exterior screens and users can use this port to quickly charge the laptop or a mobile phone.
The LG gram is a laptop that consumers can seriously consider, for its lightweight and technical specifications packed inside them. I held it with my hands for all 3 models, it's really light and handy, excellent finishing and build quality.
21:9 UltraWide Monitors
The 21:9 aspect ultrawide monitors series by LG, is an IT product that would attract interest not just among the techies, they are useful for business and working professionals who need to view multiple monitors for their work. Imagine having 3 x 21:9 ultrawide LG monitors for your work usage, almost all of your work/data/research shown in all 3 ultrawide LG monitors.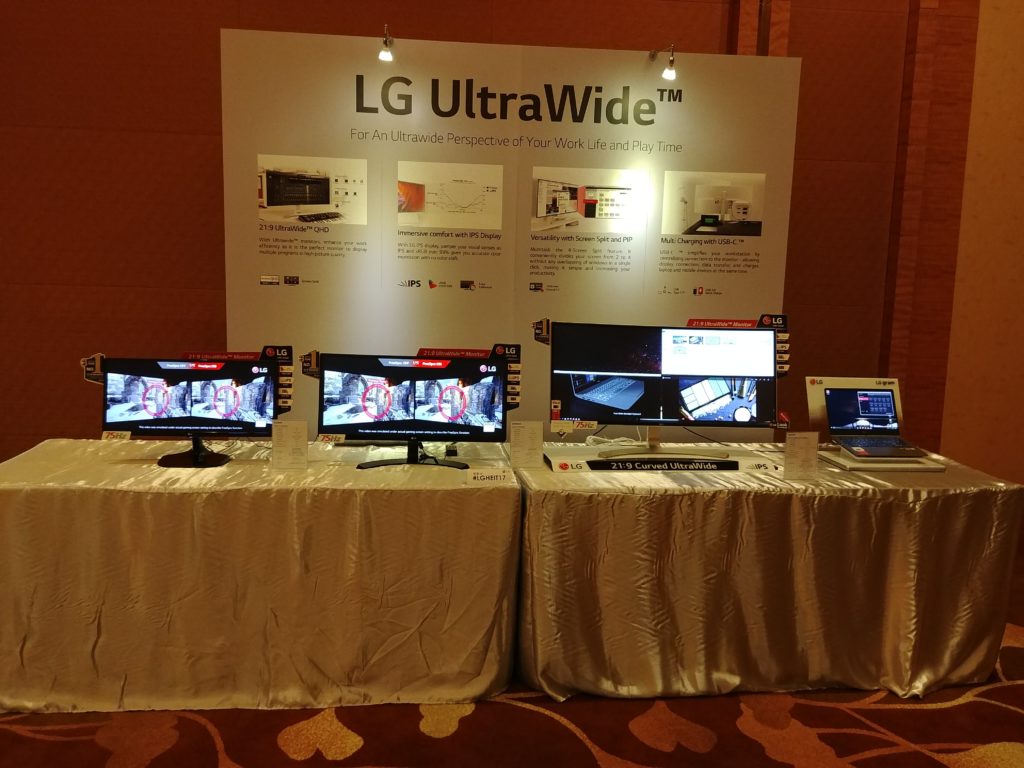 For the 21:9 aspect ultrawide monitors, they also have the curved monitor models options. The 38UC99 and 34UC99 21:9 ultrawide curved monitors are equipped with pretty good technical specifications that might be of great interest.
As the first UltraWideTM monitor to feature a USB Type-CTM port, the 38UC99 offers a glimpse into the future of connectivity. The advanced port allows users to display 4K videos, transmit data as well as charge devices such as a smartphone or laptop simultaneously on a single cable.
With two 10W built-in Bluetooth compatible speakers, the LG 38UC99 offers Rich Bass audio output in the 85Hz bass range, delivering powerful sound quality that enhances the user experience. Offering optimal screen real estate, the 38UC99 is also ideal for tasks that require attention to details, such as photo or video editing. In addition to its roomy design, this monitor's advanced In-Plane Switching (IPS) UltraWideTM Quad High-definition+ resolution and wide color gamut covering 99 percent of the sRGB color space make the 38UC99 a natural choice for anyone who seeks superior visual performance.
The LG 34UC99 is a 3440 X 1440 curved UltraWideTM Quad High-definition IPS display that offers amazingly sharp picture quality. Its pixel area is about 1.8 times larger than a Full HD 21:9 monitor, and about 2.4 times larger than a Full HD 16:9 monitor. The 34UC99 provides expansive space for photographers, content producers, data analysts, professional investors and others who need to review their working files on a wide screen. With a bigger screen, they can open more applications and perform more tasks. Equipped with IPS technology that speeds up the response time and improves color reproduction, the result is picture quality that is great at any angle, whether the user is sitting in front of the screen or off center.
Gaming Monitors
Gamers, take note of this particular model, the LG 34UC79G, is going to interest you!
The LG 34UC79G curved UltraWideTM gaming monitor combines a blindingly fast refresh rate with advanced one millisecond Motion Blur Reduction. The monitor boasts seamless image transitions without after-images and the IPS display delivers accurate color expression from any angle without distortion.
With features such as Black Stabilizer and Dynamic Action Sync, the LG 34UC79G is specifically designed to meet the needs of today's gamers. Black Stabilizer provides extra clear contrast, allowing viewers to detect darker objects hidden in hard to see areas. Dynamic Action Sync reduces input lag so that users can enjoy fast-paced gameplay without any delay. What's more, the inclusion of AMD FreeSyncTM offers a smooth experience without any stuttering or screen tearing. This monitor is a boon for fans of first-person-shooter games, as they can shoot their targets accurately, accumulate rewards and top the scoreboards.
4K UHD Monitors
LG's line up of 4K UHD monitors offers consumers choices to have high dynamic range content that can be showcased with their 4K UHD monitors, ideal for watching movies and playing games, as well as for the creative industry, with their vibrant and professional grade quality colours.
The LG 32UD99 is one of LG 4K UHD monitors launched in 2017.
Coming with a virtually borderless design, the LG 32UD99 has an ultra-thin bezel that measures a mere 1.3mm on four sides. As such, there is no distraction from the precise and gorgeous image. Boasting 3840 x 2160 pixels, the solution supports the HDR10 standard, which delivers enhanced brightness levels and a wide color gamut image. Compatibility with the HDR10 standard increases the monitor's peak brightness, enabling users to edit movies and photographs much more comfortably.
In addition, the LG 32UD99 is equipped with an IPS panel and displays over 95 percent of the DCI-P3 color space, making it ideal for content creators who appreciate features such as True Color Pro for color reproduction accuracy. Requiring only a single cable to stream images to a 4K display, charge a connected laptop and execute data transfers simultaneously, the 32UD99 is able to reduce cable clutter.
IPS Monitors
The monitors for the busy working professionals to multi-task on their monitor screen with the LG IPS Monitors.
LG's IPS monitors such as the 24MP48 offer true-to-life colors, deep black levels and rich colors for amazing contrast and color detail at virtually any angle. The IPS technology highlights the performance of liquid crystal displays, resulting in shortened response times and improved color reproduction. The Screen Split feature allows users to customize their monitor layouts for multitasking. Resize and display multiple windows at once, with 14 options including four different picture-in-picture choices.
The LG models listed in the articles are just some of the models chosen to be showcased during the LG IT products 2017 line up! Whether you are a working professional, photographer, creative industry, gamers, students or home user, there is something for you to choose from LG IT products 2017 launch. If you are interested in any of the LG IT products, do visit their websites and check out more information and details.
For more information, please visit http://www.lg.com/sg/laptops and http://www.lg.com/sg/consumer-monitors
* Information courtesy of LG Electronics Singapore and Brand Cellar *