Logitech recently launched a new mouse to their line-up, the Logitech M590 Multi-Device Silent Mouse. If you are 2 x computers owner at work or at home, with both Windows and Mac platform, this Logitech M590 Multi-Device Silent Mouse would come in handy and useful for you.

With Logitech FLOW, you can navigate seamlessly on two computers concurrently, copy and paste from one to the other even if you are using a Windows PC and a Mac, with the Logitech M590 Multi-Device Silent Mouse.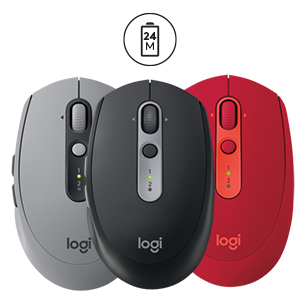 Key Features
Logitech FLOW: Seamlessly control multiple devices at the same time and even copy-paste content and documents between those computers.*
Enjoy the Sound of Silence: The mouse provides an over 90 percent noise reduction in click sounds with the same click feel and a rubber wheel for quiet gliding.
Ultra-Precise Scrolling: A micro-precision scroll wheel packs more grooves per millimeter, making scrolling through long webpages faster and easier.
Two Thumb Buttons: Two customisable thumb buttons come programmed to move backwards and forwards through Web pages but can be re-programmed to do exactly what you want them to.
24-Month Battery Life: This mouse just keeps going, with 24 months of power on a single AA battery.** Automatic sleep mode and an On/Off switch save power, while an indicator light eliminates surprises.
Pricing and Availability 
Price: SGD $54.00
Availability: www.logitech.com (Jul. 20, 2017) and in-stores (Aug. 11, 2017)
Available Colours: Graphite Tonal, Mid Grey Tonal & Ruby
* Information and pictures courtesy of Logitech and SPRG *