At the recent World Cities Summit 2016, there was a dialogue session titled "Microsoft CityNext Asian Mayors's dialogue session" whereby they revealed findings from a study titled "Microsoft CityNext Asia Pacific Survey: Your City, Your Future".
In this survey, there were some interesting findings that I would like to share with my readers and followers. Singapore comes out top as the most admired city in Asia Pacific from the Microsoft survey yet the majority of Singapore's residents are not very optimistic about seeing further improvements over the next decade.
Here are the information and findings from the press release –
At the Microsoft CityNext Asian Mayors' dialogue session held at World Cities Summit 2016, Microsoft revealed findings from a study titled Microsoft CityNext Asia Pacific Survey: Your City, Your Future, which showed that one in four residents in the Asia Pacific region named Singapore as their preferred city to live in, outside of their home country. Key reasons for this preference include: the city's cleanliness (44 percent), discipline (22 percent), safety (18 percent), as well as Singapore being a modern and exciting city (13 percent).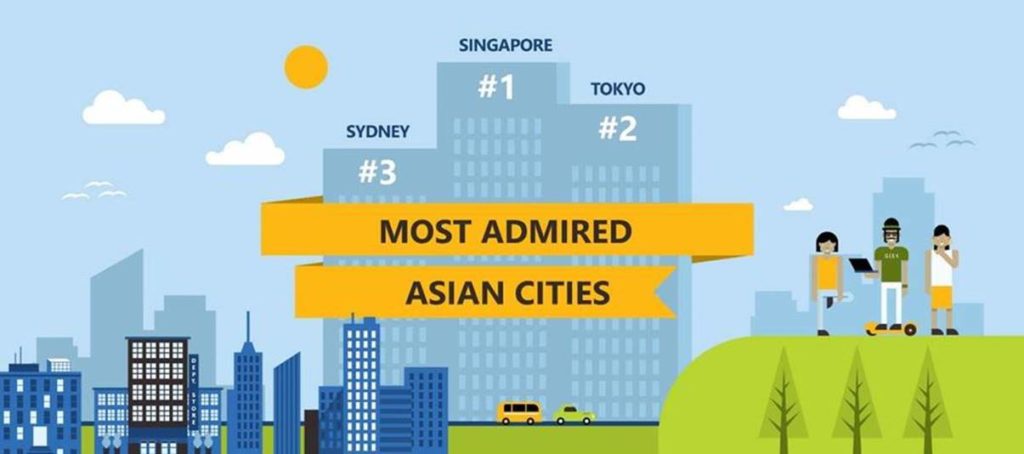 The table below shows the list of most admired cities, as voted by the 2,000 survey respondents from 13 cities in the region:
Most Admired Cities in Asia Pacific

1. Singapore

2. Tokyo

3. Sydney

4. Melbourne

5. Osaka

6. Hong Kong

7. Seoul

8. Taipei

9. Bangkok

10. Kuala Lumpur

11. Shanghai

12. Ho Chi Minh City

13. Beijing

14. Jakarta

15. Manila

16. Mumbai

17. Delhi

18. Others
However, despite Singapore coming up tops as the respondents' favourite city in Asia Pacific, the majority of Singapore's residents are not very optimistic about seeing further improvements to their quality of life over the next decade. 43.5 percent of the Singapore residents polled expect a decline in the quality of life, contrasting against the views of a smaller group of residents – 31 percent – who expect improvements in the quality of life in the next decade. In addition, 25.5 percent of Singapore's residents expect the city to maintain its status quo over the next decade. The residents polled also cited employment opportunities (73 percent), housing (71 percent) and transportation (70 percent) as the top three areas most in need of improvement in Singapore.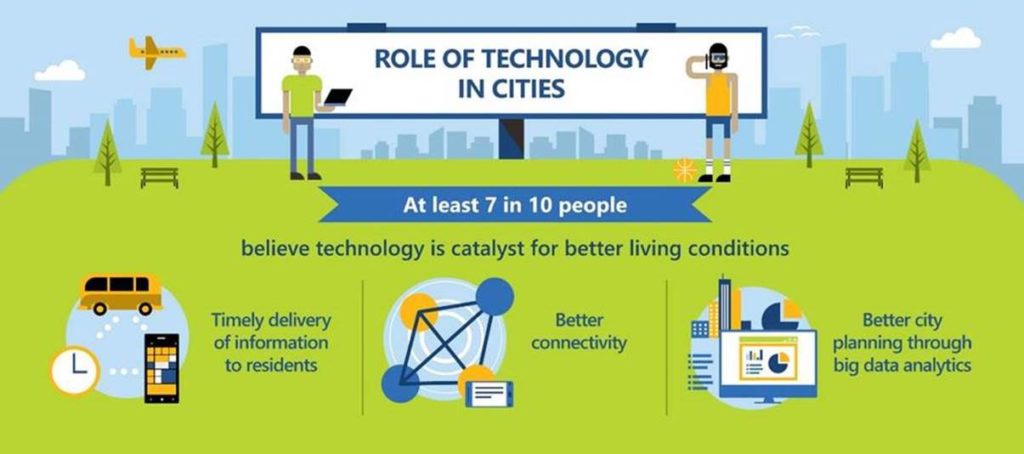 In view of the areas outlined for improvement, a large number of Singapore residents agree that technology can play a crucial role in improving living conditions in Singapore. According to the survey, 85 percent of Singapore residents view technology's most important role as creating better connectivity, while 79 percent of residents see technology as a means to generating greater economic opportunities such as creating employment or starting a technology startup. Other key roles for technology cited include improving information dissemination to residents about government services (78 percent), improving citizen engagement through better communication with government (76 percent), and Big Data analytics (65 percent) which can facilitate city development and planning.
Jessica Tan, Managing Director of Microsoft Singapore said: "As Singapore accelerates towards realising its Smart Nation vision, technology will play an even more important role in cementing Singapore's position as the most admired nation in Asia Pacific. Our ability to nurture a vibrant public-private ecosystem that harnesses the power of technology to co-create innovative and citizen-centric urban solutions that will improve residents' quality of living will be key in ensuring the continued success of the nation. The future of Singapore is a "future of us", one that the government, businesses and residents have a stake in to collectively achieve inclusive growth."
The Microsoft CityNext Asia Pacific Survey: Your City, Your Future was conducted with over 2,000 residents across 13 cities in Asia Pacific including Bangkok, Beijing, Delhi, Jakarta, Manila, Mumbai, Shanghai, Seoul, Singapore, Sydney, Taipei and Tokyo and Osaka.
About Microsoft CityNext
Microsoft CityNext is a partner-led initiative that empowers cities to be more sustainable, prosperous, and economically competitive—with a simplified approach. It helps cities unlock their potential by delivering innovative digital services that can help citizens lead safer, healthier, and more educated lives.
More information about CityNext is available at http://www.microsoft.com/citynext/.
About Microsoft
Microsoft (Nasdaq "MSFT" @microsoft) is the leading platform and productivity company for the mobile-first, cloud-first world, and its mission is to empower every person and every organization on the planet to achieve more.
*Information and pictures courtesy of Microsoft Singapore and IN.FOM*