Review of SONY VAIO W – Part 1
From my last post, I was given the honour and opportunity to own the SONY VAIO W for 1 week's trial, testing and review. Before anything else, firstly, I would like to thank SONY and Hill & Knowlton (SEA) Pte Ltd for this wonderful opportunity. While I would leave my story behind the story at later posts, I would be using these 7 days to test a mobile lifestyle in a photojournalistic adventure on my photoblog and a hands on technology savvy feel and testing here.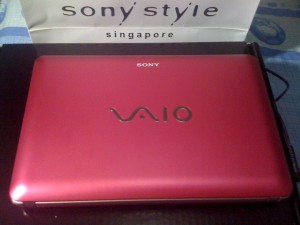 The SONY VAIO W is one of the latest range of notebooks by SONY and take a look at some of the key specifications below
Model Name : VPCW115XG/P
– Intel® Atom™ Processor N280 (1.66 GHz)
– Wider view with high resolution, 10.1″ (WXGA: 1366 x 768)
– 1 GB DDR2 SDRAM (on board*3)
– 160 GB*4?(Serial ATA, 5400 rpm)
– VGP-BPS18 Lithium-ion battery: up to 2.5 hours of use
– Dimensions ~ 267.8 x 27.5-32.4 x 179.6 mm
– 1.19 kg (including the supplied battery)
Sources : Sony Singapore & Sony VAIO W Microsite
In my first hands on hand experiences, just by handling and feeling the weight, construction, ergonomics and built. It was a great feeling and experience, the weight was light, 1.19 kg with the supplied battery and the Berry Pink colour was really cool !!
Initial boot up was quite fast considering the fact it was running on Intel Atom Processor, making it a suitable Intel chip for the notebook.  There were a number of programs installed inside this particular SONY VAIO W and in my later posts, I would be testing its mobility and wireless internet while on the move and work, a professional executive's lifestyle and social media networking and leisure lifestyle.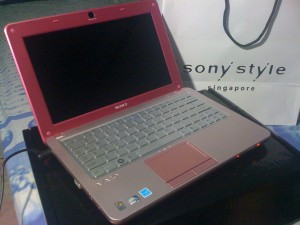 The keyboard design is known as the Isolation Keyboard and this makes it comfortable and eliminates mistyping and provides comfort to your fingers. If you ever get to hold it in your hands, do take a look at the edges of the notebook, they are rounded and tapered off, fitting nicely into your hands and the feeling was really great, trendy and cool !!
3 awesome colours to choose from – Berry Pink (my test set !!) , Sugar White and Cocoa Brown
I am going to bring it out over this long public holiday weekend on the move and would embark on my lightweight mobile and social media networking lifestyle. Keep a lookout folks !!