Introducing A Pink Gadget Review
In our world today, comprising of a fast pace of life, in work and social life, well connected with the internet, facebook, blogging, twittering and social media networking in the blogsphere, with family, friends and colleagues, there is a move towards an affordable notebook that is small, light, cool yet powerful to do all of the above.
Ladies and Gentlemen, introducing to you this beautiful, modern, stylish and powerful pink gadget by Sony …
The SONY VAIO W !!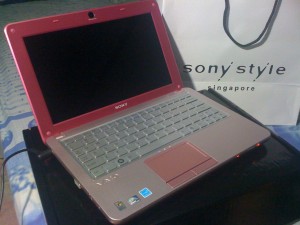 In the next few posts for the next 7 days, I would be testing, reviewing, blogging and sharing about my highly mobile and connected working and social lifestyle with the SONY VAIO W. There would be a photojournalistic lifestyle moments and All Hands On Deck experiences with the interface and technical aspects.
Stay tuned right here !