At the start of the year 2018, I shared and wrote on the changes that I wanted to make for this new year 2018 and setting my goals for year 2018, after reflecting on my year 2017. On the 10th January, the day it was marked as "Another year older (Again) in 2018", I promised myself that I wanted to get a book on that particular day, a personal goal for myself. I wanted to buy a particular book on that day since it's a milestone day for me. I went to Kinokuniya Bugis and it was out of stock, I was determined to buy it today and I went Kinokuniya Orchard and I managed to buy it!
A new book – The little book of Ikigai : The essential Japanese way to finding your purpose in life by Ken Mogi. This is going to be a significant moment, one of my goals for year 2018, finding my purpose, finding my direction, seeking a balance in the force.
On that day, 10th January, I started my personal journey of exploration, seeking my own Ikigai (????). Googling for the diagram representing Ikigai, I found a common diagram of four circles, intersecting together. Although it was useful, easy to use and explain, I was looking for something more therapeutic and closer to my heart. In the midst of my Google search, I discovered some gorgeous landscape photographs with the word "Ikigai".
At that moment, I knew how I wanted to share on my journeys seeking my own Ikigai, through the landscape photographs (most likely using the monochrome landscape photographs) that I took in Hokkaido, Japan.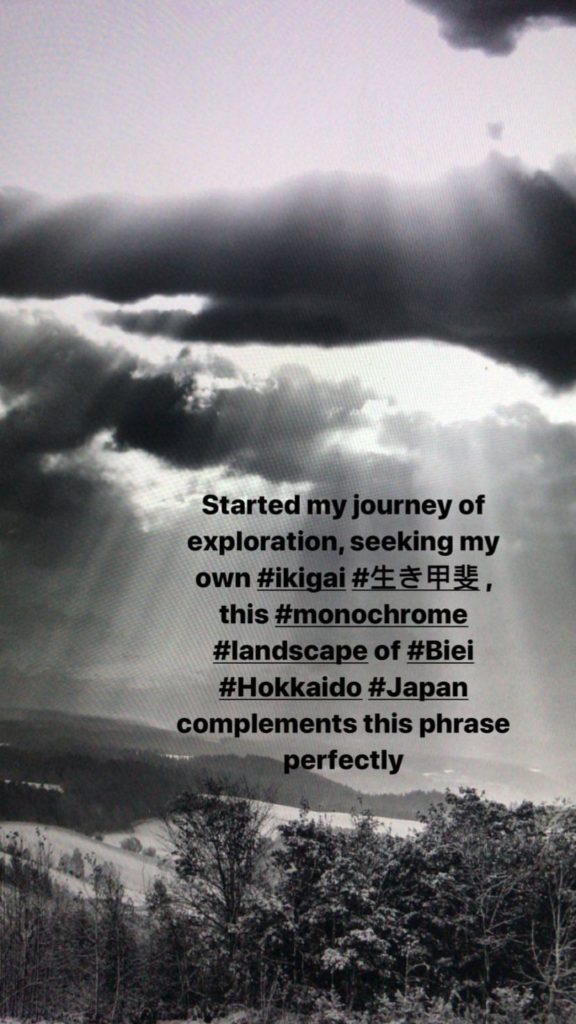 Flipping the little book of Ikigai, there was a note to the Reader (that's me!)
The Five Pillars of Ikigai
Pillar 1: Starting small
Pillar 2: Releasing yourself
Pillar 3: Harmony and sustainabiliyy
Pillar 4: The joy of little things
Pillar 5: Being in the here and now
My personal journey of Ikigai exploration and discovery has started; I am finding my own Ikigai.