SingTel recently launched WePlay, your personalised mobile games store from SingTel. Through WePlay, SingTel will be able to offer customers a custom social gaming experience tailored to gamers with the latest and most popular Android mobile games such as Candy Crush, Acorn Buster, Fruit Ninjas and many more! Smartphones are now a common and somehow an integral part of our internet/socially connected lifestyle in work and leisure. Games are popular among smartphone users and gaming is a form of entertainment for themselves, it also forms part of the social interaction between friends. Mobile is a very big and expanding market sector, it is projected to increase their revenues from US$8.8b in 2012 to US$14.4b in 2017!
WePlay is FREE ! Moreover, it is already installed on most upcoming SingTel Android devices. WePlay can also be downloaded for free through Google Play. WePlay allows SingTel customers to easily download and play the latest mobile games with their friends. Gamers are able to access multiple social features like social recommendations, friend invites, leader boards, achievements and brags. WePlay uses a customisation recommendation engine that takes into account your gaming. WePlay analyses your gaming habits and recommends Android games for you!
WePlay is only available for phones with Android 4.0 and above with a SingTel subscription. WePlay has now been launched in Singapore and will soon be introduced in Indonesia, followed by other SingTel Group markets. All games purchases can be made through SingTel and subscribers can bill their purchases, including in-app purchases to their SingTel subscription.
If you love gaming, do remember to check out WePlay!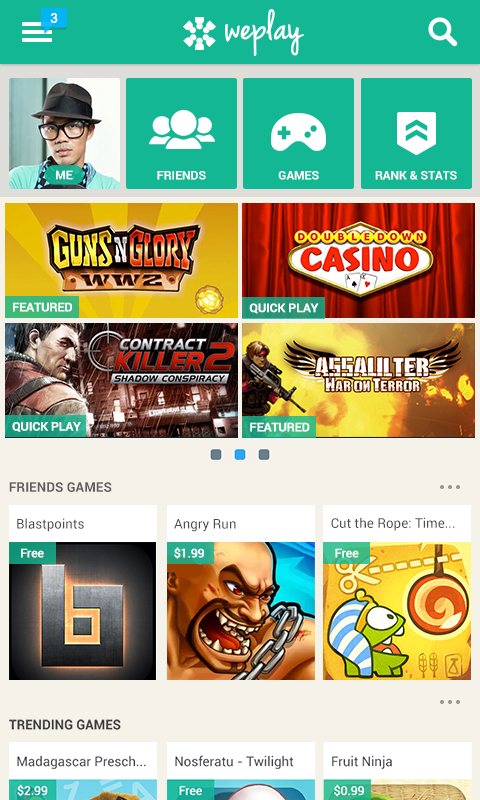 Source: SingTel WePlay website
* Information Courtesy of WePlay, SingTel and Ogilvy Public Relations Worldwide *