Step for a Good Cause at Bare Your Sole 2014
Bare Your Sole 2014 is coming back to Singapore on 12th July 2014! A charity walk event that I had been supporting and sharing for the past few years in 2011, 2012 and 2013. It's a noble and wonderful event, do check out my stories, experiences and photographs from my previous support of Bare Your Sole from 2011 to 2013. It's for a good and noble cause and a fun event to walk and exercise too!
Habitat for Humanity Singapore's annual walkathon Bare Your Sole is back this year, providing participants with a unique way to raise funds in the fight against homelessness and poverty. The 2.5km and 5km barefoot charity walk will take place on Saturday, 12 July 2014, from 9am-12pm, at Gardens by the Bay. Currently in its sixth year, the annual event encourages participants to walk barefoot to support those living in poverty and unable to afford basic amenities, such as shelter or clothing.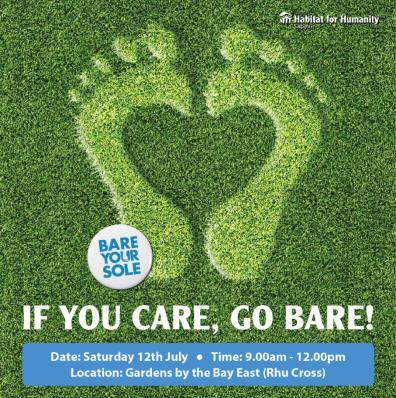 Habitat for Humanity Singapore is commemorating the positive change which the local community has made over the past five years. Last year's event had approximately 5,000 participants walking barefoot for the cause, and had raised more than S$300,000. Bare Your Sole 2014 aims to register more than 6,000 participants this year and to raise S$500,000.
Funds raised will benefit Habitat for Humanity Singapore's local programme Project HomeWorks, an initiative designed to improve the living conditions of the elderly, the sick and the physically challenged living in one-room flats across the nation. It was reported in Parliament in 2012 that as many as 35,000 elderly in Singapore live alone in unsafe and unsanitary conditions and this number is projected to rise to 83,000 by 2030.
Besides walking barefoot for a good cause, Bare Your Sole 2014 promises to be a fun-filled family event, with food stations by popular eating destinations, such as Dean & Deluca and Cold Stone Creamery. A variety of activities for children, including roving performances by stilt walkers, percussionists and balloon sculptors, will entertain the young and the young at heart. Participants can also stand to win attractive prizes at a raffle draw open to all.
As a complement to the charity walk, participants can help raise funds by competing in the 100KM Challenge as a solo effort or as a collective relay with their friends, families, interest groups and colleagues. Attractive prizes can be won in the following categories: the most creative team, the fastest team, and the team with the highest funds raised. Registration for the 100KM Challenge is available at www.give2habitat.org/singapore/BYS2014.
Registration Details 
Online registration for Bare Your Sole 2014 is available at www.bareyoursole.org.sg. Early bird registration runs until 25 May 2014 while regular registration closes on 15 June 2014. Information pertaining to the race pack collection will be announced at a later date.
Early bird registration
Adult – S$30
NSF/Student (ages 7-21) – S$15
Senior citizen (65 and above) – S$15
Family of four – S$75
Normal registration
Adult – S$35
NSF/Student (ages 7-21) – S$20
Senior citizen (65 and above) – S$20
Family of four – S$95
* Information and Picture Courtesy of Habitat for Humanity Singapore and Porter Novelli *