Acronis, a global cyber protection company, announced the launch of Acronis Cyber Protect Home Office (formerly Acronis True Image) for consumers. This innovative cyber protection software offers a comprehensive suite of features that seamlessly integrate secure backup, and AI-based security making this the ultimate must-have cyber protection solution for everyone, from individuals, families, to home office users, and small businesses.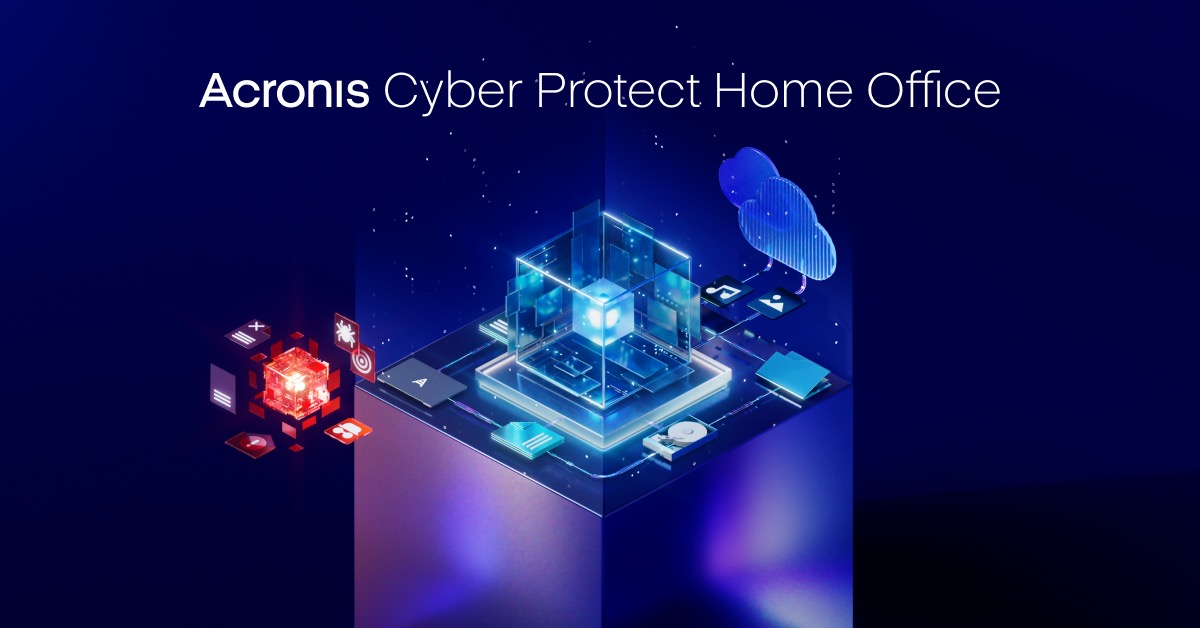 Do you have Cyber Protection? Do you back up your data?
Do you have cyber protection for your computers, for yourself, family members or/and for your work/small businesses? Do you back up your data? How much do you know about the current cyber security/internet security landscape/trends? Would you like to have a holistic cyber protection solution for yourself, family members, and also for your work/small businesses?
An alarming 41% of individuals rarely or never back up their data while 61% report a preference for an integrated solution. The need for robust, less complex, and all-encompassing backup and cyber protection has never been greater in an increasingly interconnected world.
Acronis Cyber Protect Home Office is designed to conquer the evolving landscape of cyber threats by integrating Acronis' cutting-edge cyber protection and secure backup solutions. By combining  AI-powered defense mechanisms, robust data backup, remote management tools, and mobile device protection, Acronis sets the standard for holistic cyber protection. Acronis Cyber Protect Home Office is the only complete active-security solution that addresses cyber protection needs within a single, easy-to-use, and modern platform.
"With the advancements of AI, cybercriminals and their tactics are evolving," said Gaidar Magdanurov, President at Acronis. "Today, even those with limited tech expertise can impact a large number of individuals through the use of complex phishing and social engineering attacks. Protecting data, applications, and systems requires a complete cyber protection solution – integrated with security and data backup. We are excited to announce our latest update of Acronis Cyber Protect Home Office, bringing better performance and stronger security to protect individuals' data, devices, and home offices."
Key features and benefits of Acronis Cyber Protect Home Office include:
AI-Based Cybersecurity Enhancement: Innovative AI capabilities proactively identify and neutralize potential threats, while providing an added layer of security against cyberattacks including automated recovery from ransomware attacks. Enable the two-factor authentication (2FA) functionality to maximize your security.
Backup and Cloning: Acronis Cyber Protect Home Office offers robust secure backup and cloning features. Users can safeguard their critical data and systems with reliable backup that ensures quick recovery in case of data loss or cyber-attacks.
Remote Management: Users are empowered with remote management tools to monitor and manage their cybersecurity measures from anywhere in the world. This added convenience and flexibility allow for a swift response to any emerging threats.
Mobile App and Backup: While mobile device manufacturers offer some storage options, it's usually platform-specific, and multi-device families may have a mix of operating systems. Acronis Cyber Protect Home Office features storage capabilities for any operating system and advanced encryption to keep mobile contacts, calendars, photos, files, and data safe. The solution also offers the Acronis mobile app to safeguard mobile device data. The feature seamlessly functions across devices so access data is accessible from anywhere through the app or the web interface.
Pricing and Availability
If you are planning to get Acronis Cyber Protect Home Office, it is available for purchase online and through select resellers with yearly packages from $49.99. For more information about features, pricing, and how to get started, please visit https://go.acronis.com/cyber-protect-home-office.
* Information and picture courtesy of Acronis *