Canon recently announced its strategic vision "Smart Tech" in Asia (covering Singapore, Malaysia, Thailand, Indiam Hong Kong, Taiwan and Philippines) that is aimed at assisting businesses and cities become more resilient in a post-pandemic world. Canon's Smart Tech comprises a comprehensive suite of technologies, this is the culmination of Canon's innovative work in the digital dimension. Canon offers diverse solutions for businesses to their perplexing problems, empowering them, and cities to be more productive and be ready for the future of work.
"The pandemic has imparted to many the valuable lesson of cultivating genuine resilience in an uncertain world" said Norihiro Katagiri, Senior Vice President of Regional Digital Printing & Business Solution Operations, Canon Singapore. "With this hard-won knowledge at hand, businesses are now seeking innovative solutions to confidently confront and overcome new disruptions that may arise. Through Smart Tech, Canon is committed to providing businesses with the latest technologies and solutions to navigate these challenging times."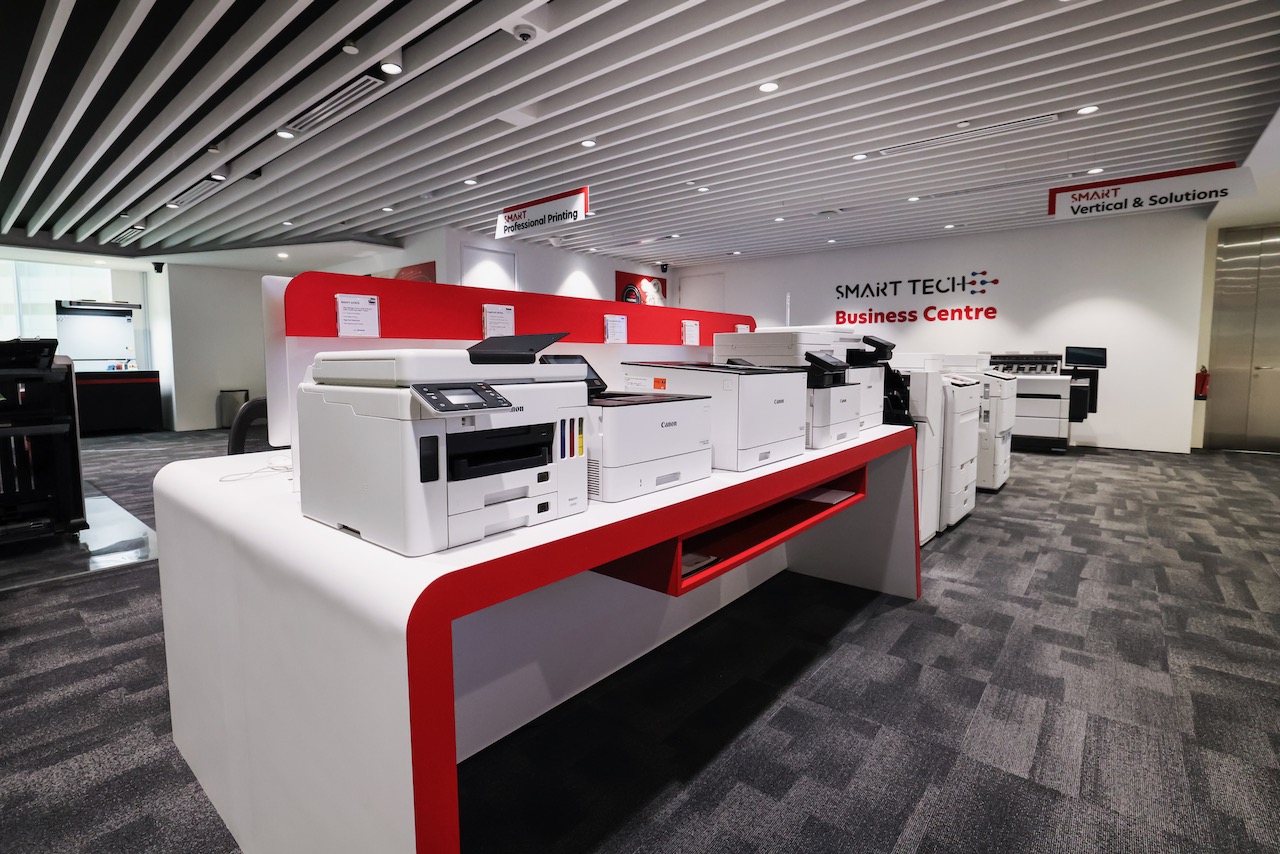 3 Pillars of Canon Smart Tech 
Canon's vision of Smart Tech is built on 3 pillars – Smart Workplace, Smart Vertical and Smart Surveillance.
Smart Workplace
In a new future of work in the post-pandemic world, businesses have continue to face many different challenges in managing their employees and distributed teams, as well as balancing hybrid form of work arrangements.
Smart Workplace can provide businesses with solutions to digitally transform those traditional processes such as information management, process automation to workplace collaboration, allowing them to thrive in today's new future of working environments of remote, in-office and hybrid work environments. The first step towards a building a smart workplace is the digitisation of information, followed by the digitalisation of work processes.
Smart Workplace comprises information management and process automation solutions that optimise the flow of data at all levels, ensuring much-needed productivity in distributed teams. For instance, digital invoices and contracts can be easily retrieved, and automatically routed to the right recipients for timely approvals. Outstanding tasks and expiring contracts can be tracked and managed effortlessly via automated notifications. With easy information retrieval and automated workflows, Smart Workplace helps eliminate manual processes and enables workers to work from anywhere, driving seamless collaboration in the workplace.
Smart Vertical 
Geopolitical disruptions and rapid technological advancements can greatly impact industries. Coupled with logistical complexity and supply chain risks, industries face a myriad of challenges including the mishandling of physical documents and falling short of regulatory compliance.
With Canon's deep industry expertise and workflow automation solutions, Smart Vertical streamlines industry-specific, complex workflows, and eliminates manual, error-prone processes to help verticals be future-ready.
For industries dealing with multiple touch points and partners, such as the logistics industry, overwhelming number of physical documents from different sources and time-consuming document search for audit purposes can be a laborious undertaking. Smart Vertical helps by creating visibility and accountability in digital document workflows to reduce errors, and enabling photographic evidence and e-signature capture to ensure the compliance of regulatory requirements.
Canon Smart Surveilliance 
As urbanisation continues to accelerate, increased population density in cities may pose various health and safety risks, particularly during pandemics and massive public events. Smart Surveillance possesses one of the most sophisticated real-time crowd counting video analytics that promote public safety.
Through the early detection of crowd surges in densely populated areas such as entertainment centers or stadiums, Smart Surveillance can promptly alert authorities and enable rapid deployment of crowd control measures, thus preventing potential disasters. Smart Surveillance also provides benefits in commercial growth. By detecting footfall patterns of consumers in retail shops, crowd counting video analytics can help businesses analyse shopping patterns and optimise sales revenue.
In addition, Smart Surveillance allows businesses to remotely access security video footages from anywhere through cloud video surveillance. This is a significant shift from traditional on-site surveillance system access and video recordings storage, which can be costly and cumbersome. Combining advanced cloud video surveillance and data analytics, Smart Surveillance empowers urban cities and meets business security needs with remote operations that safeguard against disruptions.
Keen to know more about Canon Smart Tech? Explore the Future of Work at Smart Tech Business Centre
If you are a business owner and would like to know more about Canon Smart Tech, you can visit the newly opened Smart Tech Business Centre at Canon Singapore's office, featuring a showcase of products and solutions under the three pillars and their practical applications across the industries, to meet customers' needs.
Through this space, visitors can experience how Canon's Smart Tech solutions can help simplify business operations and enable more efficient workflows in various work environments.
"The pandemic has emphasised the need for businesses to be adaptable and future-ready. Through Smart Tech, Canon stands ready to equip businesses with the latest innovative solutions, enabling them to navigate and overcome new disruptions that may arise while meeting customer demands effectively. We look forward to partnering businesses to shape the future of work, as Business can be Simple with Canon." Said Vincent Low, Head of Enterprise Business, Canon Singapore.
For more information on Canon, please visit https://sg.canon.
* Information and picture courtesy of Canon Singapore and Gloo *