Canon launched All-in-One Solution for Safe Entry
Canon recently launched an all-in-one solution for safe entry to retail and offices. It is a digital check-in solution that allows businesses to facilitate contactless, fast and easy temperature screening, recording of entry/exit for their staff and customers. This digital check-in solution is known as Facial Access Control Temperature System (FACTS), using an 8-inch tablet (a third party device distributed by Canon Singapore) that combines the the functions of a camera, infrared thermography, near-field communication (NGC) device, bar code scanner and data storage.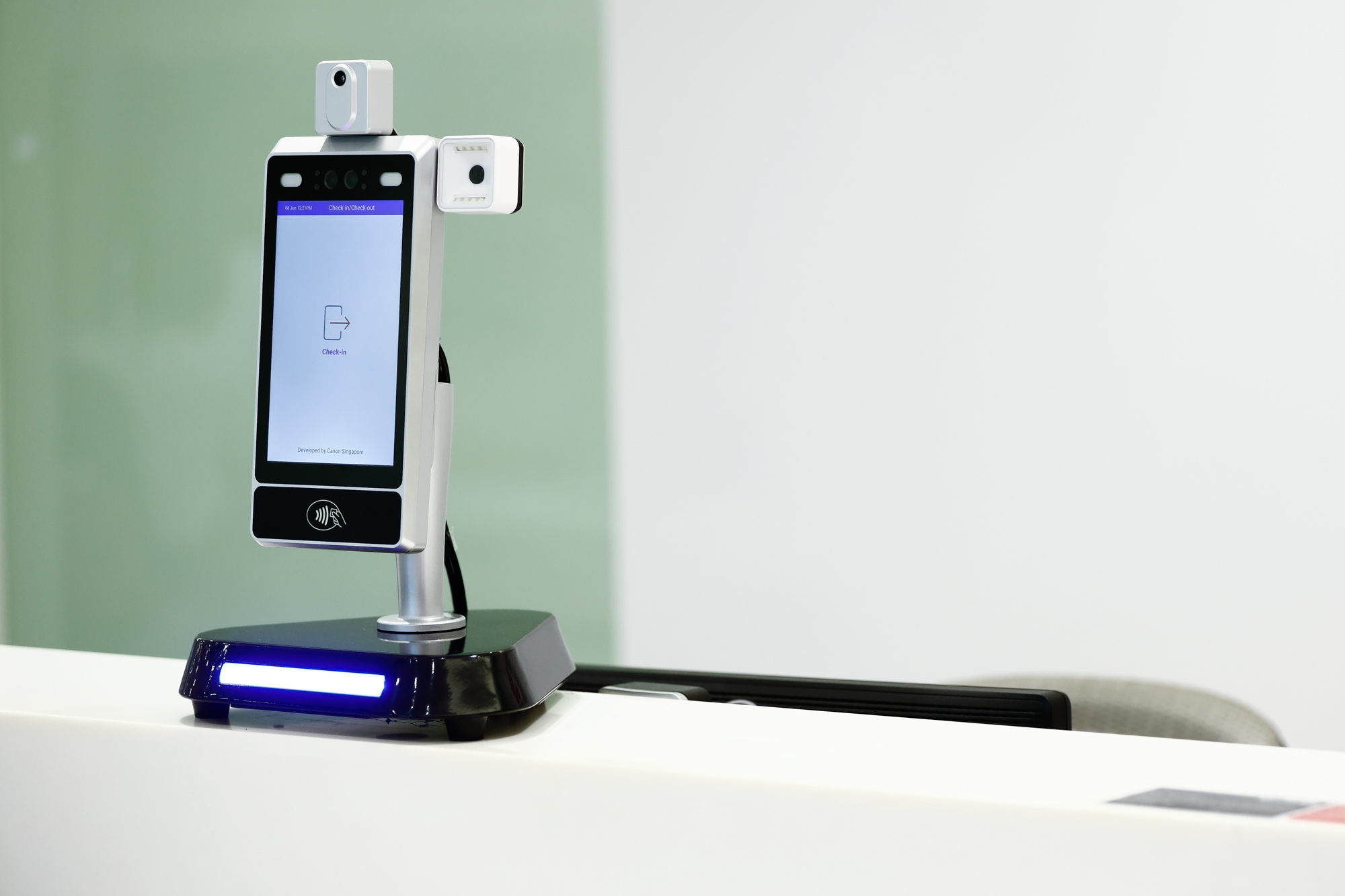 We are in the midst of a global pandemic in the year 2020, Covid-19 has severely impacted our world economy and daily living. Many changes had taken place during the past few months, countries implemented more stringent measures to protect their people, such as recording of people entry/exit and temperature screening, into offices, shopping malls etc. Do you recall staff having to use multiple devices separately (measuring your temperature and identity separately) to record your entry/exit into an office/building/shopping mall? With this FACTS device, staff or visitors can complete their safe entry digital check-in within a few seconds. This is made possible with a software which integrates several functions including facial detection, infrared thermography, bar-code scanning and data entry and storage in the device.
How does FACTS work?
First and foremost, when staff or visitors check in, they should stand within 0.5 to 0.7metre from the device to have their temperature screened via the infrared thermography. If the visitor's temperature is within a predetermined range, a green text box will be shown to indicate that the visitor has passed the temperature screening.  This will be accompanied by an automated voice message which says, "temperature normal".  The device will then request for the visitor's identity, which can be quickly obtained by scanning the visitor's identification cards such as NRIC (the latest digital version is also accepted) and driver's license at the barcode scanner. The device also can be set to automatically take a photo of the visitor, if required. It takes just a few seconds to complete the entire process.
FACTS can also be used to facilitate the use of Singapore's national digital check-in system, SafeEntry, to help retail stores, offices and other businesses comply with safe management measures at the workplace.
Edwin Teoh, Head of Marketing, Singapore Operations, Canon Singapore said, "As more retail stores and workplaces reopen after the Circuit Breaker in Singapore, it is important to continue complying with safe management measures at the workplace.  We need to digitalise check-in and check-out processes as much as possible, with the least number of people. We also need it to be fast and easy to use so that we can get back to work quickly and safely."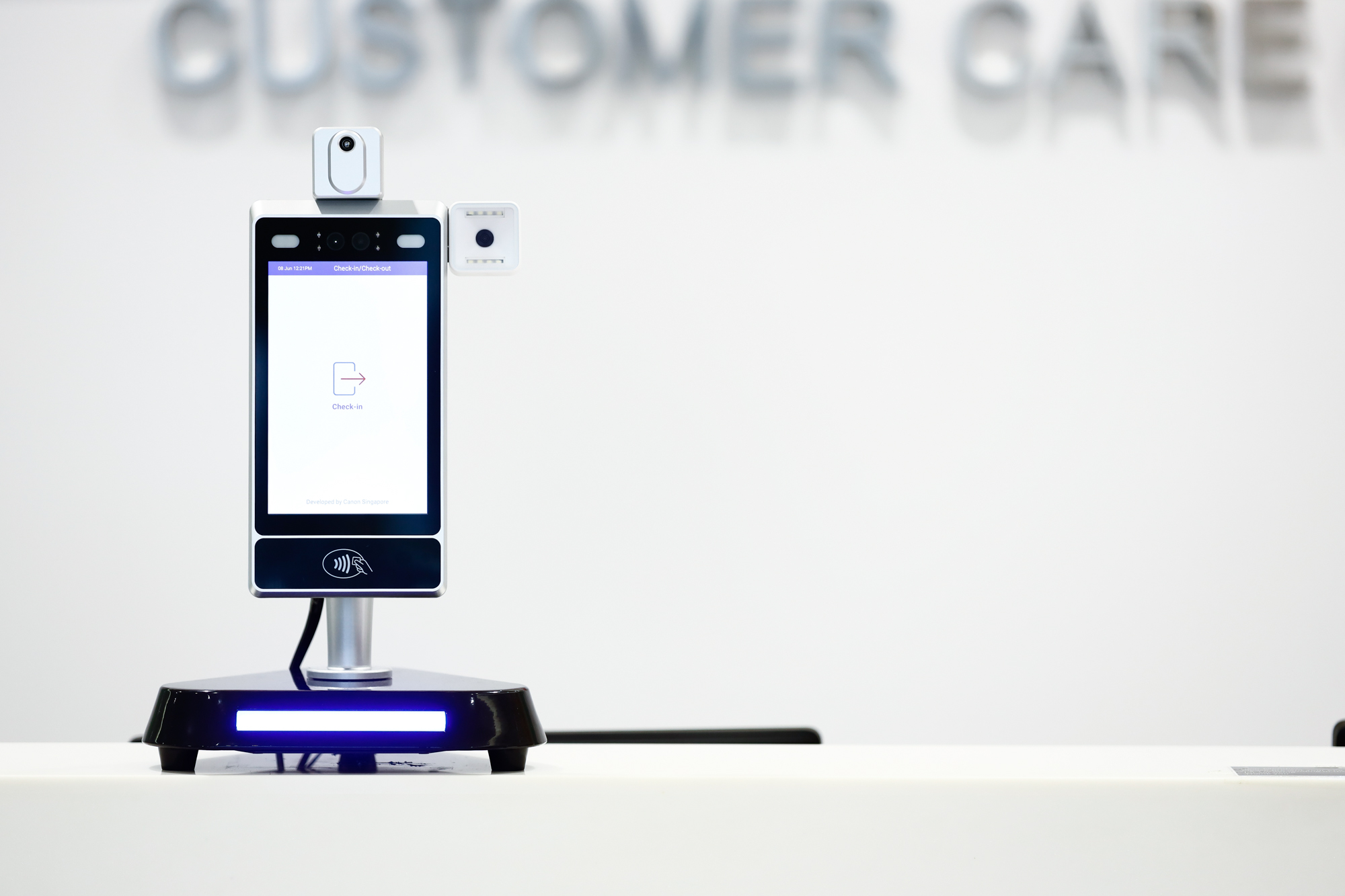 Truly contactless digital check-in solution
On a single FACTS device, staff or visitors can toggle between a digital check-in and check-out process. To make the process truly contactless, two FACTS devices can be used within the vicinity to configure a digital check-in process on one device, and a check-out process on the other device.
With the multiple functions of FACTS, businesses do not need to employ additional labour resources to support functions such as temperature checking and scanning identification cards separately.
Accurate temperature screening
Temperature checking is a norm in this current situation as we are battling against the Covid-19 pandemic. This is the basic check on whether the visitor is well and fit enough to enter the premises.
By standing within a 0.5 to 0.7metre from the device, it can detect whether the visitor's temperature is within the acceptable predetermined range with an accuracy of ± 0.3 degrees Celsius within just a few seconds. This is possible with the device's in-built infrared thermography, which detects surface skin temperature on the forehead of visitors.
As the device only detects a single visitor's temperature in close proximity, the temperature measured is also more accurate than larger thermal scanners as it is less likely to be affected by environmental conditions. 
Option to store local data to facilitate secure access at workplaces
Workplaces can configure FACTS to store local data to record daily entries and exits of staff and visitors. Staff can check into their workplaces with their company identification cards using the device's NFC reader. This is ideal for workplaces who are looking to digitalise their secure access operations and are required to store logs of people entering or exiting their premises.
The data storage process is such that only the last four digits of the visitors' identification number will be stored in the log (if activated).
Canon Singapore is also working on integrating FACTS with other devices and solutions that can be used within the office environment to help with functions such as video analytics. Another feature that will be added soon is facial recognition, which will enable staff to check into their workplaces easily. These features are targeted to be available from July 2020.  FACTS also comes with an anti-spoofing feature that prevents unauthorised personnel from impersonating eg. by using a photo or video to enter the premises.
Personal Thoughts and Views
For business owners in Singapore, having an integrated device, an all-in-one solution for safe entry, temperature checking, recording of entry/exit for staff and customers, is the ideal solution to implement, without having to deploy more gadgets and human resources as well.
During this current pandemic situation, businesses in Singapore have to face numerous regulations and restrictions in place before they are allowed to operate and conduct their business operations. It's highly recommended for business owners to check out FACTS for their consideration to implement and deploy, for the smooth running of their business operations in this global Covid-19 pandemic, that has added restrictions and regulations for a safe working environment for both staff and customers.
Pricing and Availability
The Facial Access Control Temperature System (FACTS) is now available from S$3,200 onwards. For further enquiries, please kindly contact b2bsales@canon.com.sg.
* Information and pictures courtesy of Canon Singapore and GLOO PR *